Posted on March 16, 2009
Filed Under Breakfasts, Snacks
I've never made granola before. Or granola bars. They always call for bran or wheat germ and those are 2 ingredients that keep me flipping thro' the cookbook and thinking, "Well, I guess I won't make granola this time".  (*whisper* I've never even seen bran and wheat germ or know what they are.) So, I buy my granola at the bulk foods store (only on rare occassions because it's pricey) and buy my granola bars at the grocery store.
Then, just lately a few of my friends started raving about this granola and when I looked at the recipe, I was glad to see that it took 'normal' ingredients! So, I made some. It is SO good! Like one of my friends said, it's good at any stage of the making process… you can't help but sampling it here and there while mixing, baking, and stirring it.
Eat it with milk in it, put it on top of yogurt, eat it plain as a snack, or sprinkle it on top of a dessert.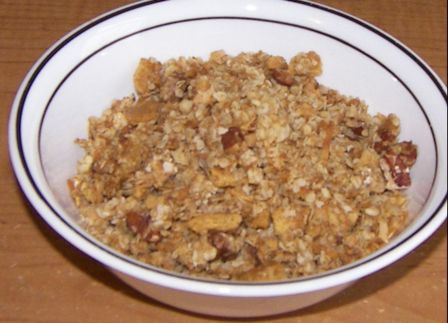 Granola
10 cups quick oats
3 cups graham cracker pieces (this was 1 1/2 packs of Honey Maid)
1 cup brown sugar
2 cups coconut
2 tsp. soda
1 tsp. salt
1 cup chopped pecans
3 sticks of butter (1 1/2 cups)
1 cup peanut butter chips (I tried some with chocolate chips… it was better ???? )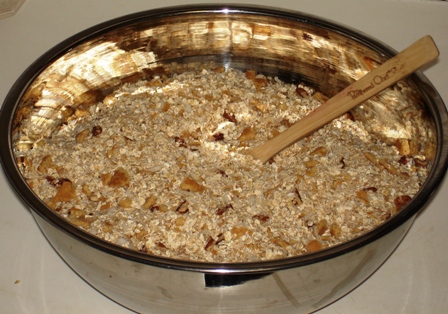 Melt the butter and mix with dry ingredients.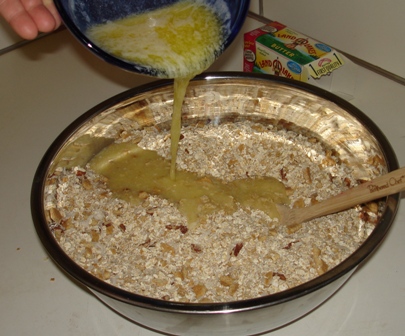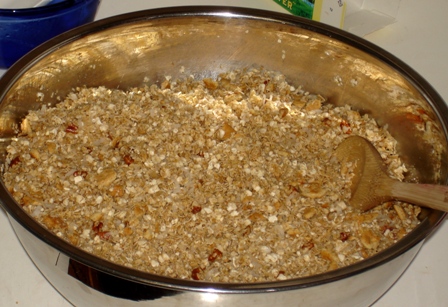 Divide between 2 large baking sheets. I did it on 3 baking sheets… the vertical one is chocolate chips and peanut butter chips mixed, the horizontal one in the back is peanut butter chips and the one in front is chocolate chips.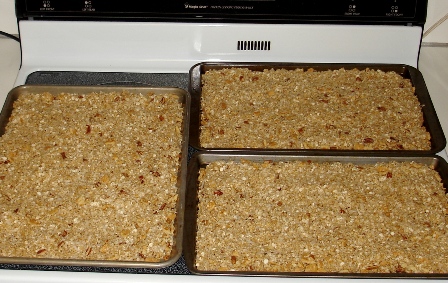 Bake at 300 for 40 min or until golden brown. Stir every 15 min the 1st 30 min, then every 5 min. Add peanut butter chips in the last few minutes of baking time.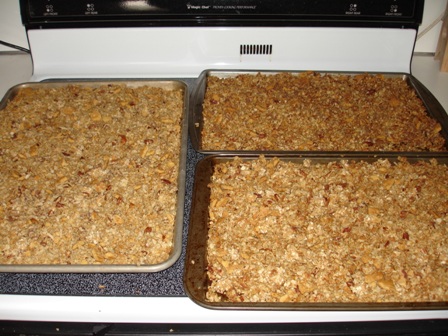 I sampled all 3 varieties and liked the one with just chocolate chips the best. I thought the next best was the one with chocolate and peanut butter chips mixed. The one with peanut butter chips was good too, but I will from now on just use chocolate chips and maybe put some peanut butter chips in too if I have some on hand.
And this is how I like to eat it the best: with milk and a spoon…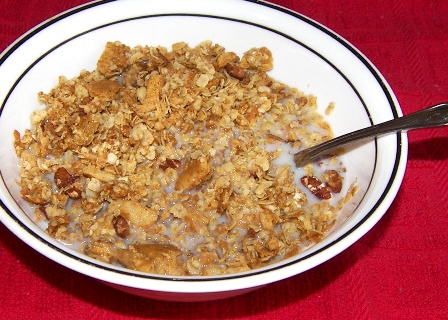 Comments