Posted on March 19, 2009
Filed Under Easy meals, Snacks
Have you ever tried that? Yesterday, while we were making fry pies, Renita and I were talking about quick lunches or something (I forget exactly how we got on the subject) and she said that her son likes his pb&j sandwiches fried, like a grilled cheese sandwich. I had never heard of it, so I decided I'd have to try it.
Fast-forward to a couple hours later… I got home around 1:00 p.m. and hadn't had lunch yet, so I was staring in the fridge when suddenly I remembered the fried peanut butter and jelly sandwiches. So, I made 2, one for me and one for Tiffany (Lexi was at school). Then, after eating that one, I made another one for me. They are good! The peanut butter gets all warm and melty and gooey and the sandwich is crispy to bite into. It just kinda bumps plain ol' peanut butter and jelly sandwiches up a level. ????
So, here you go, no recipe, just the process in pictures…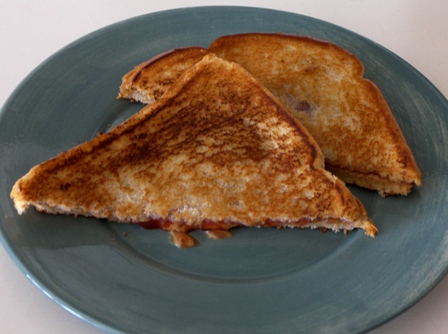 Peanut butter & Jelly…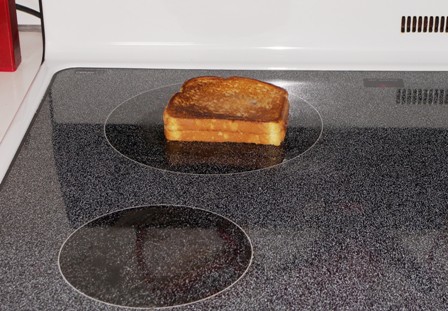 Grilled cheese and tomato soup…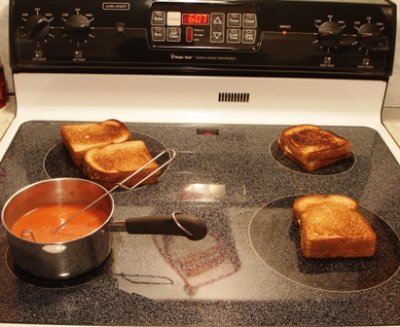 Yup, I don't use a frying pan for this type of thing, mostly which is grilled cheese sandwiches. And that reminds me of this post, which was written on my old blog before I started Kitchen Scrapbook. And when the posts were transferred to Kitchen Scrapbook, the comments didn't come with them, so here are a couple other ideas that people had for doing right on a smooth top burner and skipping the frying pan: warm tortillas up, make quesadillas, and someone knew of someone who fries onions and sausage right on the burner! I haven't tried that one! Someone also said this, "Something to try next time you have tomato soup.  Hard-boil 3 or 4 eggs, then grate or shred into soup just before serving.  Yummy!"
I LOVE my smooth top stove! Not just for this, but because it's easier to clean too.
Comments