Posted on April 23, 2009
Filed Under Cookies and bars, Cooks in Training
Yeah, I know… as you scroll down this page, the posts look a little heavy to kid stuff. It wasn't planned, it kinda just happened, but how fitting… because that's pretty much my life. And I say that in a good way, I love my 2 little girls and I know they'll grow up way too fast. But until then, they'll be a part of my cooking blog.
Lexi is 6. She already loves doing stuff in the kitchen, especially if it involves using her mini cooking stuff. She has declared it her job to make the iced tea around here, if I just do the part of dumping the hot tea into the pitcher. And, on non-school days, she often makes lunch around here (nothing on the stove). I'd have her pack her own school lunch, except that it makes more sense for me to do it while she's eating breakfast or getting ready. She does have opinions though… the other day, she said, "Mom, next time you pack my lunch, do you think you could think of something healthy to put in it like an apple or something? I don't wanna get all weak and stuff." Thing is, it wasn't exactly unhealthy, it was a sandwich, chips, and grapes.
Tiffany is 3. She loves doing stuff in the kitchen too. But WHY can't she dump a 2 1/2″ in diameter measuring cup full of flour into an 8″ in diameter mixing bowl without spilling it out over the side?!!!!! ????
We've got a chocolate chip cookie recipe to feature today, from the Kid's Cook cookbook. Cute little chocolate chip cookies. I told them to make the dough into balls and (because of their little hands?) the balls ranged from the size of a marble to the size of a super ball. Instead of the usual 12 cookies that I bake on one sheet, we got almost twice that many on, no problem. I realized I kinda like little cookies… they're bite-sized and easy to pop in your mouth. This is not my usual chocolate chip cookie recipe, but it's actually pretty close. This recipe is a small recipe, which is nice because there's less chance of the mom having to finish the cookies when they get tired of making them and run off to play. I usually copy the directions word for word, but I'm just gonna paraphrase these because it's written kinda kid-like and detailed.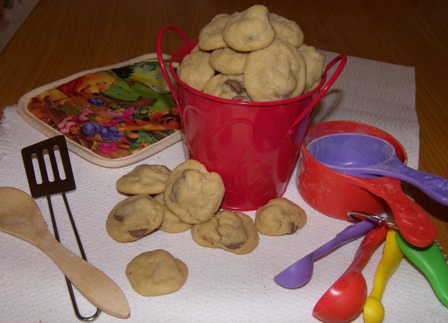 Chocolate Chip Cookies
1 egg
1/2 cup sugar
1/2 cup packed brown sugar
1/2 cup butter, softened
1 1/2 cups flour
1/2 tsp. baking soda
1/2 tsp. salt
1 cup chocolate chips
Heat oven to 375. Stir egg, sugars, and butter with wooden spoon until mixed.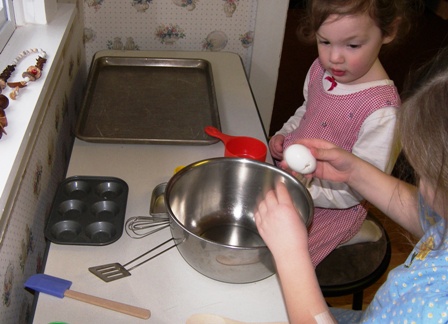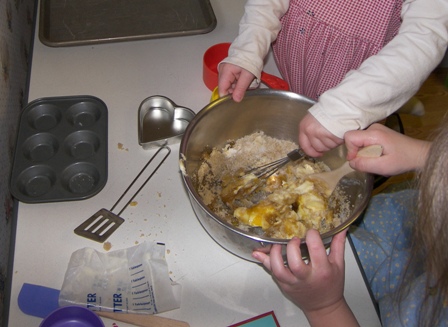 Add flour, soda, salt and stir with wooden spoon till mixed.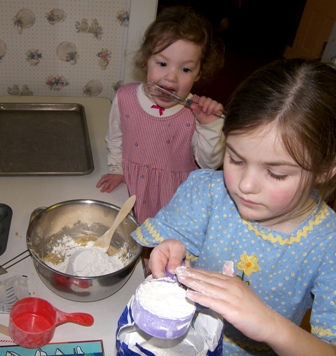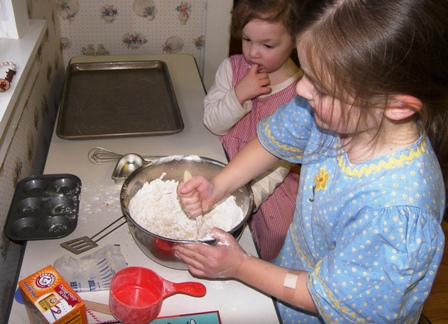 Stir in chocolate chips. Form into balls and put on cookie sheets.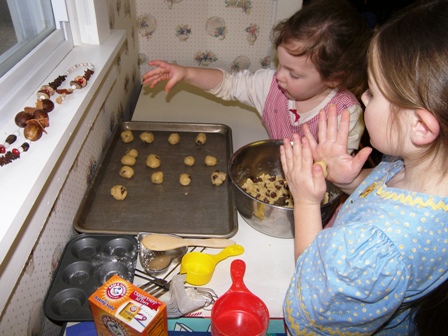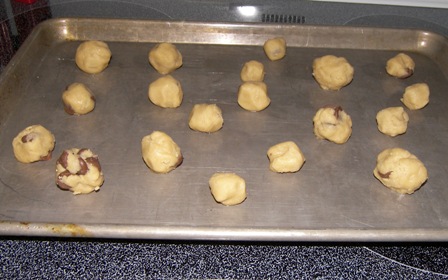 Could I please have the cookie in the front on the left up there?
Bake for 10-12 minutes.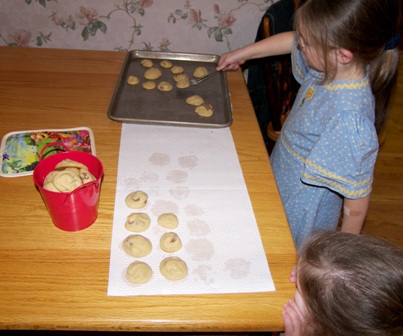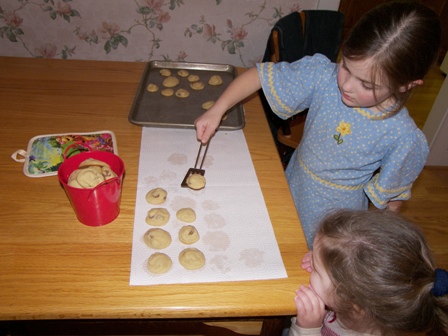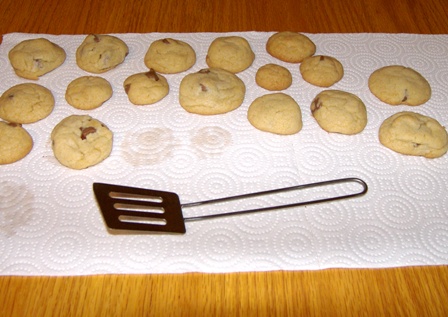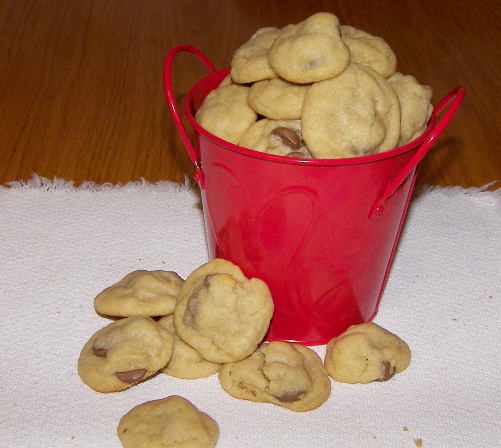 Comments