Posted on January 22, 2009
Filed Under Breakfasts
Other than the desserts and cookies, THIS recipe would have to be one of the best dishes on this site. And it's easy to make it a nice presentation too.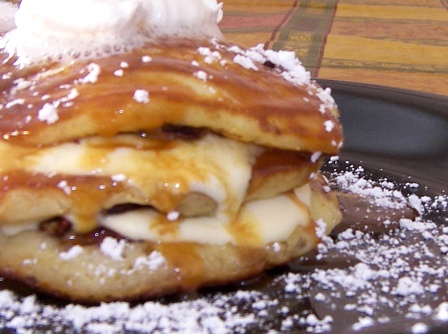 The last time I was at a Bob Evans restaurant for breakfast, I was looking at the menu and, as usual, everything was grabbing me. I always have that problem at restaurants. Sometimes it's so bad that after we've ordered and are waiting for our food, I forget which one of the 5 things I couldn't decide between that I actually ended up ordering. Anyway, when I saw these pancakes on the menu, the decision-making was OVER.
To make a long story short, I got hungry for these and decided to do a search to see if there was a recipe online. I found one at Meemo's Kitchen …this cooking blog has alot of recipes from restaurants on it!
I didn't do any short cuts, in fact there are 3 recipes within this recipe! So, this is REALLY from scratch! ????
Caramel Pecan Banana Cream Cheese Pancakes …I think Bob Evans' and Meemo's name for them was a little different, but mine aren't EXACTLY the same, so I'll name them this.
Printable recipe for now.
2 cups vanilla pudding
2 cups (or 2 8 oz pkgs) cream cheese
Pancake batter
2 Tbsp. honey-roasted pecans
1 banana, sliced (So far, in talking about this recipe to my friends, there's been some opposition to the bananas… you know who you are! ???? They (the bananas) could easily be left out and it would not take away from the quality at all.) 
Caramel sauce
Powdered sugar
Whipped topping
I very seldom use instant vanilla pudding. Instead, I use the filling recipe that I use in peanut butter pie. I grew up with homemade pudding like that and there is just no other pudding that compares to it. So, I made this pudding, measured out 1 cup, added an 8 oz block of softened cream cheese, and whisked the mixture till smooth.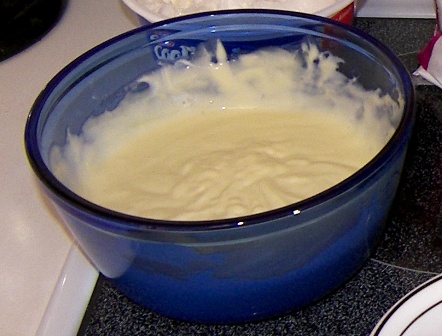 For the pancake batter, I used my regular pancake recipe here.
For the honey-roasted pecans, I took regular pecans, tossed them with some honey (approx 1/2 cup pecans w 1 Tbsp. of honey) and baked them at 350 for about 15 min.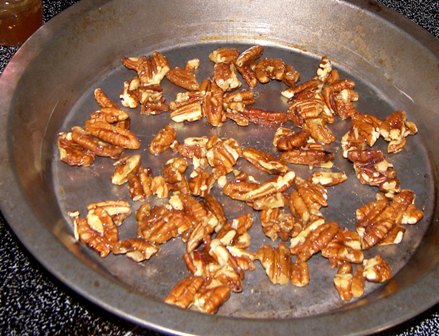 For the caramel sauce, I put 1 cup of sugar in a kettle (dry). Stir over medium heat and eventually it turns to a tan liquid! I should've timed it, I'd say it took maybe 7-10 minutes. After it's all liquid, add 6 Tbsp. butter and stir.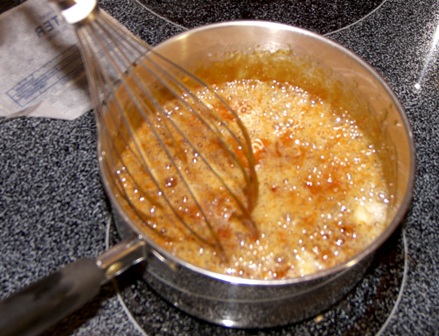 Remove from the heat and slowly stir in 1/2 cup heavy whipping cream. Whisk till smooth. Pour into a different container to cool. Note: That sugar is easy to burn! I made the caramel sauce twice because the first time, I stirred it intermittently while doing other stuff and burned it a little. I didn't know it was burned till I tasted it, it wasn't bad, it just had a tiny bit of a burnt flavor. The second time, it turned out perfect and was actually a shade lighter in color.
Now, the fun part… we've got it all ready to go here:
Pour batter into the frying pan like usual. I always do 3 pancakes in my frying pan because that's what fits the best. So, instead of a stack of 2 big ones like Bob Evans does, I made a stack of 3 smaller ones. And yeah, sometimes they get too big and run together, so my pancakes don't always turn out round. Put a few banana slices and some pecans on top.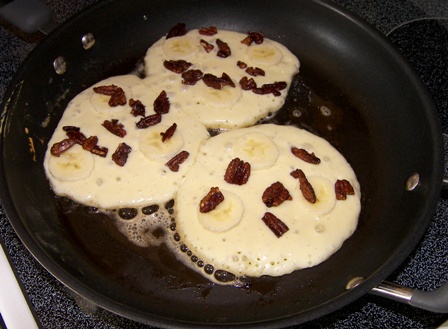 Flip pancakes as usual (and sometimes a banana slice may go flying off).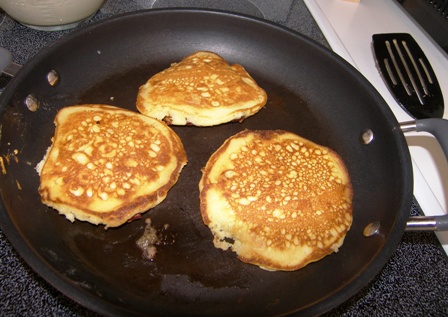 When done, put a pancake, bottom side up, onto a plate.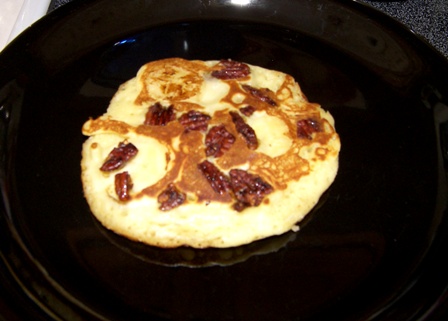 Spread a couple spoonfuls of the pudding mixture on top.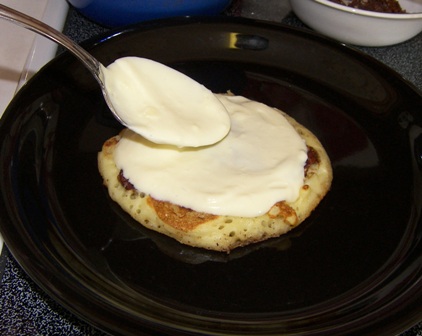 Put another pancake on top.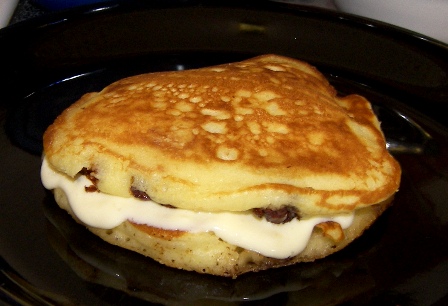 Spread some more pudding mixture on and drizzle with caramel.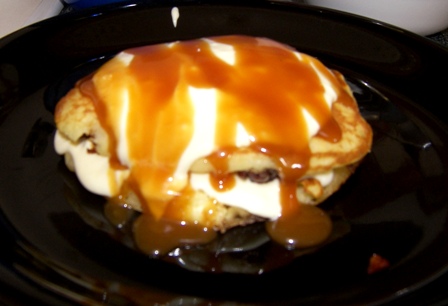 Put the 3rd pancake on top, drizzle with more caramel, sprinkle with powdered sugar,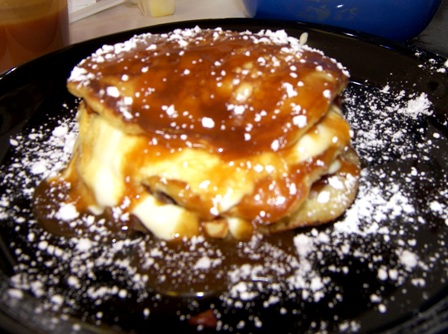 …and add a dollop of whipped topping.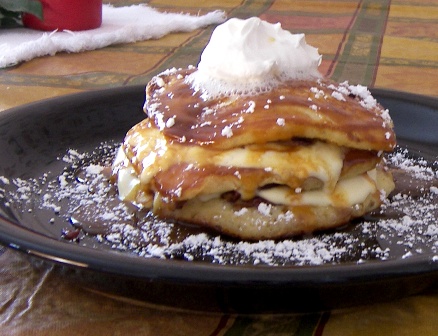 Mmmmm, I can't tell you how good this is! And it's very filling too! I didn't even eat lunch.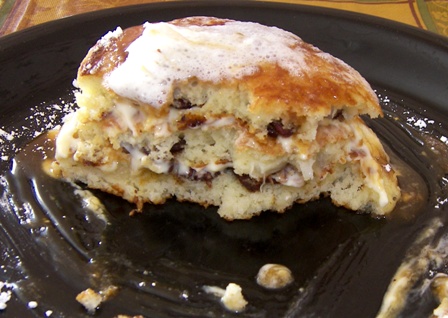 You've gotta try this! If it looks too complicated, you could buy caramel sauce, use regular pecans, and use instant pudding. But, it's so worth it to do it from scratch, especially the pudding!!!! (In my mind, I'm adding about 20 more exclamation marks about the pudding.)
Comments