Posted on April 13, 2009
Filed Under Breads Biscuits and Rolls, Cooks in Training, Holiday cooking
Ideally, I'd plan ahead and make Easter food to feature BEFORE Easter, huh? Well, sigh, that didn't really happen this time.
I forget where I saw these little rolls… it was online last year sometime. The reason these are called an Easter snack is because they're meant to symbolize the empty tomb. It's pretty neat how it works. You wrap a marshmallow inside a crescent roll and while it bakes, the marshmallow melts and lines the inside of the crescent roll, leaving it empty inside!
I don't have an actual recipe, but my little cooks will show you how it's done…
Unroll refrigerated crescent rolls and separate into triangles. Butter the trianges.

Put a marshmallow on each crescent roll and sprinkle with cinnamon.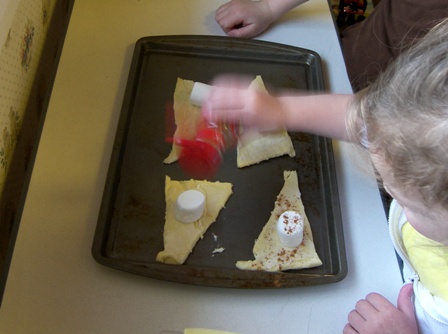 Fold the dough over and around till the marshmallow is all enclosed. Pinch seams to seal.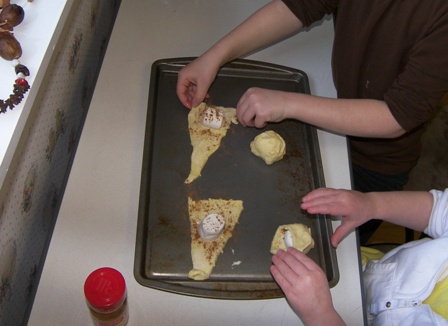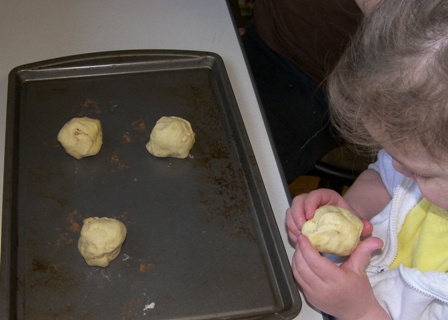 Bake at 375 for 12 minutes. And this is how they look! A couple of them were open, not sure if it was supposed to be like that or if the seams weren't pinched shut well enough.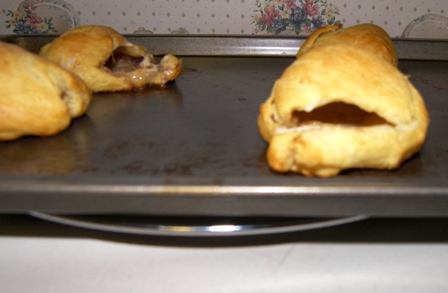 I hope you all had a happy Easter. We did. It started with an outdoor sunrise service at church. It was a perfect Easter morning… clear skies and a beautiful sunrise. The coffee, hot chocolate, donuts, and campfires were a nice addition too.

He is risen! Hallelujah!
Comments