Posted on March 9, 2009
Filed Under Chicken and Turkey, Grilling, Main dishes
Hi again! It's been awhile! The 'famine' on here doesn't mean we haven't been eating! It means that the last 2 weeks have been abnormal weeks as far as cooking goes, with company and then being busy with a booth at a Home and Garden show. Not a cooking show booth, by the way. ????
We were selling these: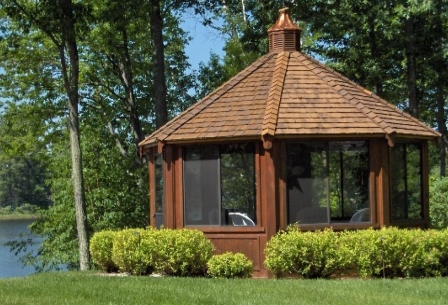 Anybody need a beautiful cedar gazebo in your yard?
I do love those little cooking show booths at shows though, even though the chefs always use the same lines and the same jokes. It just amazes me how they can talk AND cook at the same time! I think I'm a bit too absent-minded for that. And the cookware that cooks stuff without water… Wow! And the food doesn't burn… Wow! I have a hard enough time WITH water! Tonight while we were making supper, I even burned a piece of toast (not in water though… see, that's what happens when I cook without water)! Yeah, WE were making supper, not ME… because it involved grilling and that is my husband's territory.
Here, I'll show you what we ate tonight: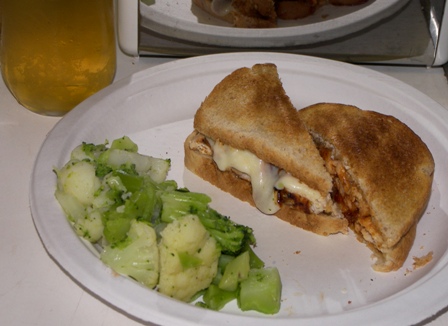 We're always trying to think of new things to do with grilled chicken breast besides chicken breast salad, shishkabobs, or just eating it plain w bbq sauce. This sandwich is actually along the lines of the Open-faced Pork Chop Sandwich that is a specialty around here.
Grilled Chicken Sandwich
Bread
Chicken breast
Provolone cheese (or cheese of choice)
Barbeque sauce OR dijon mustard
Toast the bread. Season and grill the chicken, then chunk it up.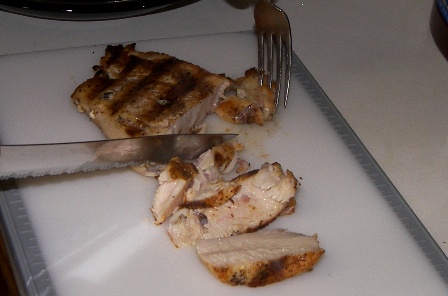 Assemble in this order: Toast, chicken, bbq sauce or dijon mustard, cheese, toast.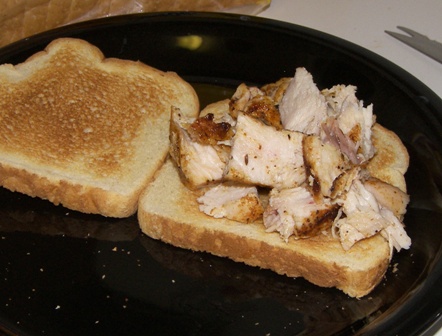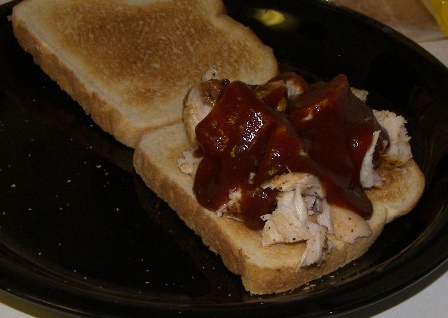 OR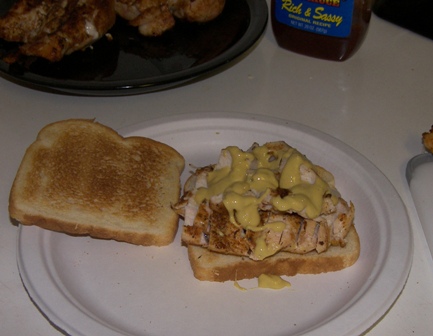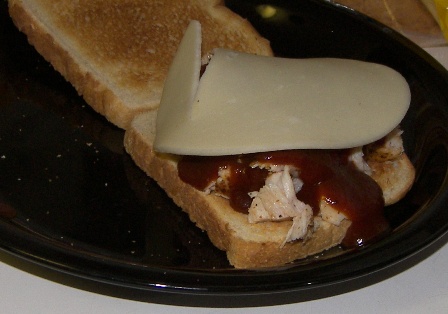 Microwave for about 1 minute, 2 min if you're doing 2 sandwiches.


And… enjoy!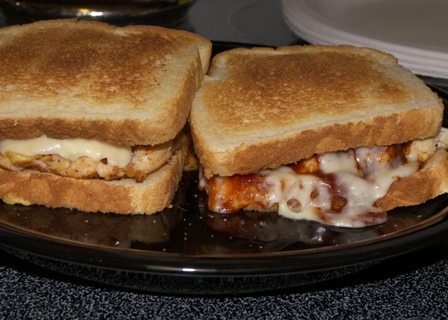 Mmmm, so good and so easy and so quick and not much cleanup!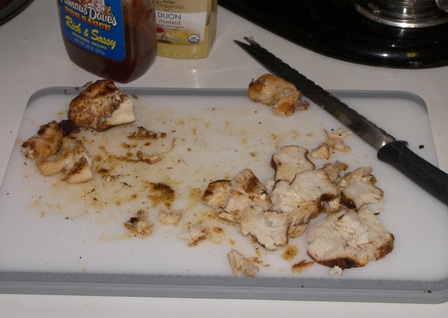 Wouldn't you just like to snitch a piece? It's flavored SO good and is nice and juicy! Not sure what seasonings he used.  Edit: He just said he used Cajun Black'n seasoning from the Bayfield Spice Company in Rhinelander, WI.
Comments