Posted on January 12, 2009
Filed Under Soups
Mmmmm, soup. Perfect for winter. That reminds me, last Spring I got a taco soup craving and was going to spend this winter perfecting a taco soup recipe because I love taco soup… and now the winter is already half over!
One problem with soup is that you don't get as much meat as you would in a meal with the meat separate. So, when I made this soup, I doubled the meat because it was going to be the main dish (served with biscuits and mozzarella cheese sticks). I wasn't planning to feature it at the time I was making it because I put in double meat and added an extra spice (as in, I didn't follow the recipe perfectly), so after the first step, I stopped taking progress pictures. Then, at mealtime I was regretting it because it was SO good and I thought you oughta have the recipe after all. ???? So, the 'done' picture was taken at lunch today when I warmed up the leftover soup and served it with fresh Red Lobster biscuits, salad, and sliced cheese.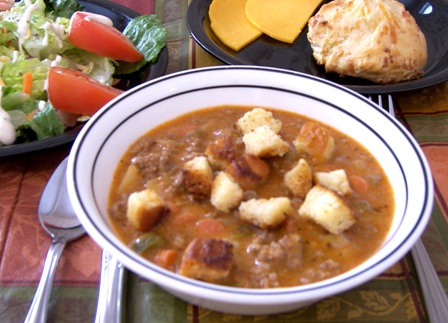 Hearty Hamburger Soup …from the Treasured Recipes for our Mothers (compiled by the 3rd &4th grades 1990-1991 at Lebanon Valley Christian School, but I'll bet the moms did more work at the compiling than the students did, altho' the students names are written beside the recipes ???? )
2 Tbsp. butter
1/2 cup chopped green peppers
1 lb. hamburger (I used 2 lbs)
1 cup diced or shredded potatoes
1/8 tsp. pepper
4 cups milk
1 cup chopped onion
1 cup sliced carrots
2 cups tomato juice
1 1/2 tsp. salt
1/3 cup flour
and I added about 1/2 tsp. of Chef Paul Prudhomme's Meat Magic seasoning
Melt butter in pan. Add onion, carrot, and green peppers. Cook until onion is tender, not brown.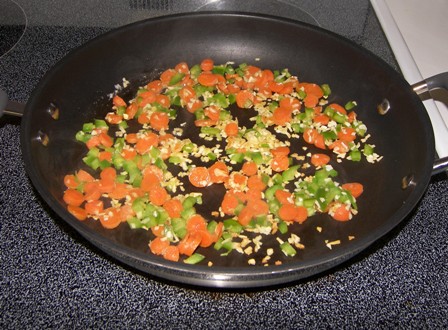 Add hamburger and cook until meat is crumbly (I assumed this meant how it gets after it's browned). Stir in tomato juice, potatoes, and seasonings. Cover and cook over low heat until tender. Combine flour with 1 cup milk and beat until free of lumps. Stir into soup mixture. Add remaining milk and heat, stirring frequently. Do not allow to boil.

Soooo… what do YOU usually serve with soup? It's often a got-all-the-food-groups-in-it dish (assuming you add crackers or croutons), so what food groups do you double up on?
Comments