Posted on February 23, 2009
Filed Under Main dishes, Snacks
Once again, I've attacked my pile of loose recipes, which grew since the last time I got it out back when I did this post. I went thro' and categorized them all and am planning to be cooking alot from them the next while and will either paste them into my 'blank' cookbook or pitch them. In order to keep them, they've gotta be 'would definitely make again' quality. If it tastes good, is easy to make, and looks good, then it's a keeper. If only two of those three qualities are true, then I make a decision of whether those two outweigh the other one and still keep it.
So, here's the recipe I chose out first and I'll tell you at the end if I kept the recipe or threw it away. Yeah, I chose a recipe that starts with the word 'petite'!!!???!! When I think of 'petite', I think of things like little dainty delicate teacups with little BREAKABLE saucers under them. And I usually shy away from anything like that because I get all thumbs when I'm around those types of things.
Petite Pizza Puffs …recipe comes from a card that came with my Pampered Chef Cut-N-Seal.
12 slices pepperoni
1/4 cup shredded mozzarella cheese
2 Tbsp. chopped mushrooms
2 Tbsp. pizza sauce
1 pkg. (10 oz) refrigerated pizza crust
Preheat oven to 375. In Small Batter Bowl, combine pepperoni, cheese, mushrooms, and pizza sauce. Roll out pizza dough to 11″x15″ rectangle, using Dough and Pizza Roller. Cut 12 circles in dough using Cut-N-Seal.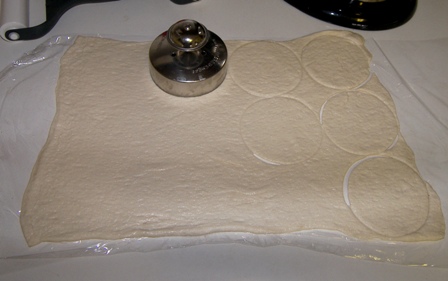 Using Medium Scoop, place 1 scoop (2 Tbsp.) pepperoni mixture in center of 6 circles, spreading slightly.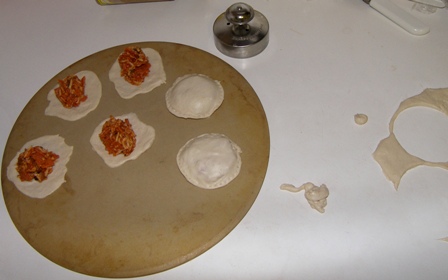 Place second dough circle on top. Lightly seal edges with fingers; seal with Cut-N-Seal.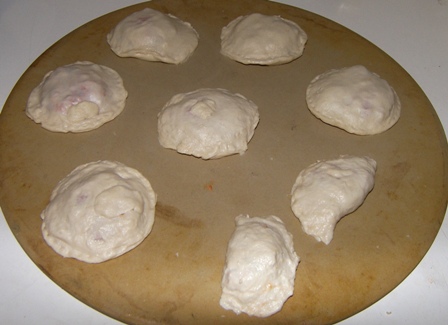 Place on flat Baking Stone. Bake 15-17 min or until light golden brown.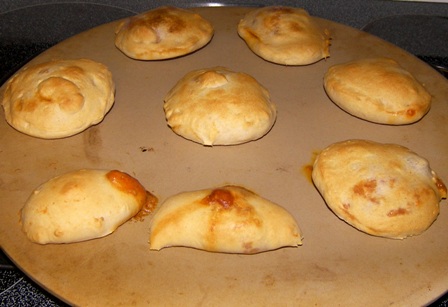 Serve with additional warm pizza sauce, if desired. Yield: 6 pizza puffs
I put a little more cheese on top and put them back in the oven for a couple minutes. Not sure why, I guess I just thought the tops looked a little plain or something. And more cheese is a good thing. ????

And there you go. Petite Pizza Puffs. Simple as that.
Or not!
So, the question: Will I keep this recipe? Yes, and decide for sure after I make them again. I saw afterwards how I should've done it to make it easier. How I did it was quite time-consuming and what a mess! I tried to assemble them on the stone and you cannot pick up a circle of thin sticky pizza dough and keep it from shrinking or ripping or losing its round shape. I should've assembled them right where I cut out the circles (which is how I think the recipe means that it should be done), then the whole puff may have been easier to move onto the stone. I should've also used some flour underneath the dough before rolling it out.
The taste was all there (I mean, really, how can you go wrong with those ingredients?). And the finished look was great.
So, here is the recipe. They really are perfect for something snacky or a lunch. Go ahead and try it and let me know some tips if you have any. If you don't have a Cut-N-Seal, a round cookie cutter and a fork or your fingers oughta work fine.
Comments