Posted on July 17, 2008
Filed Under Tidbits
I bought peanut butter chips for something and had half the bag left over. A few days later, I got a (another) baking urge and got the bag out of the cupboard and looked on the back for some ideas. On the back, was a recipe for chocolate cookies with peanut butter chips in them. So, I made them, with the intent of featuring them. After I was done, I was cleaning up, and never thought to save the empty bag with the recipe on it. So, into the trash it went. And I didn't even think about it till a day or so later when I went to feature them. By then the trash was already taken out. And it would be rather anti-climatical to feature them without a recipe. So, if you ever are in the baking aisle at the store, these cookies would be worth your time. All you'd need to do is get a bag of Recees peanut butter chips and check the recipe on the back to make sure you've got all the ingredients. I don't even remember the name of the recipe, but here is what the cookies looked like…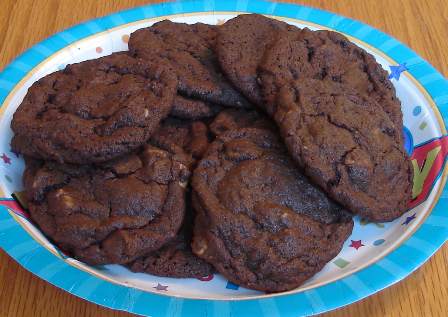 They're easy to make, soft, fudgy, and taste great!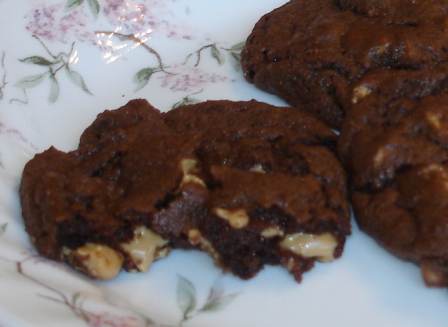 Tiffany was having quite a time keeping everything on her lap here. I offered to take her doll, but no, she wanted to multi-task…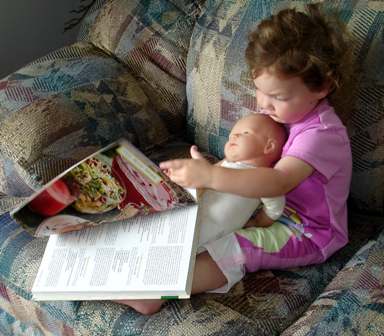 She also finishes my coffee alot of mornings… she asks "Wome o' hot?" If I say 'warm', she reaches for it and says, "Cn'I have it?" Goodbye coffee… which actually is using the term 'coffee' very loosely… my cup is full, but only about half of it is coffee, the other half is chocolate milk and some sugar.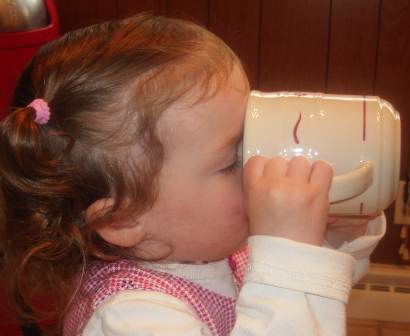 And then we have a fork…


It just suddenly got like that and we don't know when or how it happened. It seems like the whole tine would've bent instead of just the top part. It's not bent down or up, just over. Weird!

Tomato soup: Once in awhile, we have a quick meal of grilled cheese sandwiches and tomato soup. I usually keep Campbell's tomato soup on hand, but the last time I went to make it, I didn't have any. So, I found a recipe and made some from scratch. It took considerably longer, but it was WAY better than the stuff from the can! So, now I guess I'll have to weigh the pros and cons of time vs. taste every time I make that quick and easy meal. Do you always make tomato soup from scratch? I remember Mom making it from scratch when I was younger.
Recipe index: I don't know if you noticed the Recipe Index link up at the top of the header. Slowly, but surely, I am getting all the recipes under their respective categories on that page. I just started it, so only a fraction of it is done, but I think when it's done, it'll make the site more user-friendly. You can use it awhile for the recipes that are there so far.
Have a good day!

Comments