Posted on July 18, 2008
Filed Under Cooks in Training, Main dishes
Whenever there's a microwave recipe, I usually shy away from it. Here's the reason. It's because of my microwave… sounds like a good reason, huh? My microwave is a half-pint. I can't fit a 9×13 pan in it and when my girls were babies on bottles, I always had to lay the 8-oz bottles down to warm up the milk because they wouldn't fit in there standing up. The size isn't the only reason. The other reason is that it takes SO long to cook stuff in it. We joke that the microwave has only one setting and that's DEFROST. True, it does have only 1 setting, but it is a bit hotter than defrost. It takes forever to boil water and it literally is faster to throw a pan of water on the stove rather than do it in the microwave, like when I make finger jello. But the microwave works great for warming up serving-sized portions and thawing meat, but other than that, I don't use it for general cooking. Oh, I guess I do cook half a bag of frozen veggies in there sometimes.
But, you can't beat the deal we got on it. We got married about 12 years ago (in fact our 12th anniversary is in a couple weeks) and a little bit after we got married, we realized we need a microwave, so we found one at a pawn shop for $25 and it's still the same one we use today. Not sure why it doesn't give out! Here it is: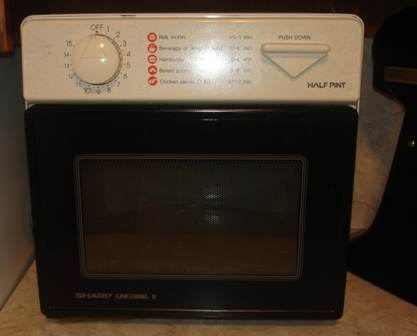 Anyway, having said all that, I decided to try a microwave dish. For the Cooks in Training foods, I don't like to use the stove because my little cooks might burn themselves, even with adult supervision, but the microwave is fine. So, here you go, a food that kids like… and made by them.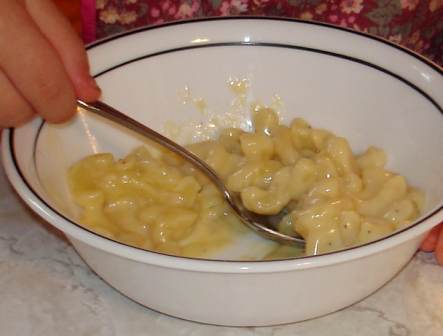 Microwave Mac 'n' Cheese  …taken from the 2000 Quick Cooking cookbook
2 cups uncooked elbow macaroni
2 cups hot water
1/3 cup butter or margarine
1/4 cup chopped onion (I had to do some fast talking to get that in there because I couldn't sneak it in! I said we wouldn't put in as much as it says, we only put in a couple tablespoons)
3/4 tsp. salt
1/4 tsp. pepper
1/4 tsp. ground mustard
1/3 cup flour
1 1/4 cups milk
8 oz. process American cheese, cubed (we used Velveeta)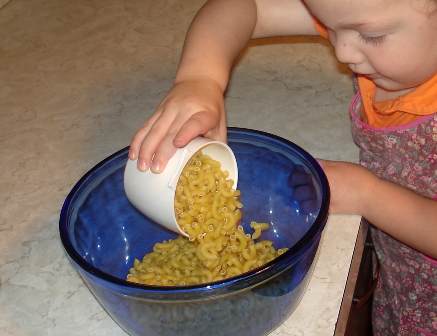 Hmmmm, I may have to outlaw the aprons! We don't really plan ahead and suddenly decide to cook or bake and away they dash for the aprons, putting them over whatever clothes they already have on! In this cooking session, Tiffany's combo clashes even more than usual.

In a 2-qt microwave-safe dish, combine the first 7 ingredients. Cover and microwave on high for 3 1/2 minutes; stir. Cover and cook at 50% power for 4 minutes or until mixture comes to a boil, rotating a half turn once. (I didn't rotate at all because my fashionable microwave has a turntable, and it still works.)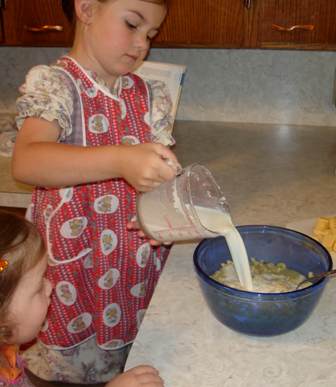 Combine flour and milk until smooth; stir into macaroni mixture.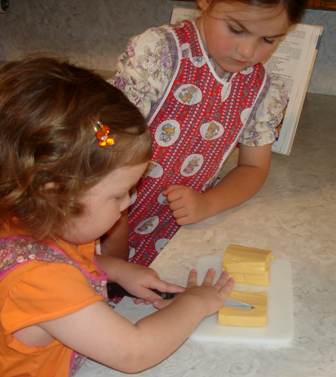 Yeah, I was watching this process very closely, and it was one of my duller knives. Velveeta is soft… a butter knife may have even worked.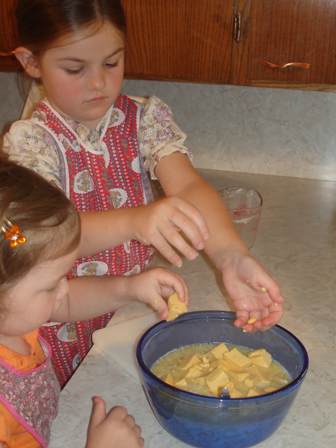 Add cheese. Cover and cook on high for 6-8 minutes or until the macaroni is tender and sauce is bubbly, rotating a half turn once and stirring every 3 minutes.  Yield: 4 servings.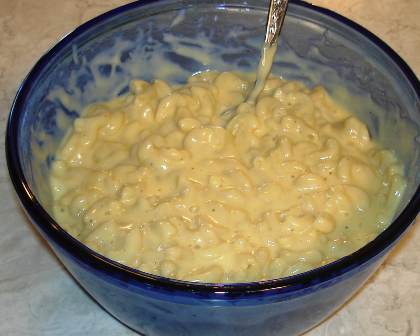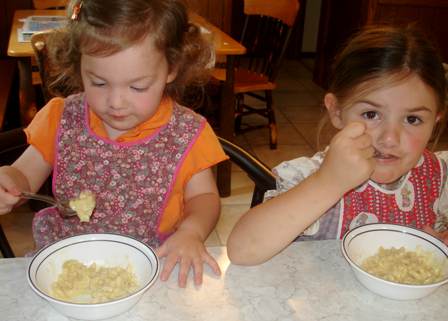 This was really good, although I've tasted better made-from-scratch macaroni and cheese. I missed the buttered crumbs that are usually on top of macaroni and cheese. This definitely beats the stuff from a box though and got rave reviews by the girls. Plus, Lexi thinks it's more fun to eat food that they made themselves.
Comments