Posted on July 1, 2008
Filed Under Cooks in Training, Pies
Ok, we're going to have 2 dessert posts in a row. But I'm fine with that… you know the saying, "Life is uncertain, eat dessert first". And when Lexi tries to talk me into letting her have 2 cookies right before supper and I tell her to wait till after supper because she won't be hungry and she reasons 'But if I wait till after, I might not be hungry for the cookies and I'd rather eat the cookies now and not be hungry for the chicken and stuff for supper', I see her point and actually agree with her. There are very few foods that I like better than cookies. So, yeah, she got that honestly… the willingness to 'wreck' a meal by eating dessert first. Which isn't wrecking the meal at all because the cookies are better than the meal.
In case you're getting worried, we don't actaully eat dessert first around here. We just discuss it. I actually don't usually even make dessert at mealtime because we're often too full for it anyway. So our cookies and pies and milkshakes and stuff are more often an evening snack for us.
With this post, I'm starting a series called "Cooks in Training". Guess what that is… anybody have little people in the house? Do our weekly recipe with them. They'll love it! And you actually will too, just relax and picture the worst case scenario and hopefully you'll be pleasantly surprised that it didn't go too bad.

My main job was using a rag before the messes took over my kitchen. Lexi (5) and Tiffany (2) did all the work except for the little bit that I did to show them how to do it. I'm not sure how long this will last as being weekly… hopefully I'm not burned out by the 3rd week!
We were grocery shopping one day and Lexi saw some cute little pre-made graham crusts in a pack of 6. She did a sharp inhale and exclaimed, "Mom, look at these sweet little pies! Can we get them?" They were really cute. And only $1.25 for 6 crusts, so I quite easily gave in. Here is what we ended up doing with them: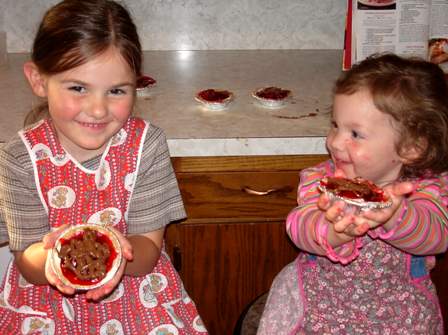 Mini Cherry Pies
4 oz cream cheese, softened
1/4 cup sugar
1/4 tsp. vanilla
1 1/2 cups cherry pie filling (or filling of your choice)
1/2 cup chocolate chips, melted
6 Keebler mini ready-made graham cracker crusts
Beat the cream cheese, sugar, and vanilla till smooth. Spread on bottom and up sides of each crust.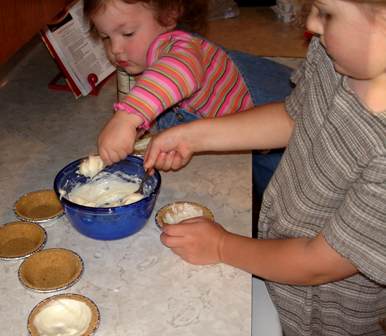 Between this step and the next step, "Oh! We forgot our aprons. Mom, just wait. We have to go get our aprons. C'mon Tiffany." Their aprons were made for them by their Great Grandma, the one who makes THE BEST brown sugar pie. 
Put about 1/4 cup pie filling on top of cream cheese mixture.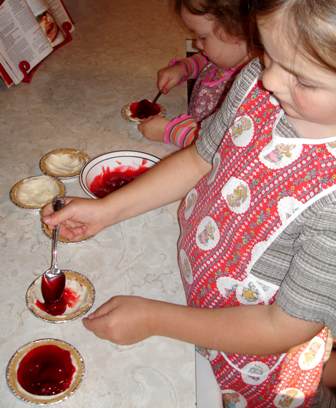 And if any filling would happen to miss the crust and land on the counter, just lick it up. —————————————————————————
Melt chocolate chips and put in plastic bag. Cut off one corner and pipe the chocolate onto the filling.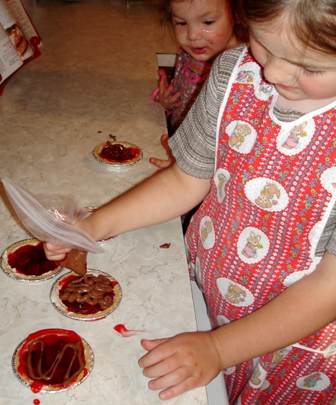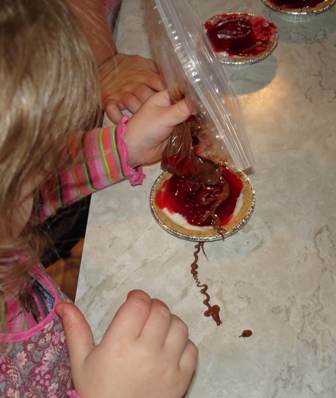 And, uh, try not to let the bag drop into the pie. That would get cherry filling on the bag and then might get your hand messy.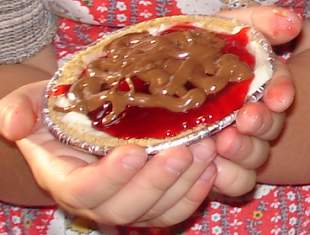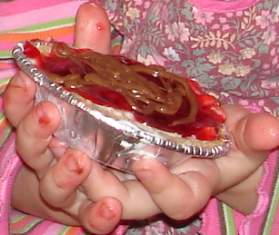 Chill for an hour or two. Eat. They tasted great!
Comments