Posted on July 7, 2008
Filed Under For special occassions, Holiday cooking
First off, about the USA jello. I used a jello mold that's the shape of the US.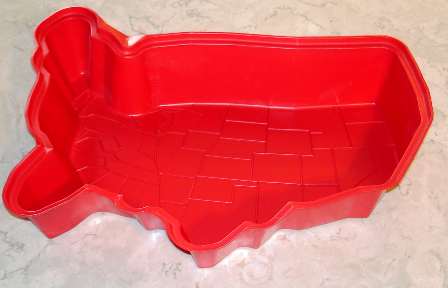 The mold has teeny shallow lines between each state, so to get the different colors effect, I mixed up the blue and red jello, then used a medicine dropper to drop it into the different sections. (I don't keep a medicine dropper around, I took a bottle of infant Tylenol out of the medicine cabinet, took out the dropper, washed it really good with hot water, used it to color the states, washed it good again, and put it back in the bottle.) In some states, there's a mixture of both blue and pink. That happened when the dropper dropped before I was over the state I wanted or when I got too much in the state and it went over the little 'walls' between each state. It was a little tedious, but I thought it would look a little blah with just all one color on top. After I got all the states filled in, I put 1/2 of the white mixture in, then layered red, white, and blue from there.
To cut the jello, I followed the lines and cut it apart into states (except some of the New England states!). It was kinda nice because then you could pick your size. Lexi was declaring that she was gonna get Florida and that she'd get Wisconsin out for Tiffany. But when I finally gave them the go-ahead to dig in, she saw the size of Texas and changed her mind about Florida. Then, Tiffany wanted the biggest one too, so to save a fight, we suggested California and she was happy with that. They each ate about 1/4 of their piece, then said it was too big. Sigh. I was thinking, "So, then WHY did you guys have to get the biggest pieces?!" but instead I said, "Just wrap them up in Saran wrap and put them in the fridge. You can finish them later."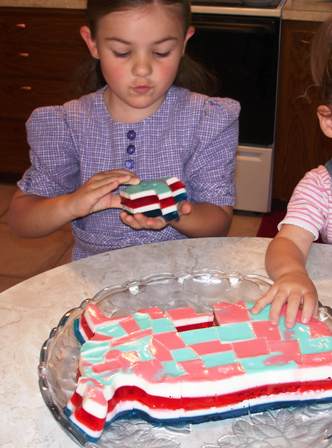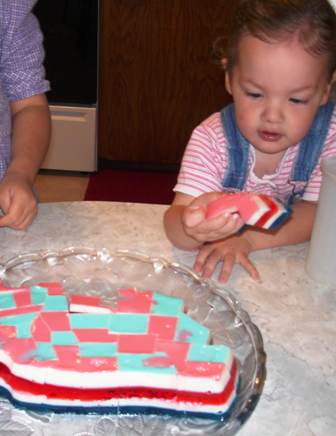 ——————————————————————————————————————————————————————————————————————————————————————————————————————————————————————————————————————————————————————————————————————————————————————————————————————
We got together with some friends Friday night and grilled burgers and hot dogs before the fireworks. I made a fruit pizza for dessert. It's this recipe, but I cut back on the amounts because it wasn't gonna fill up the whole pan since it was shaped into a rectangle, a flag. Oh, it was so good. I didn't count how many pieces I ate. Fruit pizza is one thing I crave, especially in the summer.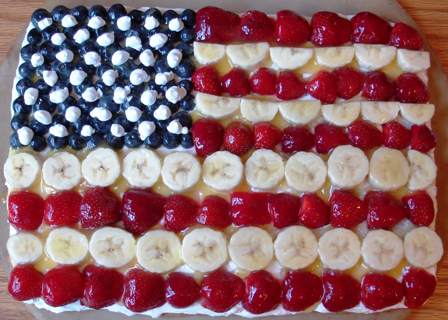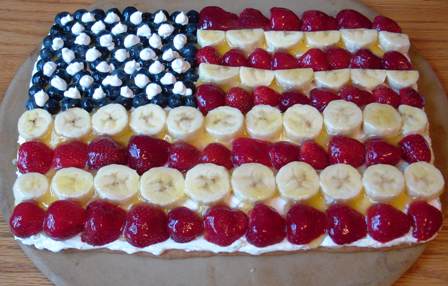 I have a few fireworks pictures, but other than that, nothing. I was lounging in my lawnchair thinking, 'I should go get my camera and take a picture of Shannon grilling and of the kids playing and of the adults talking and capture the party atmosphere around us' and then as I kept lounging, I lowered my standards and started thinking, "I should at least get my camera and take 4 pictures because that would make a pageful for when I scrapbook this event', but I just kept sitting there, living the moment instead of capturing it. I actually don't like taking pictures at social events. BUT the only thing I hate worse than taking pictures is not having pictures, so that's what drives me to take them. Except for this time.
And with that I leave you with a little fireworks show…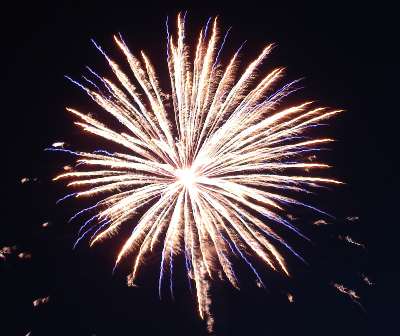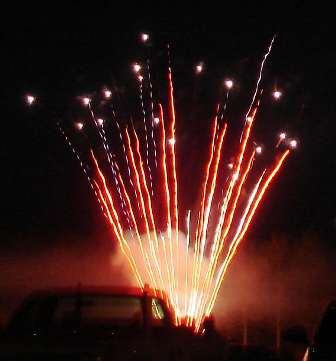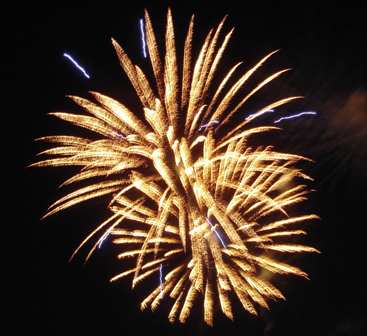 Comments