Posted on July 21, 2008
Filed Under Garnishing, How to…, Pies
Silk is right. I wonder whoever came up with that term for pie. But it fits this one. Smooth as silk. And creamy and light. Light as in not heavy, not light as in diet. Far from it!
My grandma always said that she likes to make pies better than she likes to eat them. That doesn't mean that she doesn't like pie! Sometimes while I'm making pie, I wonder if I have reached that same status now. Then, I eat a piece and decide I'm not quite there yet. BUT, this pie may have been an exception. Not that the pie itself was so fun to make. The fun was in the garnishing… chocolate curls.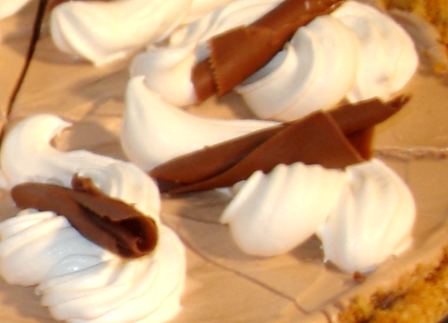 This recipe is taken from my newest cookbook… Simply with Taste. I got it about a week ago. I love it! Sometime, I'll tell you more about it and its nice features. This silk chocolate pie is the first recipe I tried from it.
Silk Chocolate Pie
1 pkg. (4 oz) Bakers German sweet chocolate
2 Tbsp. milk
6 oz. cream cheese, softened
1/4 cup milk
3 Tbsp. sugar
4 cups whipped topping
2 baked or graham cracker pie crusts
Microwave the chocolate along with the 2 Tbsp milk on high at 20-30 second intervals until chocolate is melted, stirring frequently. Beat the cream cheese, sugar, and 1/4 cup milk until smooth; add the chocolate


and mix until well blended.
Refrigerate for 10 minutes. Fold in the whipped topping.

Spoon into the prepared crusts. May freeze if desired, or use within a day. Top with whipped topping and chocolate curls for garnish.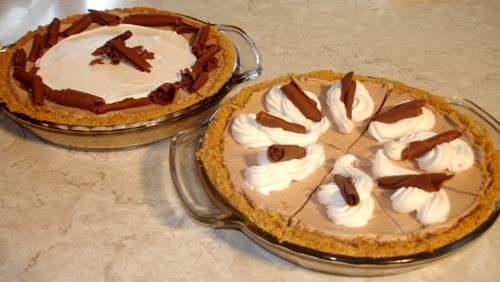 And now for the fun… How to Make Chocolate Curls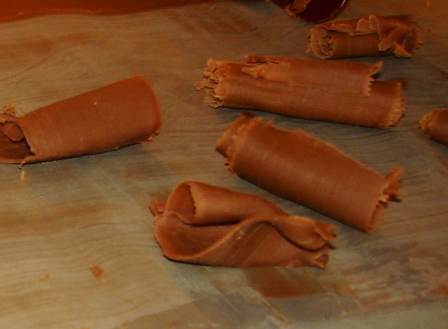 Melt about a 1/2 cup chocolate chips w about 1 Tbsp. of shortening.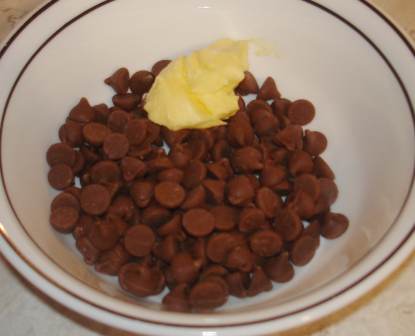 Spread into a thin layer on the back of a metal cookie sheet.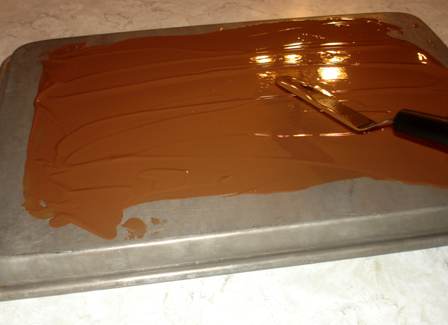 Put in the freezer for 3 minutes. Take it out of the freezer. Immediately, take a flat tool of some sort (I used my Pampered Chef little square scraper that's actually for cleaning stoneware, I use that little thing for alot of stuff!) and hold it at about 45 degrees and push down and across the baking sheet. The chocolate should curl right up.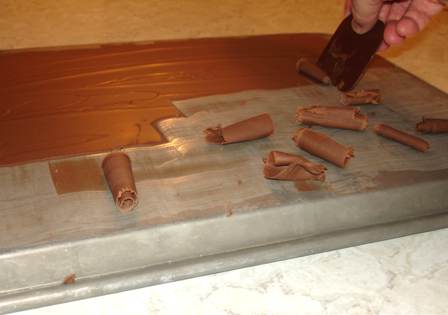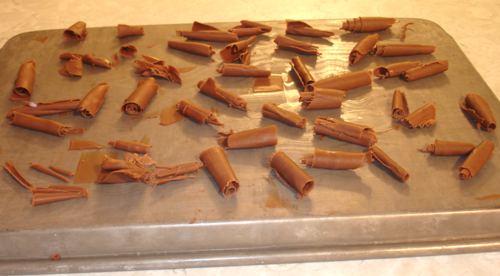 If it just breaks, wait a minute or 2 to let the chocolate soften, then try again. If it doesn't curl, put it back in the freezer for another minute or so. Depending how long it takes to curl all the chocolate, you may have to put it back in the freezer to harden up again before you're done. Use a toothpick or utensil of some sort to move the rolls to a plate and put them in the refrigerator. When they're good and hard again, you can put them in a plastic bag and store in the refrigerator. Or you can just put them on the pies like I did.
Comments