Posted on July 9, 2008
Filed Under Chicken and Turkey, Easy meals, Main dishes
The title actually sorta gives away what most of the ingredients are! Cheese (actually a can of cheese soup), chicken, and if it's quesadillas it's gotta have tortillas, and water. I got this recipe off of the soup can. Southwest Style Pepper Jack soup.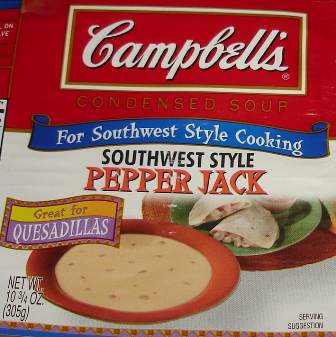 It was kind of hard to find… have you ever stared and stared at shelves, just knowing it was there, but you couldn't lay your eyes on it? I did that with this. I did it in the jello section looking for watermelon gelatin too just lately, but that's for another time and another post. There is a difference though… with the watermelon gelatin, I was only hoping it was there, with the soup, I knew it was there.
The reason I knew it was there is because my sister-in-law Liz makes these quesadillas and she said Marketplace has the soup, but Walmart doesn't. After I finally found the soup, I immediately looked on the label to see if the recipe was there and sure enough, it was. Then, I wondered HOW, out of all the soup can labels there, Liz found this soup and tried this recipe. And it was a hit with the family! Wonder how much more I'm missing out on by not trying other soup can label recipes.
There are 4 more recipes on the back (you have to cut the paper off of the can on the specified line and flip the paper over to see them, this is not something you should be doing in the store before purchasing). I think it's the manufacturer's trick to getting you to buy more… you can't see the other recipes till you get home and cut the paper off of the empty can before throwing it away. Then some of the recipes grab you and "Southwest Style Pepper Jack soup" goes right back on your shopping list. The other recipes are: Nachos Grande, Cheesy Pepper Jack Tacos, Mexican Meatloaf, and Cheesy Southwest Potatoes. I'll bet some of those would be good too. Especially the nachos, meatloaf, and potatoes. They all have 5-7 ingredients. The reason you don't need many ingredients is because this soup has got LOTS of flavor and kick.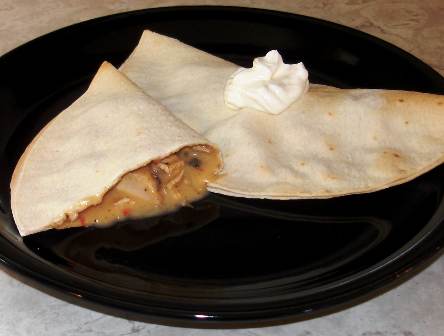 Cheesy Chicken Quesadillas
1 lb. boneless chicken breast halves, cubed
1 can Campbell's Southwest Style Pepper Jack soup
1/4 cup water
8 flour tortillas (8″), warmed (I used 9″ tortillas, and only 6 of them)
Preheat oven to 325. Cook chicken in nonstick skillet until done and juices evaporate, stirring often. Add soup and water and heat through. Shannon grilled the chicken on the grill while I mixed and heated the soup and water. When the chicken was done, I chunked it up and mixed it into the soup.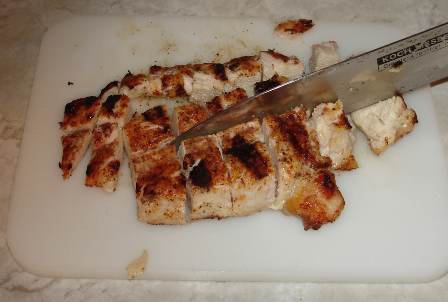 Spoon about 1/3 cup chicken mixture on half of each tortilla to within 1/2″ of the edge. Moisten edge with water.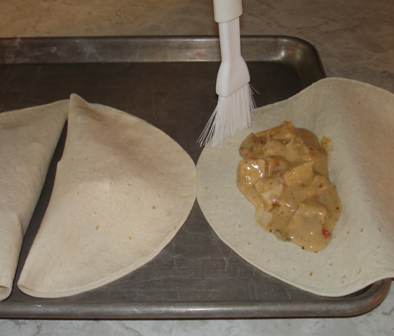 Fold over and seal. Place on 2 baking sheets (or 1, in this case). Bake 5 min. or until hot. I baked them for 7-8 minutes, until I saw a bit of browning.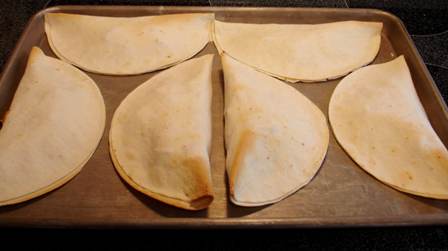 Cut into wedges and serve with salsa. And/or sour cream. I ate mine with sour cream. It was spicy enough without the salsa.

Just delicious for something so simple! If you have a full-time job and need to come home and make supper, this would be a good thing for the main dish! It takes about 20 minutes from start to finish. For a quick idea of something to serve with it, how about tortilla chips and applesauce. Or peanut butter pie (I'm so hungry for peanut butter pie!). Or ice cream. Or something else cold and creamy to cool the mouth. Tiffany's take on the quesadillas after a couple bites was, "I don't wike da spicy."
Comments