Posted on July 11, 2008
Filed Under Cookies and bars, Cooks in Training
I'm going to try to do this series without talking every time about big messes and me using a rag every 2 minutes before the mess takes over my kitchen. Hmmmm… now, I'm sitting here with nothing to say if I can't talk about that…
Just kidding. We had fun. And now Lexi can finally stop sharply inhaling and saying, "Mom, let's make these sometime!" whenever she sees these cookies in the 2004 Quick Cooking cookbook.
Smiling Sugar Cookies
1/2 cup butter (no substitutes), softened
1/2 cup sugar
1/2 cup packed brown sugar
1 egg
1/3 cup milk
2 tsp. vanilla extract
3 cups flour
2 tsp. cream of tartar
1 tsp. baking soda
1/2 tsp. salt
About 24 popsicle sticks
1 cup vanilla frosting
Food coloring
Assorted small candies (we used M&Ms)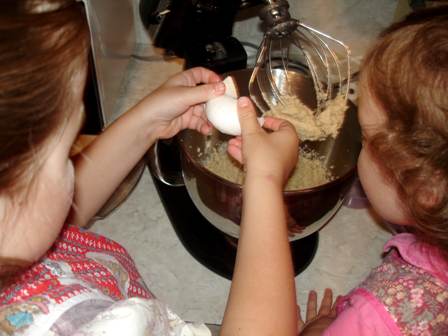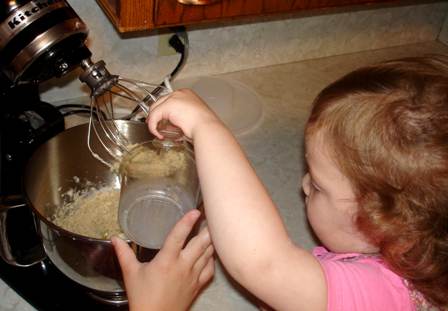 Cream the butter and sugars. Beat in egg, milk, and vanilla. Combine flour, cream of tartar, baking soda, and salt; gradually add to creamed mixture. Roll the dough into 1 1/2″ balls.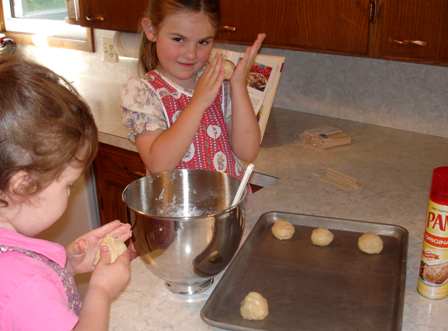 Insert stick into the center of each. Place 2″ apart on lightly greased baking sheets; flatten slightly.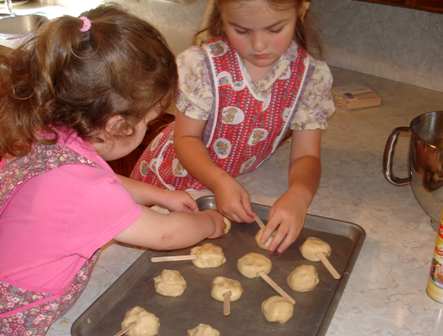 Bake at 375 for 8-10 minutes or until lightly browned.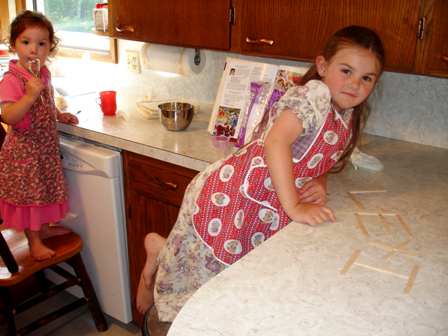 That baking time is a problem for 2 little energetic cooks. Tiffany and I made frosting and Tiffany licked the beater while Lexi wrote stuff with popsicle sticks to pass the time. And they still kept peeking in the oven and asking if the cookies were almost done.
Remove to wire racks to cool. Divide frosting between bowls and tint them to desired colors. Put each frosting in a plastic bag and snip off a small corner of the bag. Pipe hair and mouths onto cookies. Use a small dab of frosting to attach small candies for noses and eyes.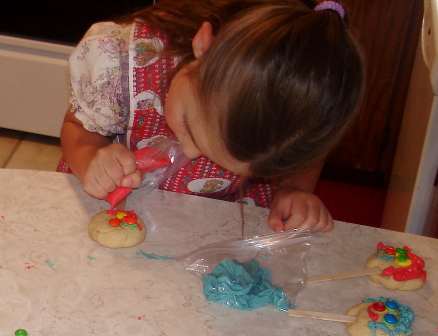 Ah, I just love that chubby little hand with a decorating bag. She actually didn't do too bad at decorating for a 2-yr-old.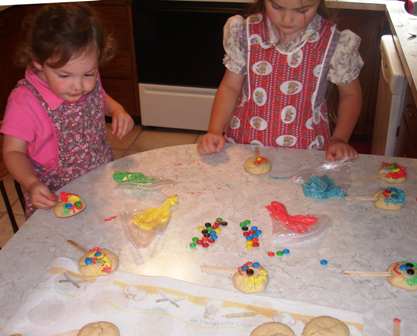 Let dry for at least 30 minutes. Yield: about 2 dozen.
And here's the finished product…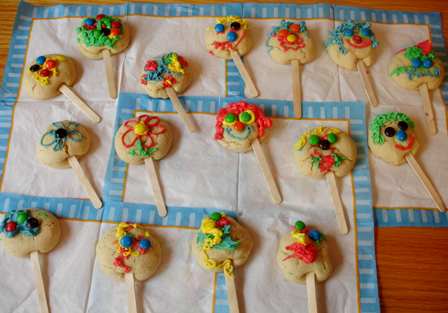 They would've been kinda cute poked into something and standing up, but I couldn't think of anything around here that would work for that. 3 were eaten plain, we got 19 cookies out of the batch.
Here's the smiley section. Alot of the food I take pictures of (if it's for a meal) gets photographed while everyone is coming to the table or sitting down already and when I take more than 1 picture, there are jokes like, "Wasn't it smiling the first time?" With these, the joke was, "Oh, now the food actually does have to smile!"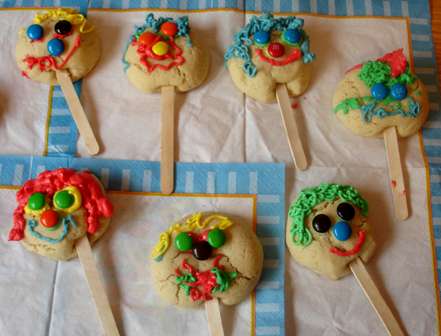 Yes, those are all smileys… use your imagination. Tiffany did that one by herself with the red mohawk. And the one with the yellow hair and green eyes has a beard… Lexi's creation (before we even started decorating, she said she's gonna make one with a beard, don't know why she thought of that, she's rarely around anyone with a beard). I made only one of these and I certainly hope you can tell which one.

Soon, Lexi got bored with smiley faces, so she switched to flowers and a butterfly…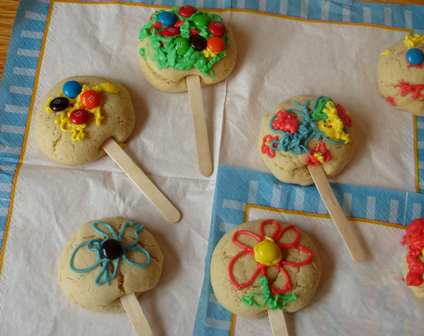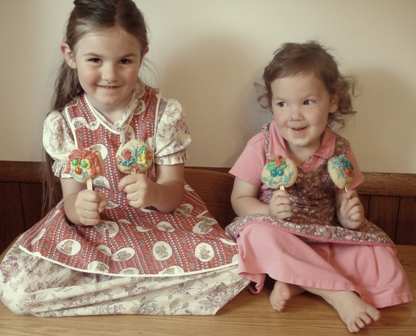 Now, about making these with your kids… I just went back to check the time on my camera. The very first picture (dumping ingredients into the bowl) was taken at 2:54 p.m. The last picture taken (them sitting there holding cookies) was taken at 4:30 p.m. 1 1/2 hours… not alot of time. Skip storytime and spend 1 hour less on the computer someday (ouch, less computer time? that hurt. Let's switch that one to 'skip scrubbing the kitchen floor and weed the flowerbed some other day'). They will have a ball of fun and it'll make memories for them. And hopefully not too bad of nightmares for you.
Oh, and by the way, this is actually a good sugar cookie recipe if you just want to make regular sugar cookies sometime. I don't like sugar cookies because they're always so dry and tasteless (that's my opinion, I live with a couple of people who really like them), but these are better than most of the sugar cookies I've had.
Comments