Posted on June 3, 2008
Filed Under Chicken and Turkey, Pork and ham
I've never made bacon-wrapped anything. I've had bacon-wrapped crackers and I've had bacon-wrapped filet mignon, but didn't make either of them. So, here it is, the first time I've made a bacon-wrapped something…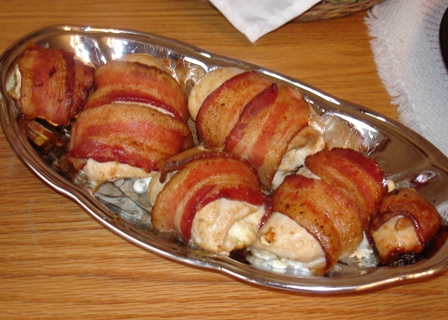 Bacon-Wrapped Chicken    Recipe taken from the 2001 Quick Cooking cookbook
6 boneless skinless chicken breast halves
1 carton (8 oz) whipped cream cheese with onion and chives
1 Tbsp. butter or margarine, cubed
Salt to taste
6 bacon strips
Flatten the chicken to 1/2″ thickness.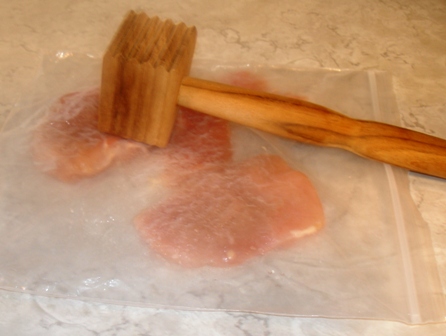 Spread 3 Tbsp cream cheese over each. Dot with the butter and sprinkle with salt. Have you ever tried spreading cream cheese on slippery raw chicken? It's hard!!!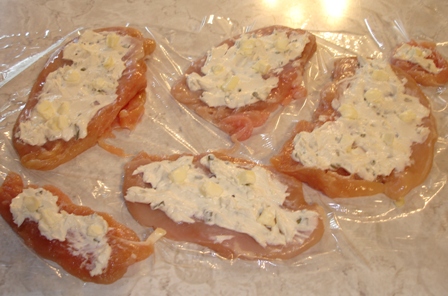 Roll up. Wrap each with a bacon strip. Place, seam side down, in a greased 9×13 pan.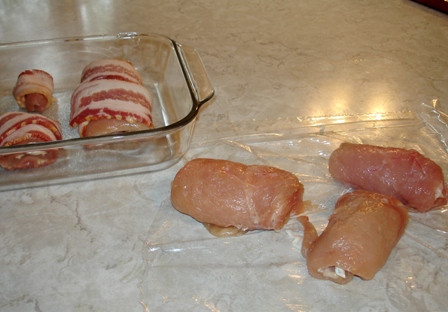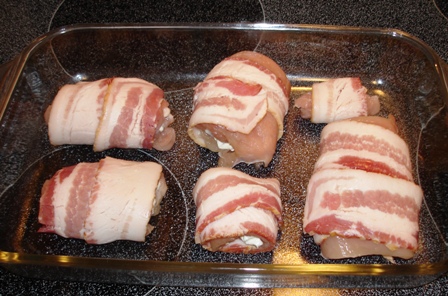 Bake, uncovered, at 400 for 35-40 minutes or until juices run clear. Broil 6″ from the heat for 5 minutes or until bacon is crisp. Yield: 6 servings. Look at the difference in the pan of the picture above and the picture below! The bacon sizzled and splattered while baking. We could hear it.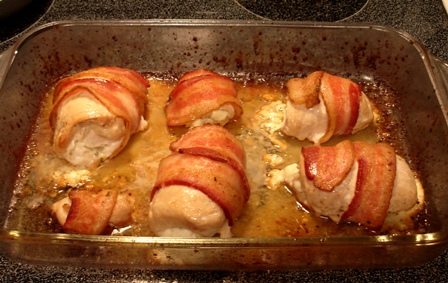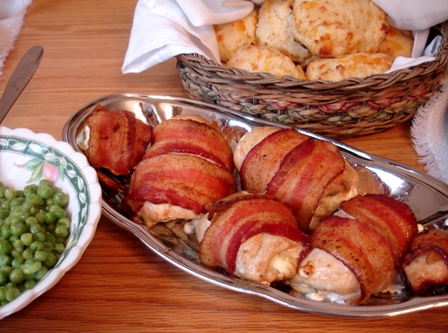 We had creamed peas and Red Lobster biscuits with it.
This bacon-wrapped chicken actually looked REALLY good and sounded like it would be top notch, as in put it on the make-for-company list. The combo of chicken and bacon was really good, but the chicken was a bit dry and it wasn't really all that extra flavorful.
Next time, I'm going to skip the cream cheese thing and sprinkle other seasonings inside instead. Then, I'll bake it covered (so the splattering bacon doesn't total my oven!) and uncover it for the broiling at the end. I think the chicken would stay more moist that way. And then we could eat it with barbeque sauce. Bbq sauce didn't seem like it would go with that cream cheese mixture.
But it does look kinda neat, doesn't it? One thing that surprised me was that the bacon stayed on, even when it ended at the top. I didn't have to tack it down with toothpicks or anything!
One of these weeks, I'll have to do a week of re-doing recipes that I've tried. I say 'next time' and then just keep making new recipes and 'next time' doesn't really happen, although I did try something different with those carrot pancakes… I traded the cup of carrots for 1/3 cup of pumpkin and doubled the pecans. I kept everything else the same, but maybe should've added nutmeg. It was much better than the original recipe!
Comments