Posted on June 15, 2008
Filed Under Cookies and bars
My Father's Day post I had planned didn't really happen then, but Happy Belated Father's Day anyway. Especially to the father of my daughters. And also to my own father.
I've got good memories growing up. Dad spent alot of time with us, from laying on the floor playing games with us to taking the family out on the boat multiple times a week in the evening in the summer. Dad taught us children how to play chess when we were pretty young. He'd take off his queen AND give us hints. As we got older, the hints stopped and eventually the queen came back on, and we could even beat him sometimes. We went boating and picnicking on islands and fishing alot too. I grew up here among the many lakes in the northwoods and a boat was almost as important to own as a car, in our opinions. At a certain age, Dad stopped taking the fish off of our hooks and said we were old enough to do it ourselves. I don't remember exactly what age that was (maybe 9 or 10 yrs old), but whenever it was is when I started mostly just going along fishing for the ride and not getting my pole out. I missed seeing my bobber jerk underwater and feel the tug on the line, but it was worth giving up not to have to take a fish off the hook! His storytelling ability is amazing and kept us very entertained and wide-eyed growing up… especially the stories involving his horse Dusty and the stories about their one-of-a-kind neighbor. Oh, and one other thing, not alot of people grew up with yearly Donald Duck renditions by their dad of the "Happy Birthday to you" song.

Another thing about Dad is that he loves whoopie pies. Every year for his birthday, Mom would make him whoopie pies and at least one year, she made a whoopie pie cake. It was huge (maybe about 12″ across) and looked exactly like a whoopie pie. I haven't made whoopie pies for years, but I did just lately. I was so disappointed that they didn't turn out like Sheila's OR Julia's… the 2 people that I consider to be whoopie pie queens. But oh well, they were good anyway.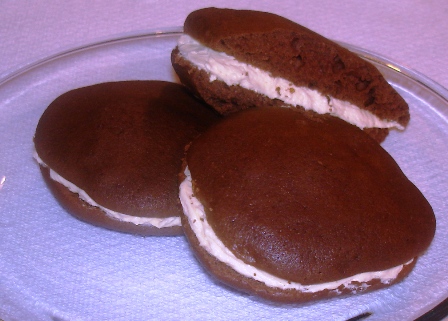 Not sure why this picture has a lavendar hue! ????
Ever wonder why whoopie pies are called whoopie pies? I didn't really wonder it until Lexi wondered it and started questioning me like I'd just automatically know. It's like 3 desserts all in one… they taste like chocolate cake with frosting, but you bake them like cookies, and they're called pies! Maybe it's one of those things that will forever be a mystery… try explaining that to a 5-yr-old! Her world is full of questions and she's not satisfied with no answer.
Whoopie pies …recipe taken from the Tasty Favorites cookbook (Pleasant Grove Mennonite Church)
2 cups sugar
1 cup shortening
2 eggs
3/4 cup cocoa
2 tsp. soda
2 tsp. salt
2 tsp. vanilla
1 cup hot water
1 cup sour milk or buttermilk
4 cups sifted flour (sift?! Does anyone out there sift?)
Mix and drop by teaspoonfuls (I did more like 2 Tablespoonfuls) on cookie sheet. I spread them out a little so they wouldn't be so thick. I don't like thick whoopie pies… too much cake.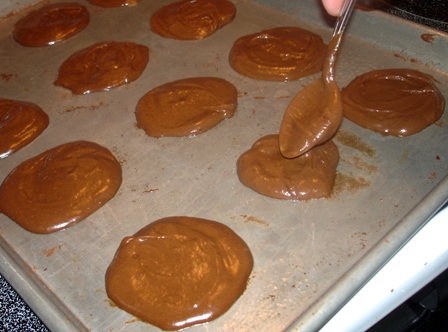 Bake at 400 for 8 minutes. I baked it for 7 minutes.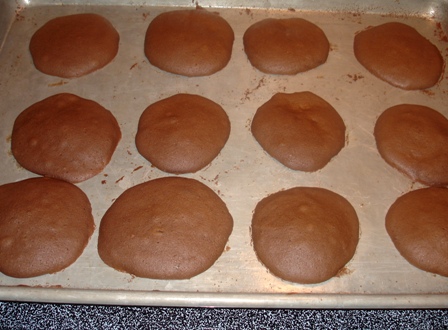 Filling:
2 egg whites
2 Tbsp. vanilla
4 tsp. flour
4 tsp. milk
2 cups powdered sugar
1 cup Crisco
Beat egg whites until stiff. Add vanilla, flour milk, and powdered sugar. Beat and cream, then add Crisco. Spread filling on bottom side of one cookie.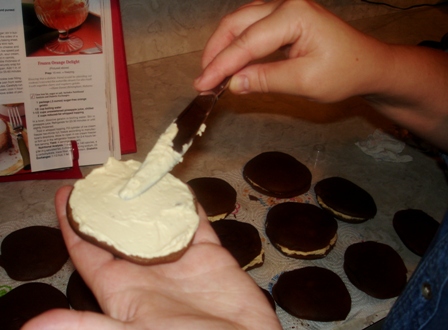 Top with another cookie. Yield: 66 cookies (33 sandwiches) Here you go, Dad… I wish you could just pick one off the screen!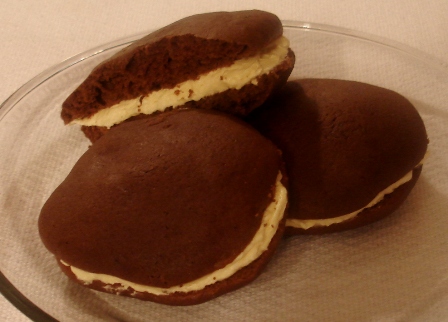 This recipe tasted great, but I had a couple problems with it. The filling didn't get white. It was a light tan. Do you think the vanilla is a misprint? Should it be teaspoons? Everything else in the filling is white except the Crisco I used is yellow, so I think it was mainly the vanilla's fault that it got tan. The other problem I had was that the cookie part made 5 1/2 dozen cookies, which made 33 sandwiches, but the filling was gone after 24 sandwiches. And it was none too thick, either. So, next time, I'd either make 1.5 times the amount of filling or do what I did this time… filled the leftover cookies with ice cream.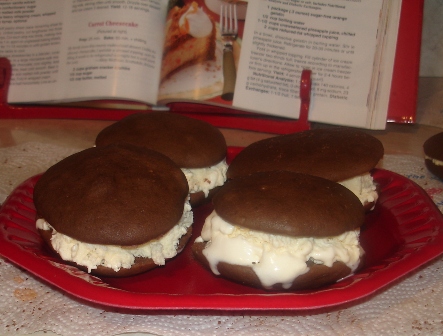 That was good! They tasted like ice cream sandwiches!
On a different note: I won't be posting on here much at all this week… we have Summer Bible School at church Monday – Friday and I'm teaching the nursery class (4-yr-olds), so that's where I'll be during the day. Then, the rest of the time I'll be trying to keep up with the laundry, cleaning, etc. around here. Some wonderful ladies from church who aren't teaching offered to make suppers, so I'll probably be doing little cooking this week. I will be making rice crispy treats for snack time at Bible School though.

Comments