Posted on June 2, 2008
Filed Under Breads Biscuits and Rolls, Breakfasts
I don't know who Katie is, but her scones are GREAT!!!! This was one of those recipes that I saw and right away knew I had to make. I got the recipe off of a new cooking blog I found last week: Kelly Cooks…and Other Amazing Feats. I had fun browsing thro' her other recipes too.
One thing that grabbed me about these scones was that they take fresh strawberries. We don't have fresh strawberries around here yet, but I've still been getting them regularly because they're perpetually on sale at the grocery store. And that has got to be one of my favorite fruits, especially cut up and mixed with sugar. As the season wears on and I've had lots of strawberries and foods with strawberries in them, I get over my craving, but for now, strawberries it is. Second to chocolate… which of course is a helpless non-stop year-round craving.
Katie's Strawberry Scones
2 1/4 – 2 1/2 cups all-purpose flour (depending on how ripe your strawberries are) I used 2 1/4 cups.
1/4 cup granulated sugar, plus extra for sprinkling
1 Tbsp. baking powder
1/4 tsp. salt
1 stick (8 Tbsp.) butter, chilled and cut into small pieces
1 egg
1/4 cup yogurt (I used strawberry yogurt.)
1/4 cup milk
2 tsp. orange zest  (I didn't have oranges on hand, so I skipped this.)
1 cup fresh strawberries, diced
Preheat the oven to 350 degrees and line a baking sheet with parchment paper. In a small bowl, combine egg, yogurt, milk, zest; whisk to combine thoroughly and set aside. In large bowl, combine flour, sugar, powder, salt, and whisk to combine. Using pastry cutter and two knives, cut butter into flour until all pieces are smaller than pea-sized. Add strawberries, and toss to coat.

Add wet ingredients to dry and mix in lightly with fork until dough just comes together. Turn dough out onto well-floured work surface and pat into large ball. Cut the dough ball in half.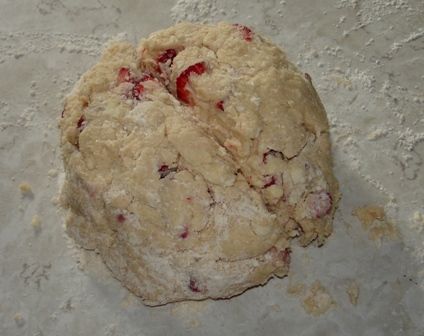 Shape half of the dough into a flat disk shape and cut into 8 slices. Place on baking sheet and repeat with other half of dough. Sprinkle tops of scones with sugar. I shaped the disks right on the baking sheet. One thing I wasn't sure about is if the wedges were supposed to be separate or still in a circle for baking. But it turned out great like this!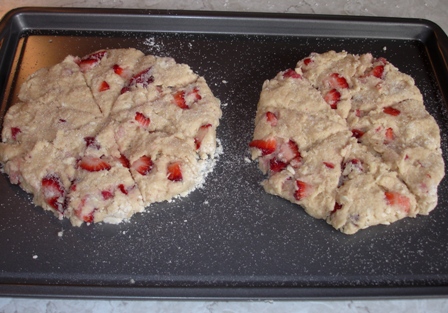 Place in the oven. Bake until slightly brown, about 25 minutes. Remove from oven and let cool on a baking sheet for 10 minutes.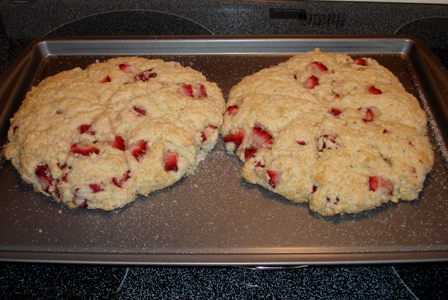 Transfer to a wire rack and let cool.
I think they're best if you eat them while they're still warm. To serve, I cut one in half and spread butter inside, then put a dollop of whipped topping on top. Just delicious!!!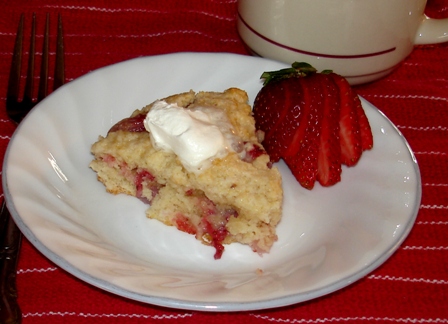 These got rave reviews around here from all of us! I'd like to experiment a little with using different yogurt flavors and maybe even different fruits, in addition to or instead of the strawberries. Also, I'll bet the orange zest really adds something too. I want to be sure and have that on hand next time.
Comments