Posted on June 5, 2008
Filed Under Breads Biscuits and Rolls
I faithfully serve French bread of some sort whenever we have an Italian meal. The reason for that is because I serve hot bread or rolls or biscuits at every meal and that goes the best with an Italian meal.
Hmmm, that's weird, I just skimmed what I wrote and it's Italian and French and I'm saying it goes great together! I wonder what the French and Italian people would say about that theory! I've never been outside the US, except for Canada, so I don't know that much about other countries, except from what I've read or heard. My dream is to someday fly over to Europe and spend 2 or 3 weeks there, just seeing the sites and hearing the people talk (I love the sound of French, the little bit I've heard) and eat a REAL authentic Italian pizza and see the Swiss Alps and then sail back to America on the Queen Elizabeth or Queen Mary. I think about that dream every time I think about anything Europe.
Anyway, this has nothing to do with France and Italy! We're talking American-baked French bread from a grocery store bakery. Or worse yet, a popable can of French bread or Italian bread! I usually either do the popable can thing or take a bought loaf of French bread, cut it into diagonal slices, butter both sides and sprinkle garlic on one side, then broil both sides till they're toasted. I've been dodging around a recipe I'd had for awhile, scribbled in my own handwriting, not sure where it came from. I was always afraid it would be too soggy and then I finally made it Tues evening to go with our meal of tortellini and Italian mix vegetables.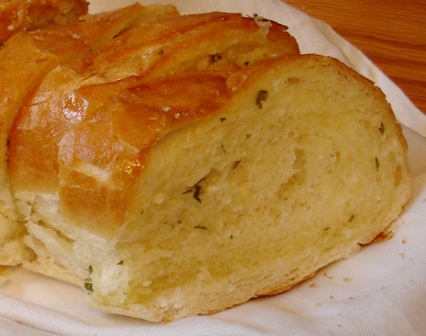 It was wonderful. And now I regret the last couple years of thinking about making it but saying "No, not this time."
Garlic Bread
1 loaf French bread
1/4 cup butter
1/4 tsp. garlic powder
1/2 tsp. parsley flakes
1/4 cup grated Parmesan cheese
Cut bread diagonally into 1/2″ slices, but not quite the whole way through.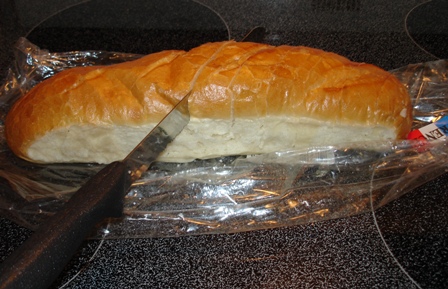 Soften butter and mix it with the garlic powder, parsley and parmesan cheese.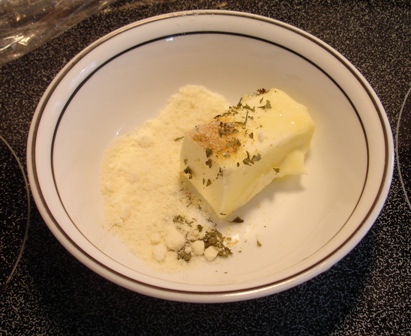 Spread on both sides of each slice of bread.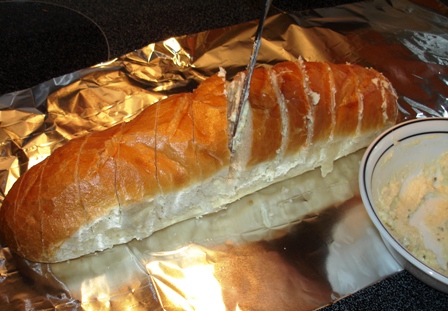 Wrap in foil.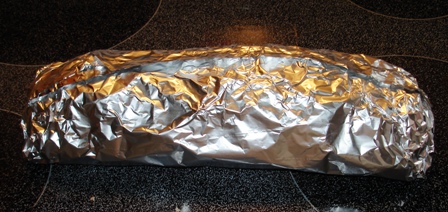 Bake at 350 for 15 minutes.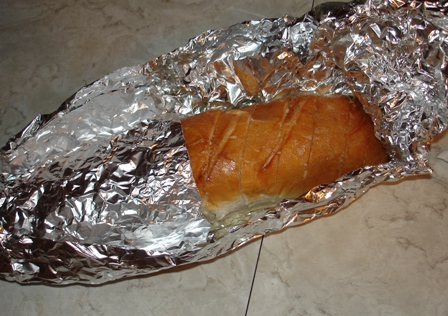 Unwrap and cut the pieces the rest of the way apart. Serve immediately.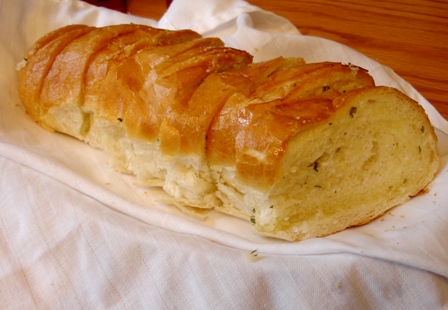 Man, that was so good! I could eat a piece or two right now! It was soft and buttery and chewy and looked good too. Sometimes I'll still broil individual pieces of garlic bread, but this will definitely be on the menu more often! It's so easy too! You don't have to remember to watch it like you do when it's under the broiler. I've wrecked many garlic bread pieces that way, or salvaged them by scraping off the burnt part. When I made this garlic bread, I made it a bit ahead of time and then threw it in the oven 15 min before mealtime.
Comments