Posted on June 13, 2008
Filed Under Chicken and Turkey
This recipe would be worth your time. Not that it takes a bunch of time. I just really REALLY like it. The last time I made it, I was going to feature it, but I burned the chicken.
Hey, here's a question for you… How often do you make flops? …anything from desserts not setting up right to burning something to cooking veggies too long to forgetting to cut an ingredient amount in half when you're making half of a recipe. Maybe those don't all classify as flops, but I mean things like that where maybe only you as the cook know they even happened. For example, if I burn garlic toast under the broiler, if it's not too bad, I take a knife and scrape off the burnt part. Nobody ever knows the diff. And the ingredient thing, I do that quite a bit because I cook small and am often halving recipes. Anyway, I mess something up at least once a week. What about you?

This chicken recipe is taken from A Taste of the Country 8th Edition cookbook…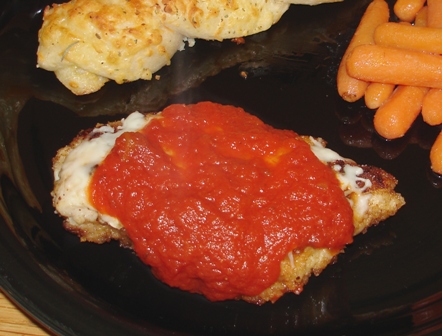 Zesty Mozzarella Chicken
1 egg white, lightly beaten
2 Tbsp. milk
1 cup dry bread crumbs (I use Club cracker crumbs)
2 Tbsp. Parmesan cheese
1/4 tsp. each salt, pepper, garlic powder, cayenne pepper, and dried oregano
8 boneless skinless chicken breast halves
1/4 cup butter or margarine
1 can (8 oz) tomato sauce (instead of the tomato sauce mixed with basil, I just use Ragu pasta sauce)
1 tsp. dried basil
1 cup (4 oz) shredded mozzarella cheese (or Italian blend cheese)
In a shallow bowl, combine egg white and milk. In another bowl, combine the bread crumbs, Parmesan cheese, and seasonings.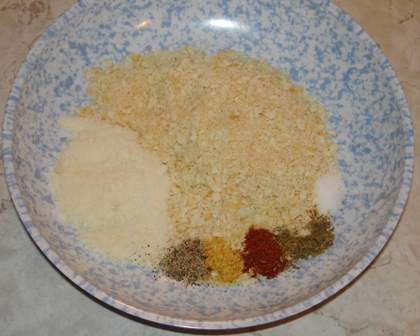 Dip each chicken breast in the egg white mixture, then in the crumb mixture. Melt butter in a skillet; brown chicken on both sides until pink and juices run clear.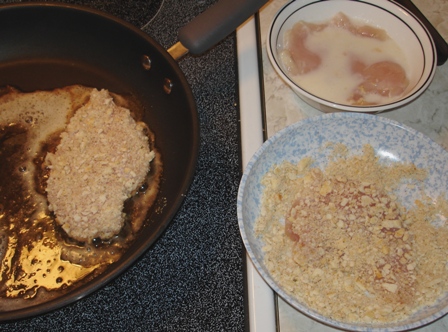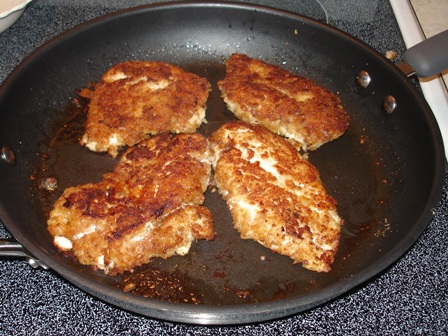 To tell if the chicken is done, I either cut into a piece to see if it's not pink anymore or poke a fork thermometer into it.
Meanwhile, heat tomato sauce and basil until warm. When chicken is done, sprinkle with mozzarella cheese.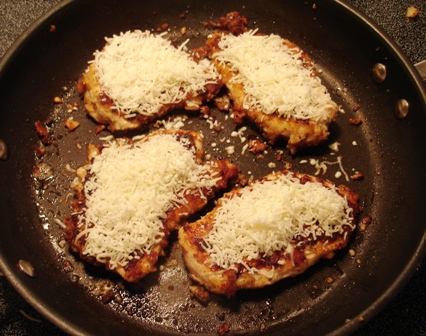 Remove from the heat and cover for 2-3 minutes or until cheese melts. Serve with tomato-basil sauce.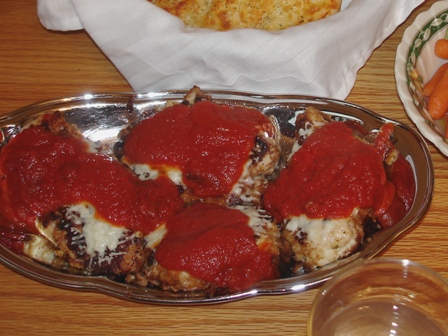 I don't think the breading is enough for 8 pieces because I always make 4 pieces and use about 3/4 of the breading for a full recipe! So, if you do make the full 8-piece recipe, make more of the crumb mixture than it calls for. Or maybe I just like more breading than most people.
I usually serve this chicken with noodles, Pillsbury French bread, and salad.
Comments