Posted on June 25, 2008
Filed Under Breads Biscuits and Rolls
I keep up with about 45 blogs via my Google Reader, but I'm slipping behind now and there are 73 unread posts. They keep faithfully updating (as opposed to me) and I only check them now and then. I do keep up with Pioneer Woman though, no matter how busy I am. And no, it's not just so I don't miss when she's giving away a big beautiful KitchenAid mixer in the Cooking part of her blog!
Thanks for all your tips on the whoopie pie filling and I'm glad to know that a few others make more filling than the recipe calls for.

I wasn't sure if you'd agree when I said that's what I'm going to do from now on or if you'd have fits at all the extra fattening unnecessary filling that would make.
Also, Lorinda (Hi!, by the way. Glad to see you on here!), you said you're experimenting with homemade pizza and wondered if I have any recipes on here. I do have one recipe on here: Saturday Night Pizza. The crust is homemade and is just tops! One thing I don't do (yet) is make my own pizza sauce. I have a friend Linda who is known for her good pizza sauce, so maybe I'll ask her for her recipe and start with that one, then try a few others. So far, I'm just buying Ragu pizza sauce from the grocery store.
Now, for the breadsticks. This is one of those recipes that I made awhile ago, featured here, and didn't like it how it was and said, "Next time, I'm going to…". So, here is 'next time' and the breadsticks were much better AND easier and faster! These are the breadsticks I had pictured with the glazed baby carrots and the zesty mozzarella chicken.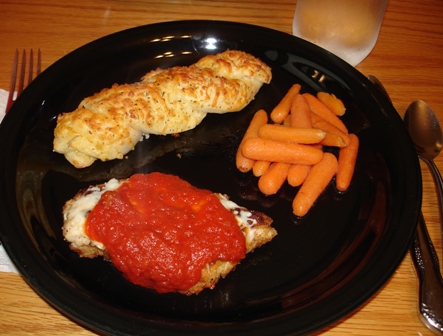 Italian Breadsticks
1/2 cup shredded mozzarella or Italian blend cheese
Italian seasoning
1 can (11 oz) refrigerated breadstick dough
1 egg
1 Tbsp. water
Preheat oven to 375. Spray baking sheet with cooking spray. Unroll dough; separate breadsticks. Cut each strip in half crosswise. On a lightly floured surface, with floured fingertips, twist the 2 halves together. Put the breadsticks on the baking sheet and press down on the ends to prevent unraveling.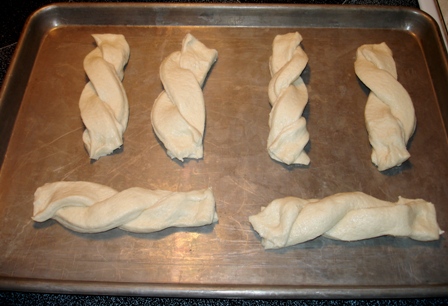 Beat egg w water. Lightly brush tops of breadsticks with egg mixture.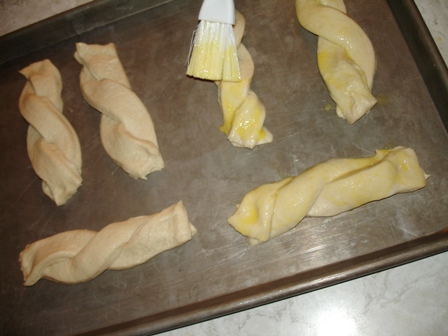 Yeah, I know, the picture is crooked. That's because I was holding the camera with one hand and brushing with the other hand.
Sprinkle with cheese and Italian seasoning.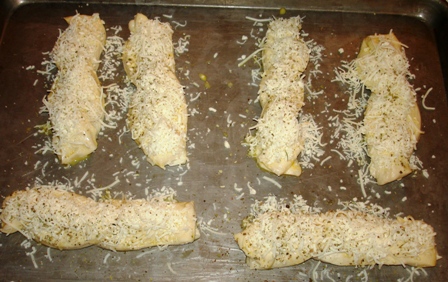 Bake until golden brown, about 15 minutes. Serve warm.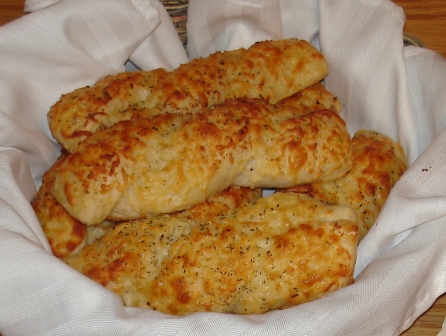 I was just thinking, I wonder how it would work to put melted butter on in place of the egg and water. Would be easier and seems like it would taste at least as good. I'll have to try some of each like that next time and compare them.
Comments