Posted on December 16, 2009
Filed Under Chicken and Turkey
Don't you just love the sound of that? Schnitzel. Makes me feel like I'm cooking authentic German food. It's really good. I'll give you a brief description and see if you think you'd agree… pieces of turkey breast dipped in milk, then flour, then eggs, then seasoned bread crumbs, then fried in oil and butter. Mmmmmm!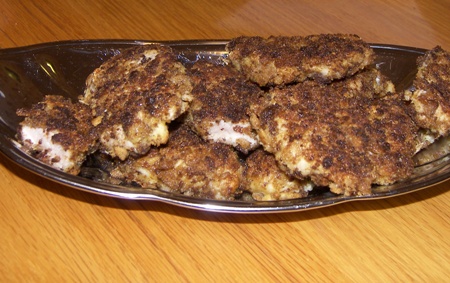 My mom gave me this recipe, including the ingredients. She does that for birthdays. I love it! She shares my love for trying new recipes, but she's also got a bunch of tried and true ones.
Turkey Schnitzel
Printable recipe coming soon
1/4 cup milk
1/2 cup flour
2 eggs, beaten
3/4 cup seasoned bread crumbs
1 lb. turkey slices (1/4″ thick) or strips
2 Tbsp. butter
2 Tbsp. canola oil
Mom gave me this with the recipe.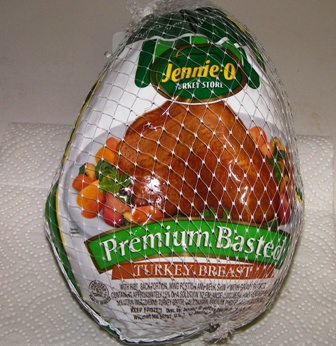 It's some GOOD stuff, but I wonder if she knows that things like this are way out of my comfort zone! ????


I think the only chunk of meat I've ever bought with a bone in it is ham. Oh wait, sometimes I get a rotisserrie chicken at the deli, but that's easy, all I have to do is reheat it. I've never even done a turkey at Thanksgiving! This turkey breast is supposed to be cut into slices or strips. Well, I got various sizes and shapes of pieces!

Place first 4 ingredients in 4 separate bowls.

Dip turkey slices or strips into milk, then flour, then eggs, then bread crumbs. Place on waxed paper and let stand for 5-10 min. I was out of waxed paper, so I just used plastic wrap.

Heat butter and oil in large skillet. Brown turkey for 2 minutes on each side or until juices run clear.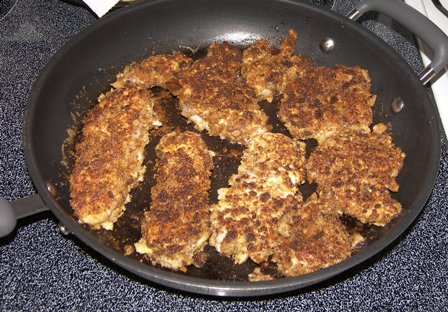 Serves 4. In Germany and Austria, schnitzels are served with French fries and lemon wedges (to squeeze on meat).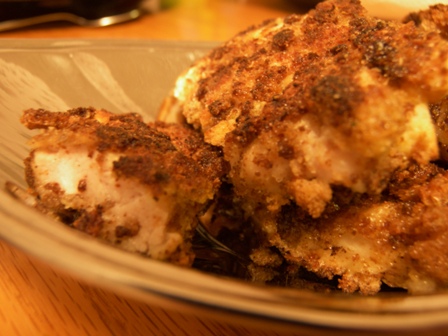 The meat stayed really moist. And it had a great flavor! Because you can quick fry it up, it's one of those quick things to make for when you're staring in the fridge/freezer/cupboards at 4:30 p.m., totally blank for a supper idea. Mom said she even tried it with just the bread crumbs (without dipping it in milk, flour, and eggs) when she was in a hurry and that was good too. It would be good with chicken breast too, I'm sure, although I've never tried it, having only made it this once… so far anyway. ???? So, with these variation ideas, the question would be: Would it still be schnitzel then? We sure don't want to lose that word!

Coming before Christmas yet: Cranberry Salad and Fudge. That is 2 separate recipes, by the way. ????
Comments