…Which brand are you cooking on Thanksgiving Day?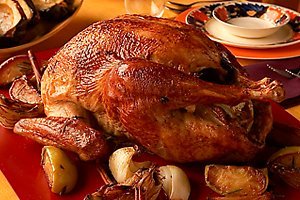 I was just in line at the grocery store and overheard this conversation:
Cashier, as she was ringing up a Butterball turkey: "Butterball. Good choice."
Customer, who was a man that looked to be in his late 50s: "It's the best."
Lady customer (not me

), standing in line behind the man: "Butterball is better than Jennie-o?"
I forget from there, but the male customer and the cashier were all but talking over each other, telling the lady customer how much better flavor Butterball is and how dry Jennie-o is compared to Butterball.
I have no clue which is better, but was surprised how strong both of them felt about Butterball. What's your opinion? Do you feel strong about a certain brand being the best?
Comments