445 calories… including dessert! Not bad!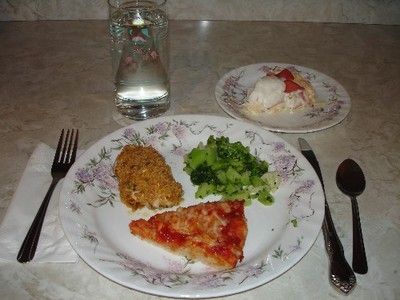 Garlic Chicken Kiev
Chewy Pizza Bread
Cauliflower and Broccoli
Strawberry Pie
These recipes (except the caul and broc, that's just cooked frozen veggies) all come from Betty Crocker's Eat and Lose Weight Cookbook . After each recipe is a chart with as much info on it as you'd find on a nutrition label. I'll just list the calories, carbs, and protein. If you want more info than that, let me know.
Garlic Chicken Kiev
3 Tbsp reduced calorie spead, softened (I used low-fat butter, half the calories of reg butter)
1 Tbsp chopped fresh chives or parsley (I used 1/2 Tbsp of each)
1/8 tsp garlic powder
6 skinless boneless chicken breast halves (1 1/2 lbs)
2 cups cornflakes, crushed (about 1 cup)
2 Tbsp chopped fresh parsley
1/2 tsp paprika
1/4 cup low-fat buttermilk or skim milk
Mix spread, chives, and garlic powder, shape into rectangle, 3 x 2 inches. Cover and freeze about 30 min or until firm. Trim fat from chicken. Flatten each chicken breast half to 1/4-inch thickness between wax paper or plastic wrap. Heat oven to 425. Spray square pan, 9 x 9 x 2 inches, with non-stick cooking spray. Cut chives mixture crosswise into 6 pieces. Place one piece on center of each chicken breast half.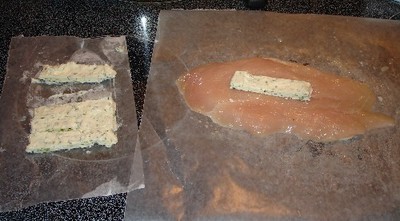 Fold long sides of chicken over chives mixture; fold up ends and secure with toothpick.

…yeah, as simple as that! Ha! It took me a long time to make these things and I used up to 4 toothpicks per piece! In a perfect world, chicken breast halves would all be shaped the same and be 4 ounces each! Mix cornflakes, parsley, and paprika. Dip chicken into milk, then lightly and evenly coat with cornflake mixture.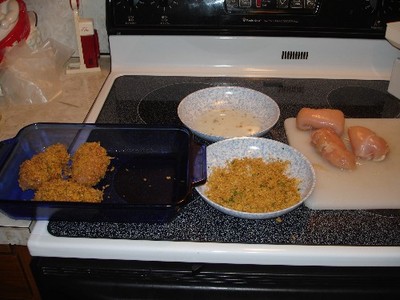 Place chicken, seam sides down, in pan. Bake uncovered about 35 min or until chicken is no longer pink in center.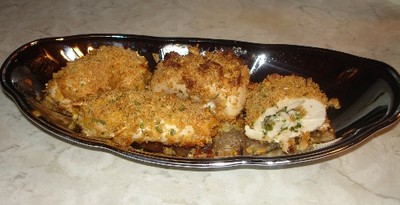 6 servings. Per serving: 190 calories; Carbohydrates, 9g; Protein, 25g These tasted great! Nice and moist chicken! The fresh spices (or is it herbs?) give it lots of flavor! I'll know more what I'm doing next time and hopefully the whole folding thing will go smoother and faster!!! Will definitely make again!

Chewy Pizza Bread
1 1/2 cups flour
1 1/2 tsp baking powder
1/2 tsp salt
3/4 cup regular or non-alcoholic beer (Since I didn't have beer on hand, I used Diet Coke)
1/2 cup speghetti sauce
1/3 cup shredded reduced-fat mozzarella cheese
Chopped fresh basil leaves, if desired (I didn't do that)
Heat oven to 425. Spray round pan, 9 x 1 1/2 inches, with non-stick cooking spray. Mix flour, baking powder, and salt in medium bowl. Stir in beer just until flour is moistened. Spread dough in pan. Spread speghetti sauce over dough. Sprinkle with cheese.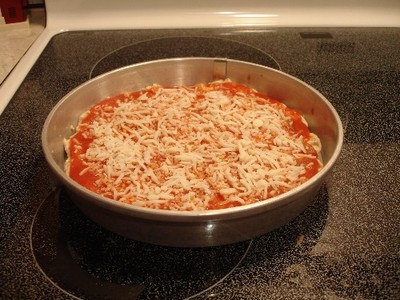 Bake 15-20 min or until toothpick inserted in center comes out clean. Sprinkle with basil. Serve warm.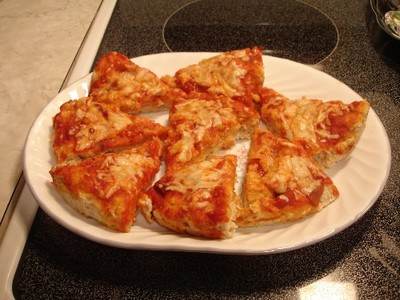 6 servings. Per serving: 145 calories; Carbohydrates, 29g; Protein, 4g If you keep in mind that this is a diet dish, it's actually very good! The problem was that there was too little cheese, but that's diet for ya! I guess we're just too used to stuff loaded with cheese… refer to previous post! I was surprised about this bread. I thought it would be biscuity, but it was actually more like regular raised bread, only more dense. It's very filling, too. By the way, the Diet Coke seemed to work great as a substitute!

Strawberry Pie with Meringue Crust
2 egg whites
1/8 tsp cream of tartar
1/4 cup sugar
1 pkg (1.1 oz) vanilla fat-free sugar-free instant pudding and pie filling
1 cup skim milk
1 1/2 cups frozen (thawed) reduced-fat whipped topping
1 pint strawberries (2 cups), sliced
Heat oven to 275. Spray pie plate, 9 x 1 1/4 inches, with non-stick cooking spray. Beat egg whites and cream of tartar in medium bowl with electric mixer on high speed until foamy. Beat in sugar, 1 tablespoon at a time; continue beating until stiff and glossy. Do not underbeat. Spread mixture evenly on bottom and halfway up side of pie plate. I put it to the top of the pie plate instead of halfway up.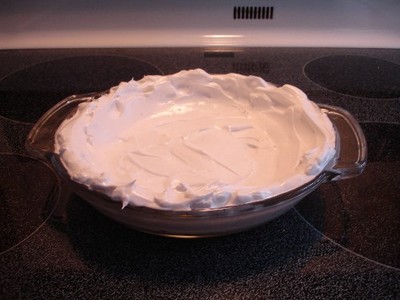 Bake 40 min. Turn oven off; leave meringue in oven with door closed 1 hour. Finish cooling meringue at room temperature.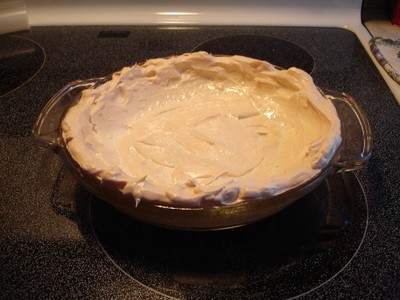 Beat pudding and pie filling with milk about 45 seconds, using wire whisk. Fold in one cup of the whipped topping. Layer half of the pudding mixture and half of the strawberries in crust; repeat. Cover loosely and refrigerate till firm, at least one hour, but no longer than 8 hours. Run knife around edge to loosen crust. Top each serving with some of the remaining 1/2 cup whipped topping. I put the 1/2 cup Cool Whip on top right away and garnished it with a strawberry so that it would look more attractive sitting on the table during supper. Cover and refrigerate any remaining pie.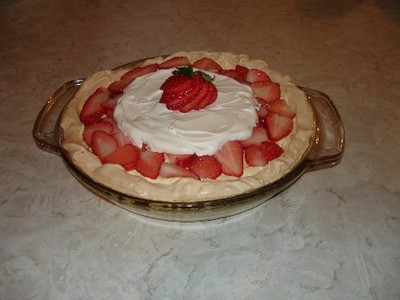 8 servings. Per serving: 85 calories; Carbohydrate, 16g; Protein, 2g This is just tops (for a low-cal dessert). The crust is great (meringue goes good with this pie), but it's not too sturdy when you try to get pieces out of the pan. It kind of crumples up with the pie server sliding under it, so you don't really end up with a picture-perfect piece. But the taste with fresh strawberries makes up for it! Yum!
By the way, one serving of the veggies was 25 calories . Not sure of the other specs on it.