Posted on April 11, 2008
Filed Under Main dishes
Oh well, there's Pillsbury pizza dough in the fridge. I'll try that.
And it worked!
It was 30 minutes till our normal supper time and I was leafing thro' cookbooks. I went for the Quick Cooking cookbooks because there's always a 30-minutes-till-mealtime section in those, and if that ever described where I was at, it was right then. But, the problem was always that my hamburger wasn't already browned, my veggies weren't already chopped, my eggs weren't already beaten… I need a section titled I-just-walked-into-the-kitchen-and-did-no-prep-ahead-and-it's-30-minutes-to-mealtime.
This stromboli (almost) would fit into that category. I timed myself this evening. It was 35 minutes from everything still in the fridge to eating. And I was even taking step-by-step pictures, which actually takes more time than you'd think. And the mushrooms weren't washed or sliced ahead of time either.
My oven might preheat slower than most (it takes almost 10 minutes to go from 0 – 400), but the first thing I did was turn the oven on, then got the pizza dough, Parmesan cheese, pepperoni, mushrooms, and cheese out of the fridge and the Italian seasoning and the baking sheet out of the cupboard. And by the time the oven beeped that it's up to temp, the stromboli was about ready to go in the oven. This stromboli is nothing fancy, no neat sealing it shut or hiding the seams or anything. Actually, maybe it's even a slam to stromboli to call it that. Maybe it could even be called a calzone. What is the difference anyway?
Ok, I just stopped a bit and put 'stromboli define' into Google… the first 2 definitions were an active volcano on an island in southern Italy! Finally, I found the food variation. Then I looked up calzone. Seems like the main difference is the size… calzone is serving size and originated in Naples. Stromboli originated in Philadelphia. But, they're both meat and cheese enclosed in dough. So, there's your history lesson/cooking lesson for the day.
35 Minutes to Mealtime Stromboli
1 13.8 oz can Pillsbury refrigerated pizza dough
8 oz pepperoni
5 fresh mushrooms
3/4 cup pizza sauce
Italian seasoning
8 oz shredded cheese (ok, I actually used a little more… finished out a bag, plus the 8 oz bag, but who cares, there was actually no recipe, I'm just making up amounts here so it looks good and qualifies as a recipe)
Parmesan cheese
2 Tbsp. melted butter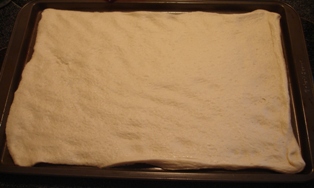 Spread the pizza dough out in the pan. Sprinkle generously with Parmesan cheese.
Put pepperoni on one half, leaving about a 1/2″ space along the edge.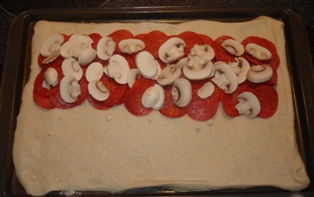 Wash and slice mushrooms and put over pepperoni.
Sprinkle on some Italian seasoning and spoon pizza sauce over.
Add the cheese.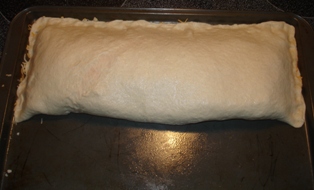 Flip other half of dough over toppings and pinch edges together to seal.

Bake at 400 for 20 – 25 minutes, depending on how browned you like it. Brush melted butter on top right after it comes out of the oven
Sprinkle with some more Parmesan cheese.
And call everyone to the table.
Comments