Posted on April 7, 2008
Filed Under Soups
But I'm still looking for that perfect recipe.
I just recently made taco soup. I've had it at other people's places, but this was the first time I've had it from my own kitchen. The taco soup I made was really good, but I've had better, so I'll keep trying some other recipes in my cookbooks.
Actually, now that I think of it, I might put that on hold for awhile… that sounds like a great winter project for next year. With the snow melting outside and the promise of Spring, who wants to be making taco soup or any soup?!
Unless it's bread soup. Now THAT's a summer soup! Did you ever have that? Rip up a piece of bread, put some fruit chunks in (bananas, fresh peaches, or fresh strawberries are best), sprinkle some sugar over it, then add milk. On a hot summer day, that is just a great lunch. So refreshing! And you don't break out in a sweat while eating. Mom made that now and then when we were growing up. Another cold soup (that I don't know if I'd ever have the nerve to try) is Cool Raspberry Soup. I see it in one of my cookbooks now and then and even though there's a picture, I always flip past, knowing I'd never make it.
Anyway, back to the taco soup. It's cold and damp and rainy outside, so I think it's still ok to talk about and feature hot soups. This recipe comes from the Fix-It and Forget-It cookbook. I'll bet alot of you have that cookbook. It seems pretty popular. One thing I think is so neat about it is that I know a couple people who submitted recipes and tips. I have a few cookbooks like that. Makes it feel like it's just not some random cookbook compiled by some random unknown people. I even know someone in one of my Taste of Home's Quick Cooking cookbooks!
Taco Soup with Pizza Sauce
2 lbs. ground beef, browned
1 small onion, chopped and sauteed in ground beef drippings
3/4 tsp. salt
1/2 tsp. pepper
1 1/2 pkgs. dry taco seasoning
1 qt. pizza sauce
1 qt. water
Tortilla chips
Shredded mozzarella cheese
Sour cream
Combine ground beef, onion, salt, pepper, taco seasoning, pizza sauce, and water in 5-qt, or larger, slow cooker. Cover. Cook on Low 3-4 hours. And there ya go, easy as that! Top individual servings with tortilla chips, cheese, and sour cream. Notice there IS soup under the toppings. Can almost see it.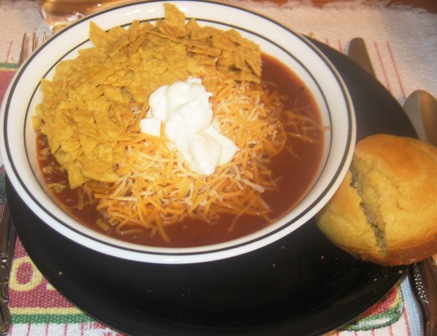 Makes 8-10 servings.
At the bottom of the recipe, it says, "Variation: Add 15-oz can black beans and 4 oz. can chilis to mixture before cooking." I thought that sounded good, so I added both.
The soup went perfect with cornbread muffins! About every time I post, I wish there'd be a way to give you a taste of whatever food I'm featuring. Technology and computers keep advancing, but I'm quite sure there will never be software to install for that feature. Oh well, you'll just have to come visit sometime… or try the recipes yourself.
Comments