Posted on April 28, 2008
Filed Under Cookies and bars
Ok, here we go again. The break is over. I had enough Tasty-Kakes and Starbucks to last me for awhile now.
I wish Tasty-Kakes would come to WI. Well, they do come to WI… but only when we bring them here from PA or FL. A couple years ago, I ordered a bunch and they were shipped UPS. For awhile, every time after that, when we'd see a UPS truck, Lexi (who was 3 at the time) would say, "Mom, let's ask him for some Tasty-Kakes!" I guess she thought those trucks had a never-ending supply of Tasty-Kakes in them. Kind of like ice cream and a Schwans truck. Would be nice to be able to just flag one down a UPS truck whenever the Tasty-Kake urge strikes.
And since we live up in the boondocks here, our closest Starbucks is 1 1/2 hours away, so we don't get there often. But along the turnpike, going across IN, OH, and PA, there was often a Starbucks at the travel plazas. Very nice! I tried a couple different things, plus my favorite: a caramel frappucino.
Now, back to the kitchen, new recipes, and all…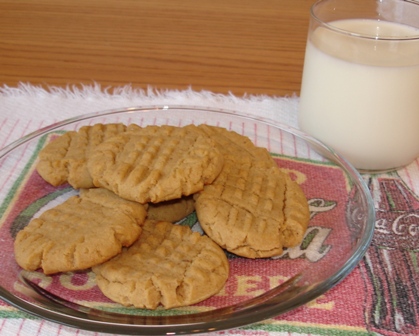 This one isn't really a new recipe. To me anyway. You'd know that if you'd see my recipe card… it's bent a little, it has a bit of sugar stuck to it, and it has a blue star (written by me) up by the recipe name. What first caught my eye when I was flipping thro' the cards was the word "Irresistible". Yeah, that wasn't me putting that word in the title, that's the name of the recipe: Irresistible Peanut Butter Cookies. So, I decided to try them. They were wonderful, and I've been making them for the last couple years. The recipe is from an Easy-to-Bake-Easy-to-Make recipe card.
One thing that was interesting is that it calls for Crisco (w the logo) shortening and for awhile, that exact recipe was on the Crisco cans. I don't know why I had never noticed the word "Irresistible" on my Crisco can before. Now, the recipe on there is "Ultimate Chocolate Chip Cookies". I wonder how often they change the recipes on their labels.
One other thing, I always wonder how peanut butter cookies got that trademark crisscross pattern in them. I don't think any other kind of cookie has that and you can always tell a peanut butter cookie by it. I Googled it and there were answers like "To tell them apart from other cookies", "They don't taste as good without that", "They don't flatten by themselves in the oven", "They did it in the 1930s and it stuck".

Irresistible Peanut Butter Cookies
1 1/4 cups firmly packed light brown sugar
3/4 cup creamy peanut butter
1/2 cup Crisco shortening
3 Tbsp. milk
1 Tbsp. vanilla
1 egg
1 3/4 cups flour
3/4 tsp. baking soda
3/4 tsp. salt
Heat oven to 375. Place sheets of foil on countertop for cooling cookies. Combine brown sugar, peanut butter, shortening, milk, and vanilla in large bowl. Beat at medium speed w electric mixer until well blended. Add egg. Beat just until blended. Combine flour, baking soda, and salt. Add to creamed mixture at low speed. Mix just until blended. Drop rounded tablespoonfuls of dough 2″ apart on ungreased baking sheet. Flatten slightly in crisscross pattern with tines of fork.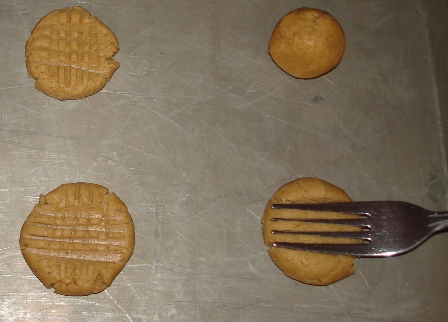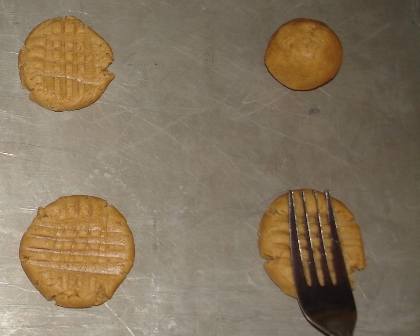 Bake one baking sheet at a time at 375 for 7-8 minutes, or until set and just beginning to brown. Do not overbake. Cool 2 minutes on baking sheet.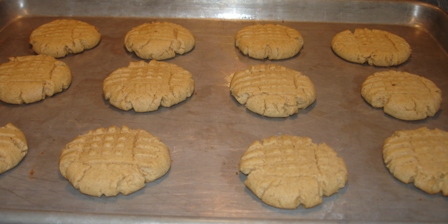 Remove cookies to foil to cool completely.
Makes about 3 dozen cookies.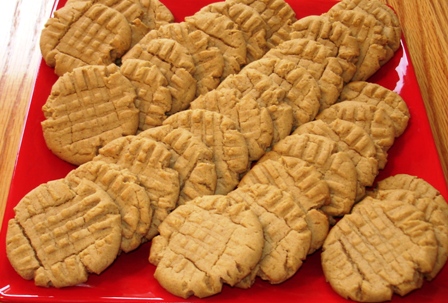 Soft and chewy… just like a cookie oughta be! Wish I could give you one. Oh yeah, that's right… there are none left to give.
Comments