Rich and chocolatey, 7-layer bars
Posted on April 19, 2008
Filed Under Cookies and bars
These are the only kind of bars that last more than a couple days around here. It's not because they're not tempting, it's because they're so RICH and you can't eat more than a couple at a time. One glance at the list of ingredients and I think you'd agree. They are oh-so-good though!
I'm sure this recipe is in quite a few cookbooks, but the one I used is from the Derstine cookbook.
Seven-layer bars
1/2 cup butter or margarine
1 cup graham cracker crumbs
1 cup coconut
1 cup chocolate chips
1 pkg. butterscotch chips
1 can Eagle Brand condensed milk
1 cup chopped nuts
Melt butter or margarine in 9×13 pan. Sprinkle over top graham cracker crumbs, coconut, chocolate chips, and butterscotch chips. Drizzle milk over top. Add 1 cup nuts. Bake at 350 for 25 to 30 min. Cool and cut.
Layer #1: butter.
The dark that you see under the pan is just a hot pad… the pan was hot from melting the butter in the oven.
Layer #2: graham cracker crumbs
Layer #3: coconut
My Grandma made Lexi's apron for her (the one that makes the brown sugar pie). Grandma wears that kind of apron all the time and she sewed a few miniature ones for the great-grand-daughters. They were really cute even though they look a bit old-fashioned.
Layer #4: chocolate chips
I like chocolate chips way better than butterscotch chips, so I always trade quantities and put in the whole pkg of the chocolate and only 1 cup of the butterscotch.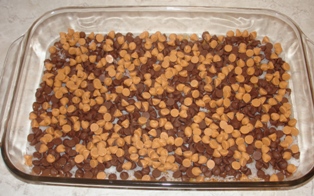 Layer #5: butterscotch chips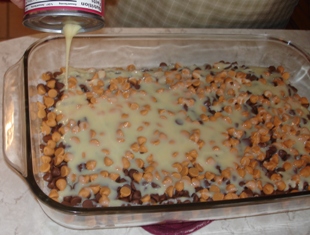 Layer #6: sweetened condensed milk
Layer #7: chopped nuts (I used pecans.)
Just came out of the oven. Slightly browned around the edges.
Mmmmmm! Just delicious!
Comments