Posted on April 21, 2008
Filed Under Salads
I tried the corn chip salad over the weekend. Thanks for the recipe, Barb!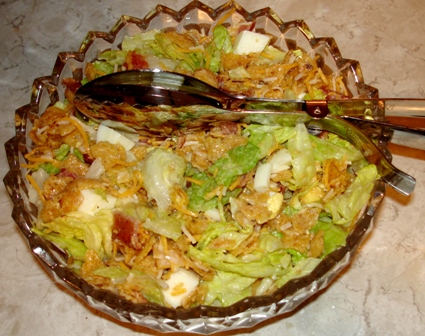 Barb posted it in the comment section of this post. She didn't leave a link, so I can't refer you to her site if she has one. The salad is very easy to make (no veggies to chunk up) and has a nice crunch to it. I liked the combo of salty (corn chips) and sweet (dressing).
Usually, when I think of salad, I think 'diet'. This is not by any means a 'diet' salad! The only thing diet in there is the lettuce. Everthing else is laden with calories and fat. No wonder the salad is so good, huh?!
Barb was right though… leftovers are not good! I made 1/4 batch just for us and we didn't eat it all, so I put it back in the fridge. The next day, it was soggy and the lettuce was wilted.
I'd say a whole batch would be about right for 18-20 people, unless you're making it to go along with a big meal, then it would feed more people, maybe more like 25. Ok, hopefully that guess isn't too far off for those of you who have it in a cookbook if it says how many servings it is! I could not find a corn chip salad recipe in any of my cookbooks.
Corn Chip Salad
1 head lettuce
6-8 hard boiled eggs
1 pound bacon, fried and crumbled
1/2 pound shredded colby or cheddar cheese
4-6 cups corn chips, crushed (the more-the better)
Dressing:
1 cup miracle whip
2 Tbsp. red wine vinegar (can use apple cider vinegar)
1/4 cup milk
1/4 cup sugar
1/4 cup brown sugar
Toss lettuce, eggs, bacon, and cheese. Add chips and dressing just before serving.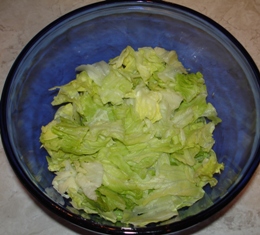 …Lettuce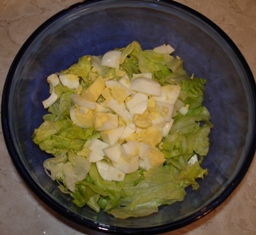 …Eggs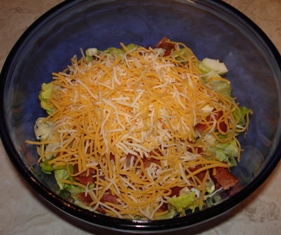 …Bacon and cheese
   Toss it.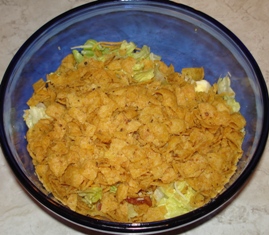 Add dressing and corn chips.
I just put all the dressing ingredients in a bowl and beat it with a wire whisk. Forgot to get a picture of it.
Toss it all together.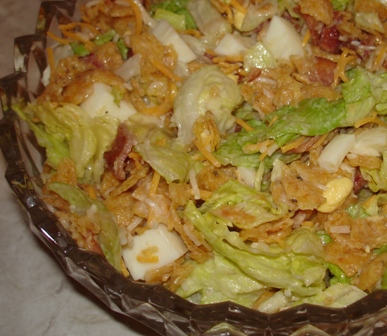 Sounds like some of you have made this, but if you haven't, I'd highly recommend it. The corn chips in there is what makes it so good (and the bacon helps too!). Plus, I've always liked salads that are tossed with dressing.
Comments