Posted on April 18, 2008
Posted on April 18, 2008
Filed Under Breakfasts, Sweet rolls and Coffee cakes, Tidbits
…start it with raspberry cream cheese rolls and coffee!
Sometimes I wonder if I should try a post that's in poem format. This would be a good one to do that on because the title rhymes… and that just happened, didn't even try it. The best poems are ones that flow, that you can't tell the poet was working hard to get it to rhyme. An example of working too hard to rhyme would be like this:
My friend and I met
this morning at eight.
Our coffee we drank
and our donuts we ate.
You just don't say "our coffee we drank" and "our donuts we ate" in regular conversation, you say "we drank our coffee" and "we ate our donuts". That is one of my pet peeves in poetry. I know it's 'legal', but it just makes it sound so much more formal. It would be much better to say,
Coffee and donuts
and a friendly chat,
Breakfasts don't get
much better than that.
I used to get a kick out of writing poems in my adolescent years. My favorite has always been a 6-line style where lines 1& 2 rhyme, 3&6 rhyme, and 4&5 rhyme. I don't know what it's called, kind of like a limerick, but not quite. Around 16, I wrote a whole poem consisting of about 10 stanzas in that style. The first stanza was:
In August we moved
To what actually proved
To be home at Valley View Orchard.
At first, work was fun,
But before all was done,
We thought we were seriously tortured.
…and so on it went, about life on our orchard.
My dad was/is great with poems. I still remember when I we were growing up, Dad would start making up a poem about this or that and just kept going and going for quite awhile, not having to pause to think of a rhyming word. It was amazing to me even at a young age how he could do that. Of course, the bar was pretty low because we were just kids and were thrilled with anything that rhymed.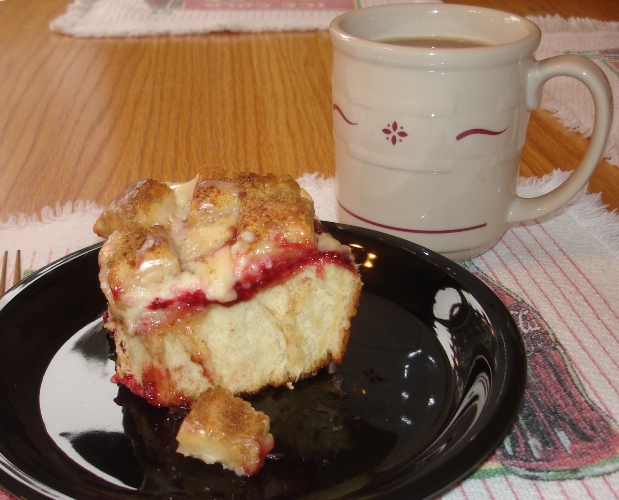 Anyway, when I started this post, I had no clue I'd get into poems! So, instead of erasing the poem parts, I went up and added "(and other rhymes)" into the title. I was just posting to tell you that I made raspberry cream cheese rolls this morning AND that I finally have a new FAVORITE coffee mug once again! Here are both:

My friend, Shannon, from OH, sent me that coffee mug. It's perfect. The 'walls' are thick, just how I like them. It's heavy and solid. And the design is great. And she said that they're hard to break… which is good! Did you know that I break more dishes than my 2 children do?! Sometimes I wonder if I'm clumsy. Anyway, it's a Longaberger mug, if you're interested in getting one. She tells me Longaberger mugs are the best. And I think I'm convinced.
And those raspberry cream cheese rolls (here is the link to the recipe), they are just the best! Seriously, try them! I just thought of it now, I got the recipe for these rolls from Shannon, too (same one that just gave me the mug). These rolls are easier than they look and the dough is SO nice to work with because it doesn't stick to anything… not to the rolling pin, not to the counter, not to your hands. The raspberry filling is just regular pie filling from the grocery store (I put it into a plastic storage bag, cut a corner off, and pipe it on). It doesn't have to be raspberry, in fact, this time I used strawberry. I put it in the food processor so there wouldn't be big chunks. The cream cheese filling is from a bulk foods store in plastic bag tubes. BUT, Barb, if you're reading this, you had asked a question about the cr. ch. filling if you don't have a bulk foods store around. I made it from scratch this time just to experiment and it turned out great! I edited the post that the rolls are featured on and added that filling recipe.

So, now everyone, tell me what you had for breakfast in a comment! You can make it in poem form if you want to.
Here I'll start:
My roll was first-rate
My coffee was great
And Shannon confirmed that when he ate his.
You may have guessed
These are the best
And I don't care who your grandmother is!
Comments