Posted on April 14, 2008
Filed Under How to…
I'm wondering if, from reading the title, you thought "Duh, everyone knows how to do that!" or if you were secretly happy to finally have directions to do it instead of just putting the eggs on the stove in water and kinda guessing from there.
I would be in the last category, until yesterday. You know, there are some things it seems like everyone evidently is just automatically born knowing… you just never see a recipe in a cookbook of how to make hard boiled eggs. Or how to make baked potatoes or grilled cheese sandwiches.
I so seldom make hard boiled eggs, maybe about once a year for a salad. A salad was actually the reason I made them yesterday. I used to not like eggs at all. It was actually more psychological than anything, I think, just picturing what the yolk could have become. Then I grew up. Now they're fine if they're scrambled or made into omelets or somehow fried solid with the yolk and white mixed, nothing over-easy! Hard boiled with salt is too dry. Deviled eggs are good too, but I haven't made them in ages. I just eat the ones other people bring to church potlucks and picnics. So, that's my opinion on eggs, for whatever it's worth.
Anyway, we got together with family last night and I was in charge of bringing salad. Yesterday afternoon, I mused to Shannon, "I wonder what the proper way is to make hard boiled eggs". He said, "Just boil 'em in water for awhile". When I didn't go with those directions, he switched to 'Google knows everything'. By the way, did you know there are entire websites about cooking eggs?! To make a long story short, I followed some online directions and the eggs turned out PERFECT! So, I'm going to write them here so I have them for future reference (you know, for when I make hard boiled eggs next year). And if you flounder around and guess every time you make hard boiled eggs, then this is for you too. I also learned a tip to keep that greenish color from forming between the whites and yolks.
Put eggs in a pan and cover with cold water. Water should come an inch or so above the eggs.

Bring to a boil over high heat, then turn burner down to medium and cook for 10 minutes.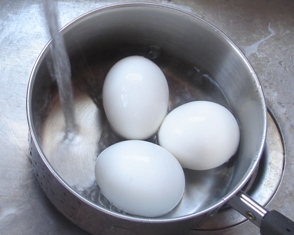 When the 10 minutes is up, immediately drain the hot water and put them in cold water or ice water. I kept them in the pan and just rinsed them in cold water a few times till the pan was cold, then filled it with cold water. Let them sit in there for a few minutes, then gently crack the shells and peel them.

Tips:
—Getting them in cold water right away after they're done cooking keeps the yolks a nice yellow and cooling them down quickly keeps that greenish color from forming.
—For deviled eggs, to get the yolks centered, lay the eggs on their sides for about 8 hours (in the fridge of course) before cooking them.
—Don't use fresh eggs. They peel hard. Eggs should ideally be at least 2 weeks old when using them for hard boiled.
There is another way to hard boil eggs too. You can bring them to a boil, then take them off the burner and let them sit for 20 minutes. I actually made eggs twice yesterday because the first time didn't work. The yolks weren't quite done. I had used this method, but the directions said to let them sit only 10 min. There was another site that said 20 min, so I think that might be enough for the yolks to get done.
How do you hard boil eggs? Do you make them alot?
Comments