Posted on April 15, 2008
Filed Under Breakfasts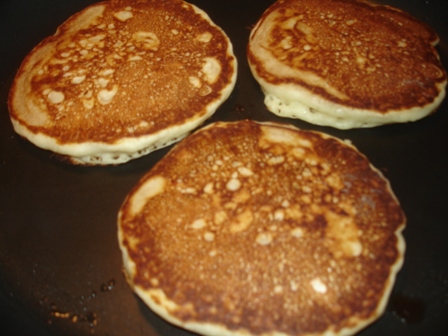 We eat pancakes alot. I make a batch, then put whatever we don't eat in the freezer for quick breakfasts, usually warmed in the microwave, but the toaster works great too.
When I was growing up, we had pancakes alot. We children had the recipe memorized, but I also remember what it looked like. It was in an old Betty Crocker cookbook located at the top left-hand corner of the page. There was some batter splatters and flour stuck to the page. And the sugar in the recipe had a line through it. I remember one time when I was making them, I was feeling a little daring and put the sugar in. At 9 or 10 years old, I didn't think about it that a little sugar wouldn't make a huge difference and I was surprised when the pancakes looked and tasted the same.
Mom also used to make syrup. She'd make it, then pour it into 2 glass 'Aunt Jemima' syrup bottles. I always liked it better the second time because it was thicker and not so warm and runny. I still like my syrup thick and I don't warm it up in the microwave (even though our plastic syrup bottle has a thing on the front that says 'HOT' after it's warmed) because it's too runny.
We got to talking about pancakes recently in family emails and my brother said they got a good recipe out of a local newspaper awhile ago and he makes them pretty often. He copied the recipe in an email and since I usually use the recipe on the side of the Bisquick box, I knew any recipe would be an improvement! So, I made them this morning.
My brother is a great chef. He made grilled salmon one time for our whole family and does lots of other grilling too. And that's not all. One time, we all got together for a meal and this trifle appeared. The layers were picture-perfect, not crooked or varied thicknesses. I was complimenting my sister-in-law on it because I knew they brought it and because she's a pro at making things look nice and attractive. She said, "Oh, I didn't make it. Bruce did." I really wish I'd have taken a picture of it. Anyway, they're both great cooks and I can't understand why they're still slim and don't weigh 300 pounds!
Pancakes
2 cups flour
2 Tbsp. sugar
2 tsp. baking powder
1 tsp. soda
1/2 tsp. salt
2 eggs
2 cups buttermilk
1/4 cup butter (melted)
Mix first 5 ingredients together. Lightly beat eggs, buttermilk, and butter in a separate bowl.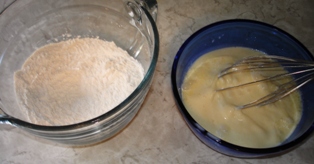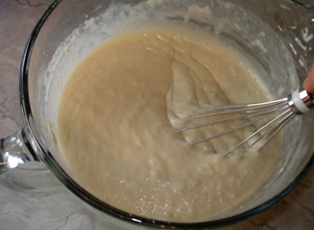 Add milk mixture to flour mixture all at once and stir until just combined (should be a little lumpy and quite thick).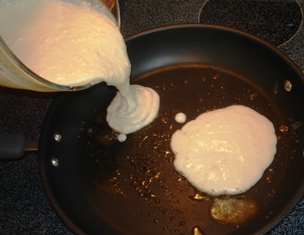 Can you hear the sizzle?
Yeah, I don't use a measuring scoop to put the pancakes in the frying pan. I just pour, thus my pancakes are varied shapes and sizes, but we don't mind.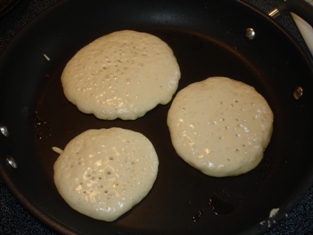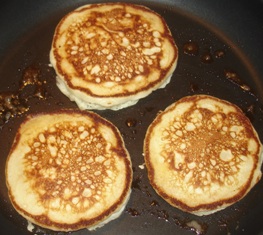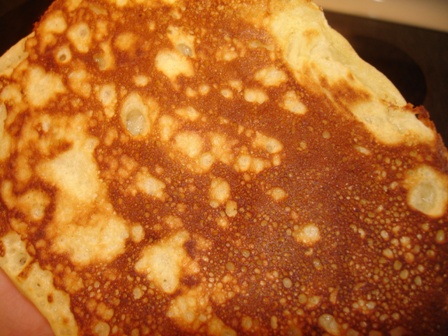 Just look at the texture of these pancakes! They were so soft and fluffy and had visible air pockets. They tasted great too… probably partly because of the melted butter! Delicious! this recipe made 18 4″ pancakes (give or take an inch, depending which pancake you pick).
Now, for the fun part…
You may think I'm crazy, but this is what we do with pancakes around here. My girls haven't eaten a normal round pancake for quite awhile.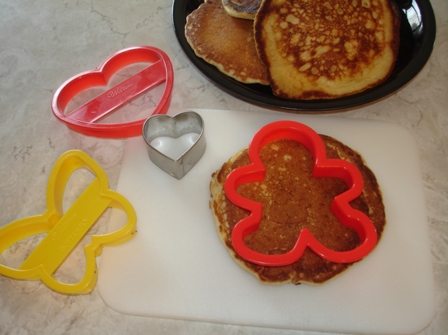 Their plates.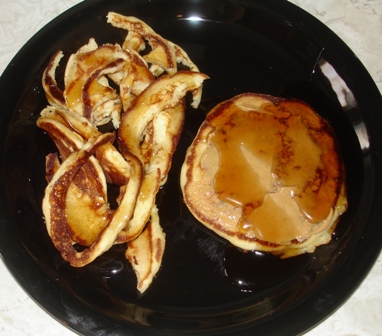 My plate.
It really doesn't take long at all to cut out shapes and it's fun for them to eat and pick which shapes they want. And the scraps are kind of hard to spread peanut butter on, but they taste the same… believe me, I know!
P.S. Barb posted a Corn Chip Salad recipe that sounds wonderful in the comment section of the hard boiled egg post (Thanks, Barb!). Check it out! Who's going to be the first to try it?

Comments