First the picture: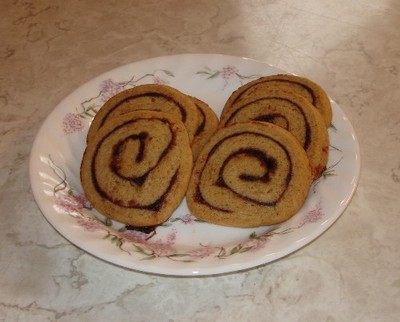 These are date pinwheel cookies made by my mother-in-law. I don't have the recipe and don't want the recipe, because just the fact that I'm married to her son guarantees that I'll get to taste these now and then. They are her specialty and they look hard to make… you should see the rolls of them before she cuts and bakes them… it's rolled very thin!

They are just delicious!!!!
————————————————————————-
Now for the recipe. The reason I don't have a picture is because I used Shannon's camera. But now that I'm ready to feature this, he has his camera. So, I may edit it later to add a picture. I made it on Christmas Eve.
Christmas Banana Bread …from the 2004 Quick Cooking Annual cookbook
1/2 cup butter or margarine, softened
1 cup sugar
2 eggs
2 cups flour
1 teaspoon baking soda
1/4 teaspoon salt
1 1/4 cups ripe mashed bananas (about 3 medium)
1/2 cup chopped walnuts
1/2 cup semi-sweet chocolate chips (I'm going to use milk chocolate next time

)
1/4 cup chopped maraschino cherries
In a large mixing bowl, cream butter and sugar. Add eggs, one at a time, beating well after each addition. Combine the flour, baking soda, and salt; gradually add to creamed mixture. Beat in the bananas just until combined. Stir in the walnuts, chocolate chips, and cherries. Pour into a greased 9″x5″x3″ loaf pan. Bake at 350 for 70-80 min. or until a toothpick inserted near the center comes out clean. Cool for 10 min before removing from pan to a wire rack. Yield: 1 loaf. This was VERY good, but then I love banana bread! The cherries in it made it look more festive, and they tasted good too. I know it's past Christmas now, though. Next year, I want to make a real fruit cake. I saw all the fruits featured in the middle aisle with the baking stuff at the grocery store all Christmas season, but didn't try it this year.
—————————————————————————
Now, I'm going to throw out a question, just out of interest and because I love to hear from you too… What is the theme/color of your kitchen? And anything else you'd like to say about it.

Mine is Coca-Cola. It started a couple years after we were married when we saw some kitchen Coke stuff one time and thought it would be neat. Then, when you keep your eyes peeled for it, it's amazing how much there is out there!!!! So, my colors are red and black… which is why the colors of this site will always be red and black.