I won't be featuring a new recipe right now. I'm just going to throw a couple pictures up here and put a new recipe or 2 up later.
GRILLING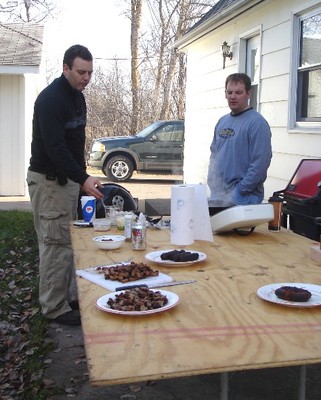 This is Shannon and his brother Preston making Shannon's baked beans on Thursday morning. My mom added them to our T-giving menu this year. Yes, it involves the grill… that's a bunch of steak chunked up to throw in and a couple other meats. I can't feature that recipe. Why? Shannon's answer to people who ask for the recipe is: "I could tell ya, but then I'd have to kill ya." …he is, of course, just kidding… I think.
I know the ingredients, but not quantities. I'm pretty sure Preston knows the recipe by heart, but he won't tell you either. He's Shannon's grilling buddy. You know, the whole concept of men and food in the same sentence was always a very common one to me, but the concept of men and helping make food was foreign… until I got married. Shannon and I have lots of fun together making meals. There's something very attractive to me about a man who likes to cook, especially grill. Besides, it's so fun to work in the kitchen with a guy, and just watch him… if I'm chopping up a green pepper into a million teeny little pieces, what do I use? A small knife or a food chopper. What does Shannon use? A huge clunky knife! But I must say, he must have good coordination because I tried it Thurs morning and nearly cut my finger holding the pepper several times …yeah, peppers go in the baked bean recipe, and jalepenos too. Ok, no more ingredient give-aways on that.)
After Shannon and Preston got done making the beans, they got a bar-b-que cookbook (we have pretty many barbeque/grilling cookbooks, including "The Barbeque Bible") and sat down with it at the bar and were making comments like, "We should try that sometime" and "This says to smoke the brisket for a minimum of 8 hours".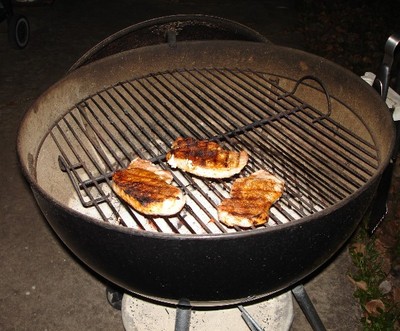 This is a picture of the pork chops on the grill Wed evening when we had our open-faced pork chop sandwiches. Shannon said that sometime he himself would do the feature on here for those sandwiches.
Well, I hope you all had a great Thanksgiving! I want to put a couple new recipes up on here tomorrow afternoon.