We made cookies and candy, then divided it all out between us. This is the rich assortment I brought home.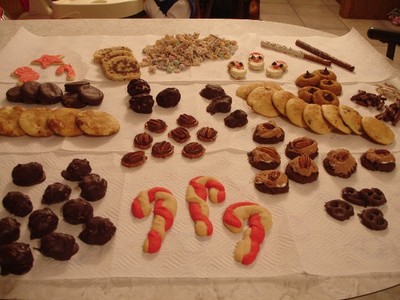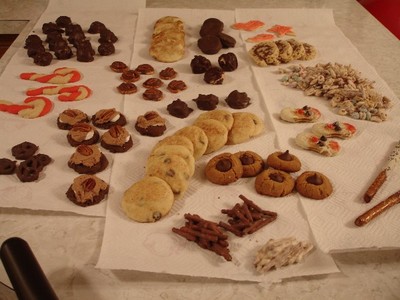 Same assortment. Different angle.
If you wonder what a specific kind is or what it's made of or want the recipe, just ask. I don't know the names of everything, but I'll find out if you want to know.

So far, Shannon's favorites are the snickerdoodles and peanut butter balls, my favorites are the turtles and those pretzel chocolate pecan things, and Lexi's favorites are the choc covered Ritz & peanut butter sandwiches and the frosted sugar cookies. We didn't all taste everything yet.
Cooking, baking, melting, coating, measuring, stirring, cutting, icing, snitching …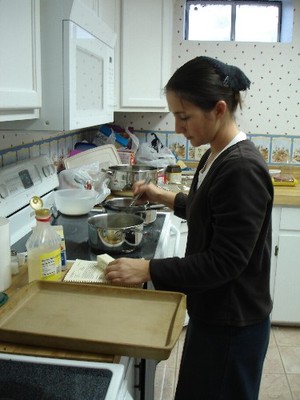 Linda stirring away at something. She had to cook that stuff for 5 min and when Izzy cried, the deal was that one of us either had to take care of the baby or keep stirring her stuff while she took the baby… going by the picture, guess which was picked.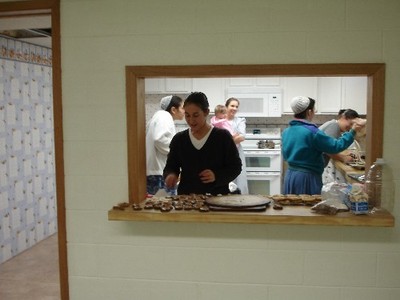 There's Linda again, front and center… sorry, didn't try that! Looks like Sandra is dying laughing about something at the sink… can tell it even more on my bigger original picture.
Getting things done and we've got something to show for it!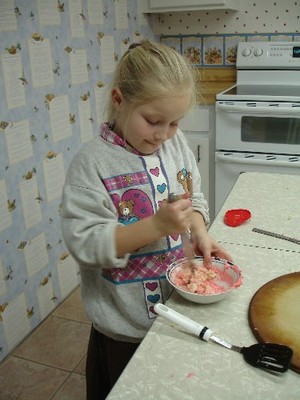 Ruthie Sue making frosting… her own special wouldn't-want-to-eat-it-anymore recipe. She is 7 (right, Rufusannie? it's her dau) and looked for work in the kitchen several times throughout the day… a budding cook!

I think I got warped because on my way home, I glanced at the clock in my car and did a double-take and it took me a couple seconds to clear my head and realize that no, an oven wasn't on… the clock said 3:50.
——————————————————————————
Now, I'm going to feature the 3 things I made that day…
Candy Cane Cookies
Peanut Butter Balls
Rice Crispy Roll
Candy Cane Cookies …recipe from the 2006 Quick Cooking Annual Recipes cookbook
1/2 tube refrigerated sugar cookie dough, softened
2 Tablespoons flour
1/2 teaspoon peppermint extract
1/2 teaspoon red food coloring
In a large mixing bowl, beat the cookie dough, flour, and extract until smooth. Divide dough in half; mix food coloring into one portion. Shape one teaspoon of white dough into a 6″ rope. Shape 1 teaspoon of red dough into a 6″ rope. I rolled them with my hands. Next time, I want to try piping them with a cake decorating bag… I think that would be easier and they'd get more even. Place ropes side by side; press together lightly and twist.
Place on an ungreased baking sheet; curve one end of cookie to form handle of cane. Repeat with remaining dough, placing 2″ apart on baking sheets. Bake at 350 for 8-10 minutes or until set. Cool for 2 min before carefully removing to wire racks. Yield: 3 dozen.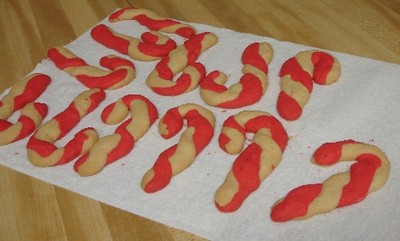 I forgot to take progress pictures of these. I'll make a batch every year and maybe get better with time! Mine didn't get very even and I got so tired of making those crazy little ropes!!! But they are very festive-looking and they taste great too!

The next 2 recipes I found on vernam06's site. You'll love her site… she posts LOTS of pictures… in my opinion, that makes the best kind of site! There are pics of their Christmas baking day, of her sweet funny busy grandchildren, and more pics of this and that. Always interesting!
Peanut Butter Balls
1 1/2 lbs powered sugar
1 lb peanut butter
1/2 lb butter
Mix all together and dip in chocolate.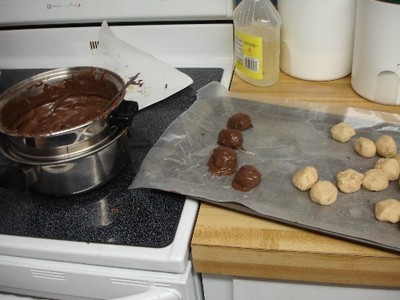 Here's kind of a progress all-in-one picture. The light balls are ready to be dipped, the dark ones are done. This recipe was easy and fun and so good! I think I'll make more before Christmas! They're not sticking around here too well!
Rice Crispy Roll
1 bag of lg marshmallows
1/4 c. butter
1/4 c. peanut butter
5 1/2 c. rice crispy cereal
Melt together first 3 ingredients,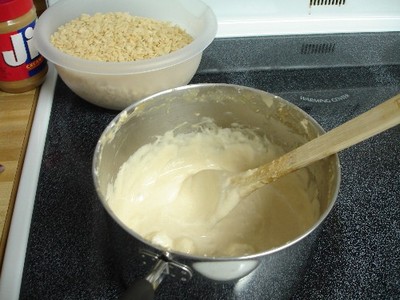 mix in rice crispies. Press in jelly roll pan. Melt together 1 1/3 c. chocolate chips and 3/4 c. butterscotch chips. Spread on rice crispie mixture.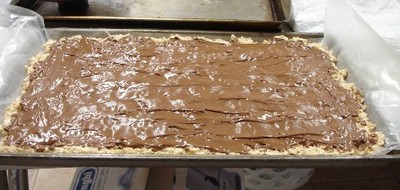 Roll up as jelly roll and cool at least 1 hour.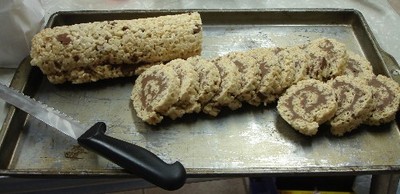 These are just tops! I still enjoy rice crispie candy every bit as much as I did as a kid. This roll adds a different twist to them, esp with the filling! YUM!!!