Posted on November 20, 2006
Filed Under Beef, Main dishes
My first entry WAS going to be some for exotic yummy-lookin' entree or dessert… to impress you all

, but 5:00 this evening found me staring in the cupboards, fridge, and freezer. Then, I spotted the "Jiffy all purpose baking mix" box with recipes on it. So, I scanned them and thought the Mozzerella and Beef Puff sounded good.
There won't be all that many casserole-type dishes on here. Neither Shannon nor I like them… but for different reasons. His reason: the same taste the whole main course, and the throw-everything-in-the-trough effect. My reason: I never know what else to put with it… all the food groups are in there, so do we go double on the veggies or the bread? In my mind, a meal should have at least 3 things on the table. So, if there's a casserole, I need to come up with 2 more things!

Mozzerella & Beef Puff
Crust:
1/4 cup butter or magarine
3/4 cup water
3/4 cup JIFFY baking mix
3 eggs
Filling:
1 lb. lean ground beef
1 can (7 oz.) mushrooms
3/4 cup onion (chopped)
1 tsp. garlic powder
1 can (10 3/4 oz) cream of mushroom soup
1 to 1 1/2 cups shedded mozzarella cheese (I did 1 1/2)
Preheat oven to 425. Grease 10″ round baking dish. Brown ground beef, onion, and mushrooms. Drain, add seasoning and mushroom soup, and set aside. For crust, bring water and butter to a boil. Add baking mix all at once, beat with wooden spoon until mixture is smooth and forms a ball. Remove form heat. Add eggs one at a time, beating well after each. Spread dough onto bottom and up sides of pan.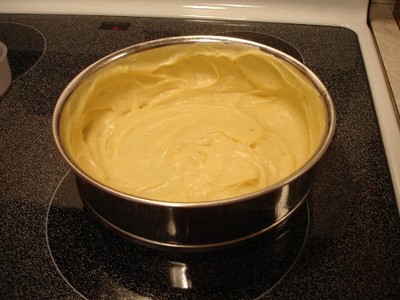 Fill w beef mixture. Bake 25 minutes until golden brown and puffy. Sprinkle with cheese and bake 5 minutes more. Yeild: 4 – 5 servings.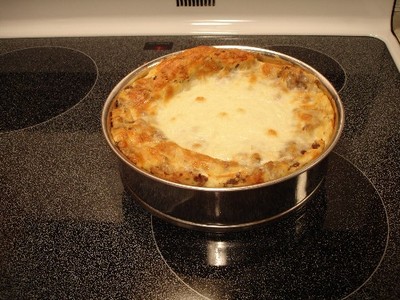 Mine got baked a little longer because my Mom called and I was talking to her when I should've got it out. But it turned out good because the cheese got nice and brown around the edges. It's VERY filling.
My take on it: I'm not going to cut it out of the box to add to my blank cookbook (which isn't so blank anymore). It was VERY good, but nothing exceptional. The garlic added some pizzazz. A huge plus for it is that it takes very common ingredients and is very easy to make short notice… like, you can grab frozen hamburger out of the freezer and have it fried up in 15 minutes.
To round out this meal, I cooked frozen broccoli (there were no veggies in the main dish) and then we topped it off with banana splits for dessert.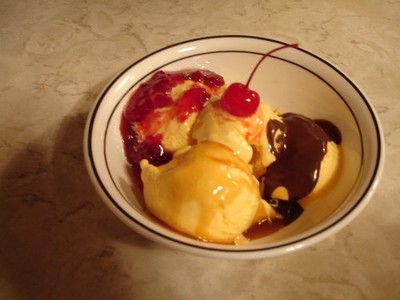 We don't always have dessert, but the toppings and bananas and ice cream scoop were some more things to help fill up my 'empty' table problem, what with having casserole and all!

I should add somewhere on this site, that Shannon is a better cook than me! When Tiffany was born, he worked from home some for the first week and made alot of the meals, and we ate some good stuff!!! Much better than when I'm in charge! Where he shines most is the grill. He grills year-round, but of course more in the summer. He has a baked bean recipe that is just awesome, and he's famous for those beans among our family and friends. My sister Jan requested them at her wedding and my mom just called me this evening (remember overbaked puff above) and asked if he could make them for our T-giving dinner this year. He also makes a killer pork chop open faced sandwich. I will ask him make a 'guest appearance' on here once in awhile!

There are some things in the comments from my last post that I want to come back to sometime, but I'll leave it at this for now. I'll most likely be updating before Thanksgiving, so I won't wish you a Happy Thanksgiving yet! If I don't make anything before, I plan to make a cinnamon roll recipe that madisonsmom2 messaged to me. I'll make it for brunch since our T-giving dinner is an early supper (I think to accomodate the hunters). This is not just any cinnamon roll recipe… it's got a couple 'surprise' ingredients in it.

…That was all just to whet your appetites.