Tiffany turned 8 last week. Usually, the girls pick what they want for a cake, but this year Tiffany said, "I don't want to pick my cake this year, I want you to surprise me. My only thing is I'd like something that has to do with princess-y".
So, the morning of her birthday, Tiffany left for school and I got busy baking.
This is what was waiting for her when she got home.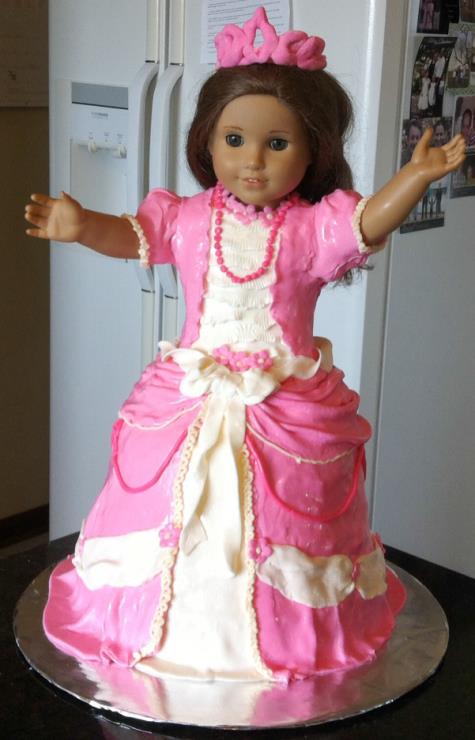 Yes, I did put her American Girl doll Rebecca inside a cake. Yes, I know, it was a little crazy.
In all of Pinterest-searching for princess cakes, I never saw an American Girl doll in one… Barbie seems to be pretty much monopolizing the whole doll-in-cake thing. If you're wondering how Rebecca's cloth body fared, it was totally unharmed. Before putting her in the cake, I wrapped her in plastic wrap up to her chin and down her arms a bit. I did have to wash her hair afterwards, though, because it was against the back of her dress and the fondant tiara was sitting on it.
Tiffany loved the cake extra much because it wasn't some random new doll… it was a doll she'd had for over a year and already knew and loved. Ok, that sounds weird talking like that about a doll, but if you were once a little girl with a favorite doll, you might understand how that can feel accurate. 😉 I don't know how many times Tiffany said, "I just feel like I have to pick her up and hug her!" and then sometimes adding the obvious "but I know it would get fondant and cake all over me".
So, for the details, here is how I did it (not to be confused with the professional way to do it, ha). You'll notice some winging it and some improvising and some lack of planning ahead and some details that didn't get very good. But so what, my 8-year-old was speechless ….and yours would be too if you'd up n wing a cake like this for her.

First is baking the cakes…
The cake part is white cake baked in 4 pans… a 10″, 9″, 8″, and 6″ pan. I needed a hole in the middle to put the doll down thro', so I thought why not save on cake instead of cutting out the middles, so I put a coffee cup in the center of each pan and dumped the batter in around it. Can you say "wing it"? Worked great, though! The handles were kind of a pain to work around, but my drinking glasses aren't big enough for how big I wanted the hole.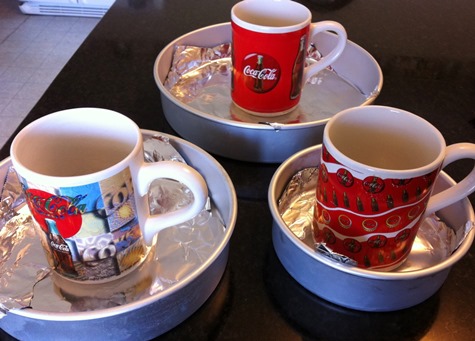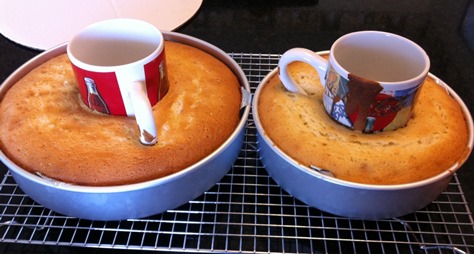 Next step was to layer the cakes, put Rebecca in, and cover the skirt with frosting. I did no skirt carving to make an even slant, except for the very top layer so it wouldn't be quite as big of a jutting out. And yes, the top layer did sort of break in the trimming process, in case you notice it looks a bit pieced together. For the other layers, instead of trimming, I just put more frosting where needed to fill in the gaps. As you'll see in the picture below, I put a cardboard between layers 2 and 3, and there are skewers going down thro layers 1 & 2 under the cardboard, just in case the cake and frosting would want to settle down into each other from the weight.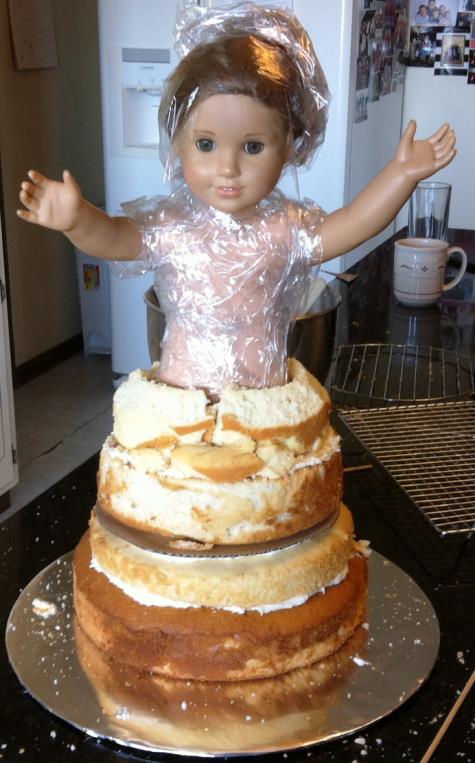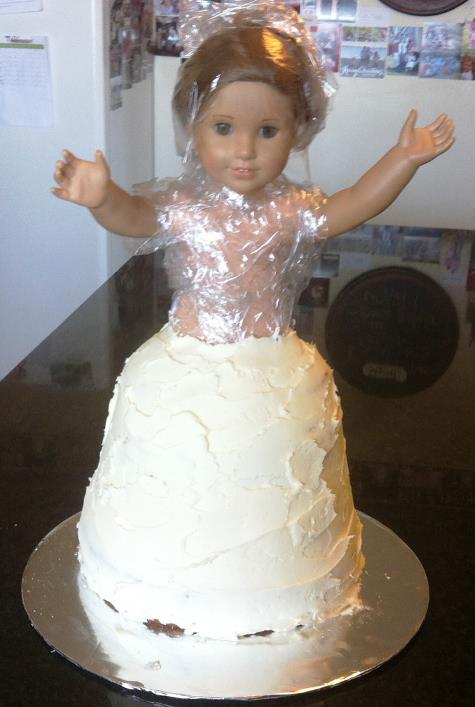 Now the fun part… fondant. For the first time ever, I MADE fondant. I got the recipe from Around My Family Table. It was more stretchy than store-bought (which can be good or bad, depending what you're doing), otherwise it was pretty much the same. And it tastes a lot better, so I'm kind of thinking homemade from here on out. Not sure if it would work as well for figurines though, will have to experiment. For this cake, I made a double recipe of fondant and used almost all of it.
I did not have the dress visualized before making it, so it kind of just happened as it went… deciding it needed some white to break up all the pink and just kinda messing with and adding things here and there. I need to get better at folds in fabric, like at the top of the skirt. The flowers around the neck were to hide the plastic wrap sticking up, so the other flowers on the dress were to tie in with that. Btw, I have a flower cutter set that makes those so easy, my 3-yr-old can even make them. She was making some along with me here and we kept stealing cutters and presses from each other. I think she ate all the flowers she made, though.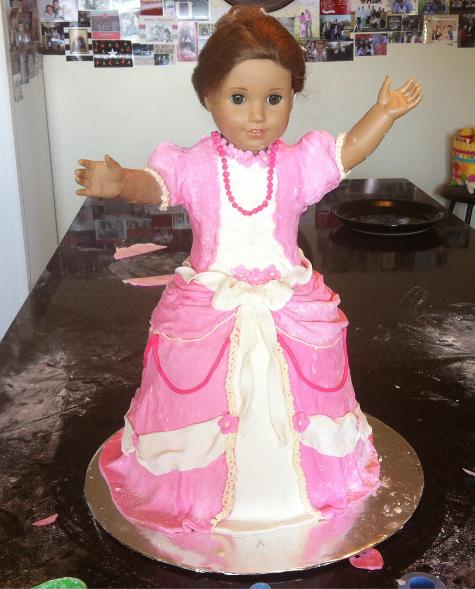 After this picture, I put some water in a spray bottle that sprays a very fine mist and misted the dress to give it the look of shiny fabric. Plus, it was an easy way to get rid of the extra powdered sugar on the dress (which is on there from rolling it out because you need powdered sugar to keep it from sticking to the counter and rolling pin).
Tip: If you want to get rid of the powdered sugar without getting the shine, carefully wipe it off with a barely damp paper towel or cloth.
The lack of progress pictures is partially because I forgot, partially because my hands were always powdered-sugary, and partially because you can pretty much see everything in the done picture. For the sleeve puff, I put a chunk of fondant on each shoulder, then gathered fondant and shaped it for a sleeve. There is no cake on the top half of her… that is fondant directly on top of the plastic wrap that she's wrapped in. The necklace is simply piped dots of frosting.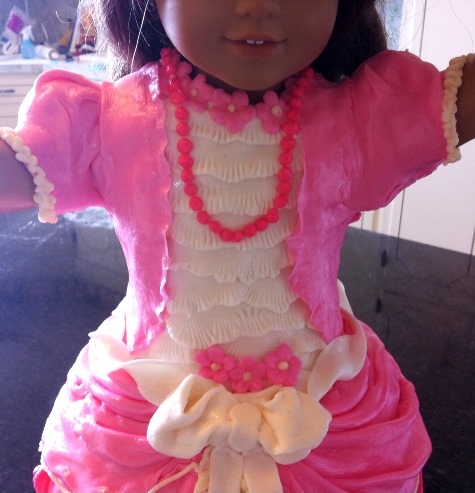 Just a few tidbits:
— Her arms got in that position when I was wrapping her in plastic. When I was done, I was about to put them down, but instead let them up in the air like that because it looked more festive or something rather than hands boringly at her sides.
— The tiara was a bit of an afterthought. She was done and I thought "oh dear, a princess needs a tiara! I should've made one 2 days ago so it could be dry and hard now!" I had to go with a chunky one because a delicate one couldn't have stood up because there was no time for the fondant to harden. So I made a 'snake', looped it a few times, pinched the middle loop into a point, sprinkled it with granulated sugar, and put it on her head.
— The candles… we were ready to light candles and sing Happy Birthday to You, but I hadn't put any on! We couldn't think of a good place to poke them in (I mean, really, who wants their dress on fire?!). Just then a light bulb moment hit and I ended up piping 8 little piles of frosting on the cake board, and stuck the candles in. Worked great! You can kind of see it on the very last picture of this post.
I'll just add a couple pictures yet of a cut view so you can see how Rebecca was in there.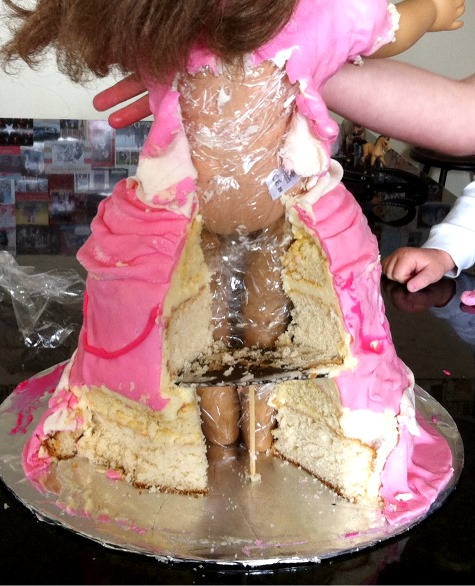 Rescuing the princess from the tower, er, oops, I mean, cake…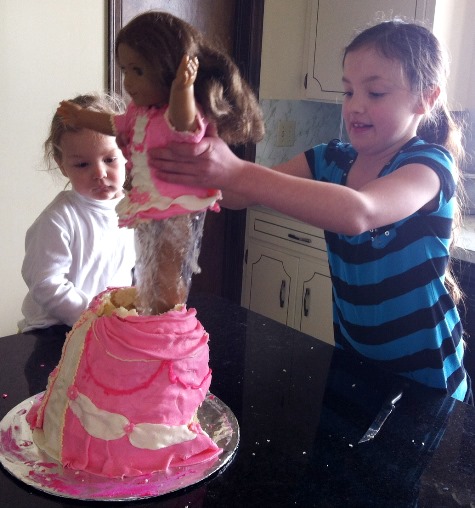 Happy birthday, Tiffany. Only 8 years ago, you looked like this: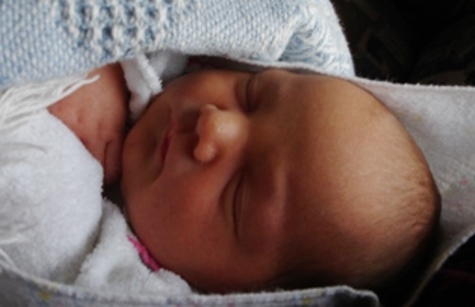 How did you get to this already?!: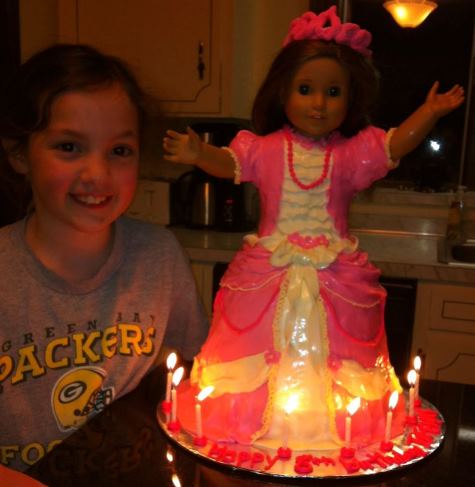 A year ago, I was memorizing the feel of a newborn in my arms; today I have to curl her legs up so she fits between the arms of the rocker.
A year ago, she couldn't even hold her own head steady; today she WALKS up to me and raises chubby little arms, asking to be held.
A year ago, she wiggled her little self into my mommy heart; today she is wiggled in even deeper. 
A year ago, I'd lay her on the couch and go do some work, knowing she'd stay there; today if I'd do that, I'd probably find her 3 minutes later in the bathroom pulling TP off the roll.
A year ago, I had to guess what she needed when she cried; today I still have to guess some, but she can get her point across very well when she needs/wants something. 
A year ago: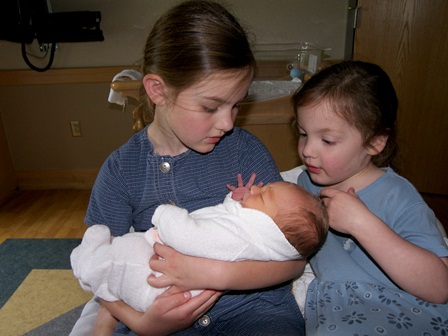 3 months old. I saw this 4-generation picture in the 3-months-old category of pictures and decided to put it on here, for a few reasons… because I'm proud of my dad and yesterday was Father's Day, because my grandma is very special to me and I'm so thankful I still have her, because some of you who know them might be interested in this picture, and because I love seeing 4-generation pictures.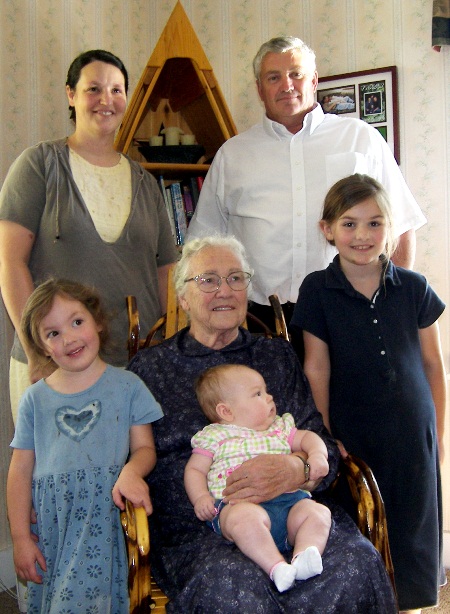 And we'll zoom in so you can see that at 3 months, Megan had some chubbies going on…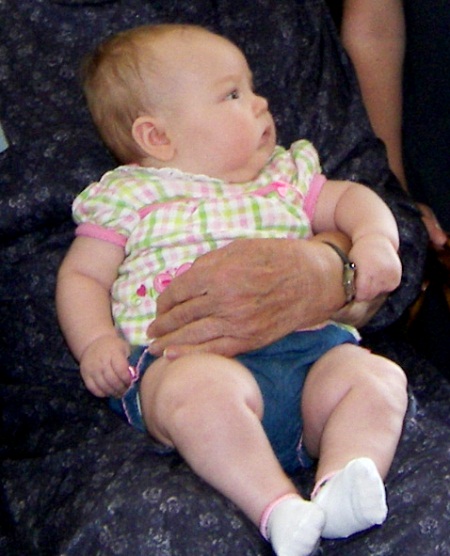 I'm just noticing that this picture is really neat… young baby skin against her great-grandmother's aging hand.
6 months. All smiles, which was/is very typical of her…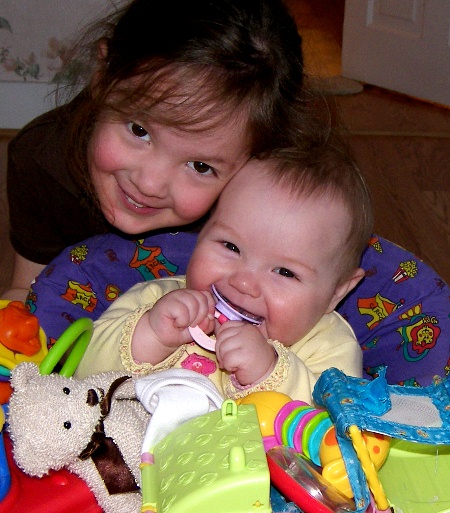 9 months. Wanna pinch those cheeks?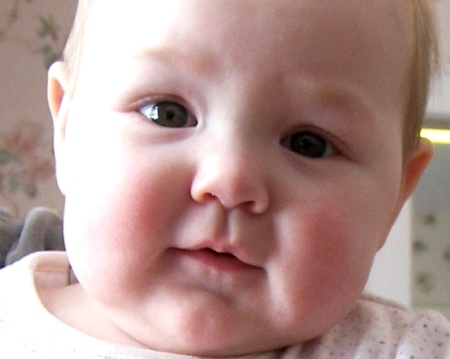 1 year. And yes, she feels as sturdy as she looks.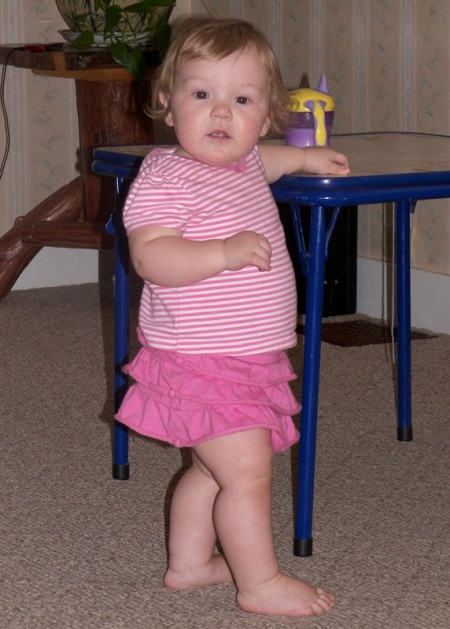 My little Megan. Easy-going. Happy. Charming. Friendly. Chunky. And surrounded by love. Thank-You, God, for her.  
And now for the cake. It was a puppy cake.
Here is the cake sitting beside the inspiration for the cake.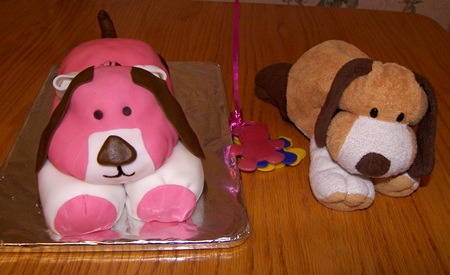 I know, so classy… dig thro' the toybox for birthday cake ideas. Well, ok, that's not actually what happened. First, I decided to make a puppy cake. Then, I needed a puppy to look off of. Then, I said, "Tiffany, could you please go find Sammy?"
My friend Kristen helped me with this. She brainstormed with me and we decided to make it pink and brown instead of tan and brown, so if you look closely, or more like just look… it's not hard to see… you'll see that everywhere that Sammy is tan, Birthday Puppy is pink, and the dark brown and white are the same on both. And then we added a bow. Kristen kneaded some fondant and made the button on the bow, the nose, and the eyes. She is 13 and she is confident and creative… two things which are very helpful when putting details on a cake!
I only have one progress picture of this cake. It's one when it was mostly frosted and the legs are already covered with fondant.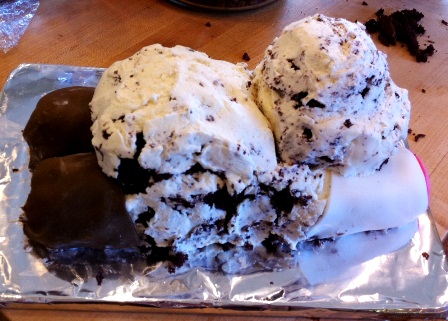 The way to spell magic is f-o-n-d-a-n-t. 😉 Doesn't look like much, does it?
But put some fondant on and look what happens…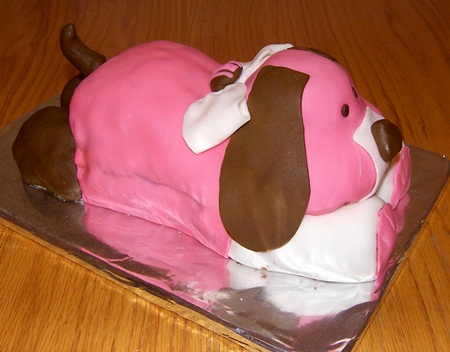 Yeah, I did smooth the frosting out some, but for some reason a crease showed up where the layers meet. I wanted sort of a lumpy loosely-stuffed look, but not necessarily a crease look! Oh well.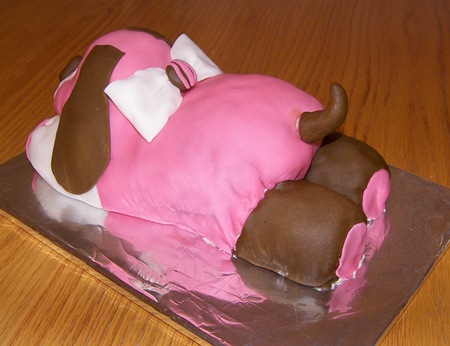 Here is a close-up of the bow.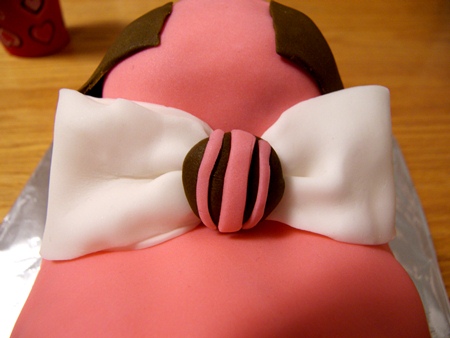 As I was making the white part of the bow, I told Kristen we'll need something for the middle of it and right away she started rattling off ideas, so I told her to have at it and here's the little button she came up with. Cute!

The cake was sitting out on the table and one time when I walked through the dining room, this is what I saw… it was Shannon's doings. 😆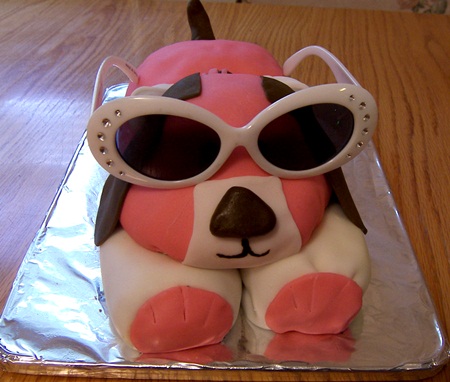 Ok… we have some kids around here somewhere. Let's add them to the cake pictures…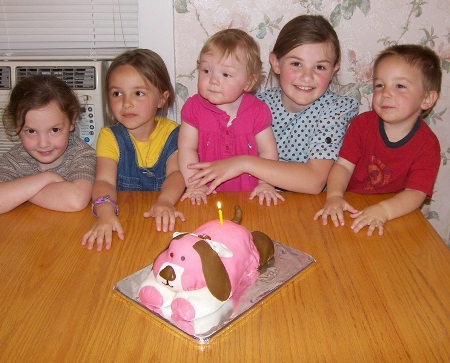 Yay! It's cousins from WI!
Tiffany, Kaitlyn, Megan, Lexi, Chad
I was planning to make a bone to give to Megan to dig in, but then that didn't really happen, so she just got a leg of the puppy. First, she broke off a piece and tried to give it to Kara. Such a thoughtful giving person at such a young age, making sure other people get cake before allowing herself to indulge.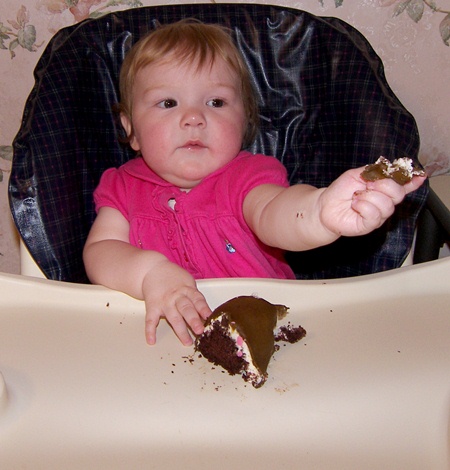 Then, she dug in herself…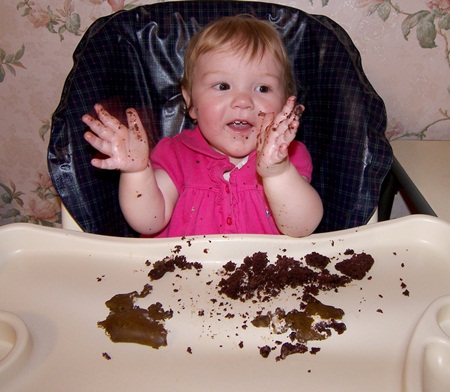 Happy birthday, Megan. I hope you stay this sweet and good-natured forever!
I'm really glad I have friends who have boys. And that they let me make birthday cakes for them. Otherwise, when would I get a chance to make boy cakes, what with having only girls? I know girls love Lightning McQueen and Thomas the Tank Engine too, but when it comes to birthday cakes, a zoomin' car or train isn't the first thing they'd usually pick… although, while I was making this cake, Lexi said, "Mom, I know I'm not a boy, but I WOULD really love a Lightning McQueen cake next time." I'll bet she'll change her mind before December 7.

This Lightning McQueen cake was for my friend Joe's son, Regan. Regan turned the big 5 this past week. Here he is. Cute little guy!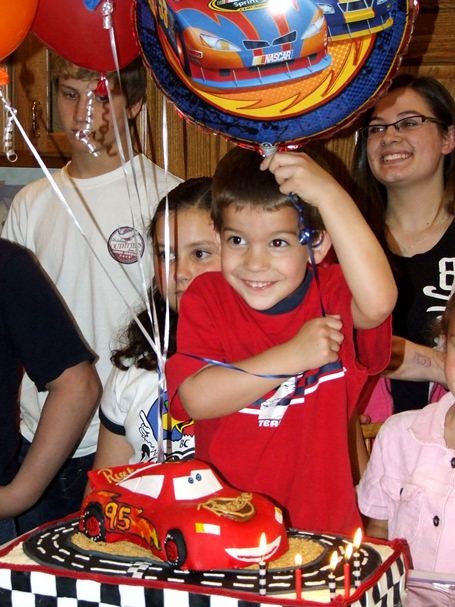 And a brave little guy. He's all smiles… on the picture, anyway.
This is the first time that I've ever written a Kitchen Scrapbook post that I felt like just closing my laptop and crying.
There was pain behind the smiles at the party and there is pain woven throughout this post. There was a mama-shaped hole the size of Texas at this birthday party. Regan suddenly lost his dear mama this past January. It just breaks my heart. And no 5-yr-old should have to celebrate a birthday without a mama. Thus, a little extra love was built into this cake because that thought was in the front of my mind the entire time I was making it. Deb was a dear friend and I feel very honored to have had the privilege of making a birthday cake for her son.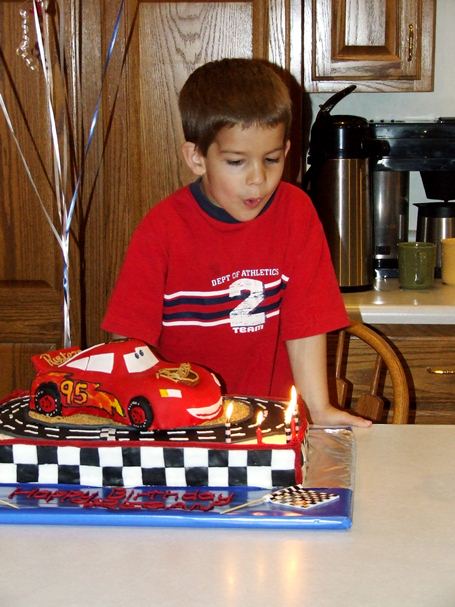 1-2-3 BLOW, Regan!!!!!
I didn't ask Regan what type of cake he wanted… I was just going to do something in the cowboy/horse dept because that's a significant part of his surroundings. But… Lexi is in 2nd grade with Regan's older brother Riley, and she came home from school one day and said, "Riley said Regan wants a race car cake." So, I asked Joe and he said Regan would love that, either Lightning McQueen or Dale Earnhardt Jr. By the way, did you know that Dale Earnhardt Jr and I have the same birthday? He's 2 years older, though. Brett Favre and I have the same birthday, too… only he's 7 years older. Anyway, that's my claim to fame… being in the October 10 Birthday Club with them… we get together every year on our birthday and split the time in 3rds, talking about Nascar, NFL, and birthday cakes. I could be wrong on some of these details. But even though Dale Jr and I have the same birthday, we decided on Lightning McQueen because Missy was going to get party decor to go with whatever the cake is and there's anything and everything you could ever want for a Lightning McQueen party.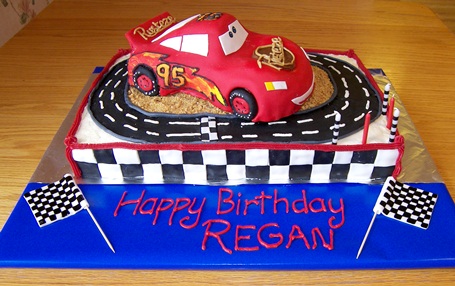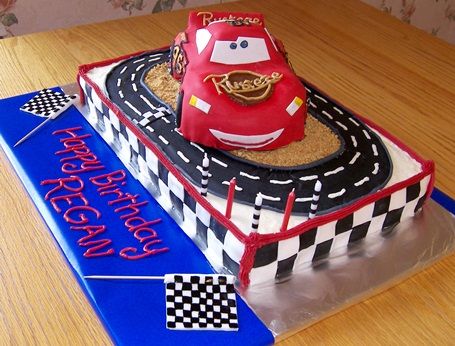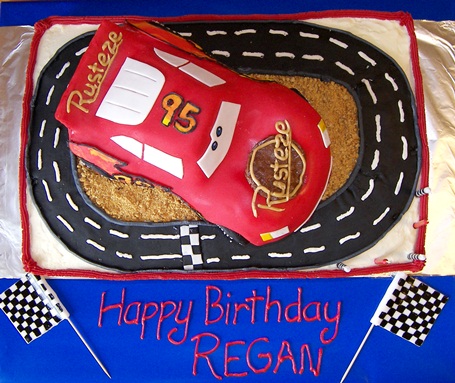 I didn't take progress pictures of making this cake because it's made pretty much the same as the Lightning McQueen I made a couple years ago (I'll post a link at the end of this post).
I did do something different with this one for the spoiler because the spoiler of the other one had issues and had to be propped up with toothpicks… and toothpicks propping stuff up sort of takes away from the coolness of a 3-D cake. With this one, I cut a slit in the cake and put a graham cracker in it, then covered the whole works with fondant. Here it is before it's covered with fondant…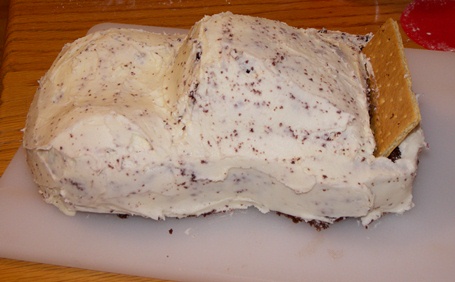 I think the graham cracker eventually took on the moisture from the cake and broke because at first, it was solidly in place, but after a couple hours, I could easily wiggle it. It didn't matter though because by that time, the fondant had dried enough to hold it firmly at the proper angle.
In case you wonder what something is or how it's done, I'll just make a list here, hopefully answering some questions before you need to ask them. 😉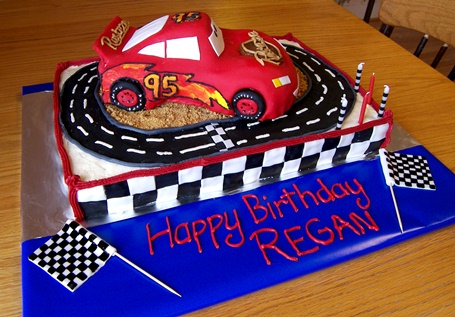 Cake board – flat cardboard box, covered with wrapping paper and a strip of tin foil for the cake to go on.
Flags – wooden skewer with white fondant square, I took a paintbrush and painted little black squares on it (my 'paint' was food coloring paste)
Birthday wish – piped on with red frosting, the moisture from the frosting soaked into the wrapping paper a bit… it worked fine, but you wouldn't want to do it too far in advance because it gets worse and worse and looks like dark shadowing around the writing.
Base under racetrack – 2 white sheet cakes with a layer of melted-chocolate-chips-mixed-with-peanut-butter between… because just plain ol' white cake is booooooooooooooooooring (that's a fact, but you can consider it an opinion if you prefer to 😉 ). The cakes are covered with a layer of white frosting. Here is a cut view…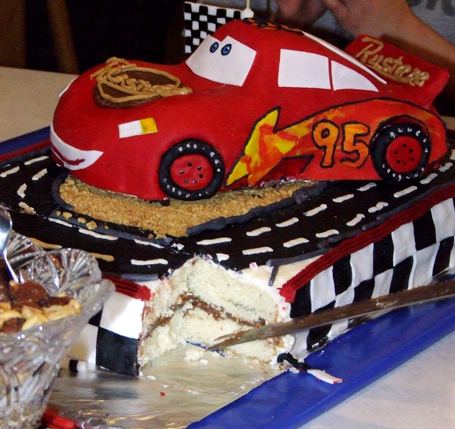 Checkered squares around base – I love this look, but I'd do it different next time. How I did it was very time-consuming. I cut a bunch of little fondant squares, then fit them all in on all 4 sides of the cake. Next time, I'd put a black strip the entire way around the cake and then cut little white squares and put them on, spaced appropriately to get the checkered look. Or I'd put a white strip all the way around and paint black squares on like I did the flags.
Race track – black fondant with piped frosting accents, graham cracker crumbs for dirt in the middle
Car – chocolate cake carved into a car shape and covered in frosting, then in fondant. I was afraid the weight of the car would make it sink down into the frosting of the base, so I cut a piece of cardboard roughly the footprint of the car, covered it in tin foil, put the car on it, and then set it on top of the base where I had spaced and poked 5 skewers down thro' and cut them off about even with the top of the cake.
Details on car – it's all fondant with frosting accents except the Rusteze logo and the eyes. The brown circle on the logo is… ahhhhhh… FUDGE! and the writing is peanut butter. The eyes are painted on with a paintbrush and blue and black food coloring paste. 
And you've gotta notice the candles! I was so tickled to find them! They fit in SO perfectly!!! 

Now… I KNOW you're itching to make your own Lightning McQueen birthday cake for that sweet little guy in your life 😉 , so here is the post with step by step directions with progress pictures: Lightning McQueen step-by-step
And for those of you who are thinking "Oh, I could never do that!", this post is for you: Pictures of Lightning McQueen cakes that readers have made and emailed to me. So proud of them for taking on the challenge! And a couple of them said, "It was easier than I thought it would be." 😉
Have fun being 5, Regan!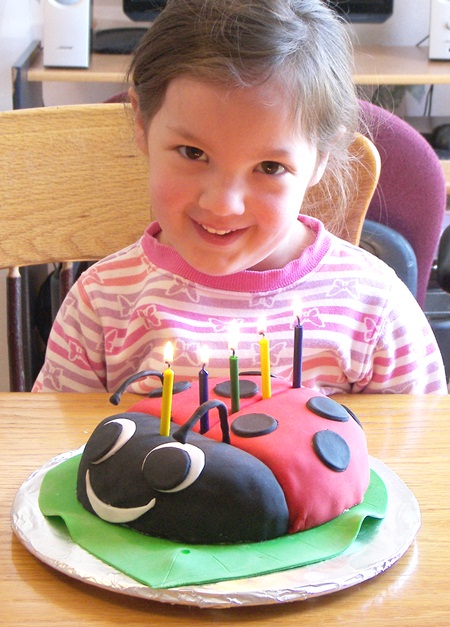 Yeah, I know… you're thinking "Ewww, a ladybug."
Me too.
But hey, I'm just the cake-maker, not the cake-decider.
Tiffany isn't really a cake-decider either… she had THE hardest time nailing down what cake she wanted. For awhile, it was a big huge whoopie pie cake. Then, for awhile it was a gazebo. (The difference between those 2 cakes in time and skill is like night and day!) Then, about a week before her birthday, she started switching daily… seriously, we were all over the place… castle, house, ballerina, heart, ladybug, bird nest, space shuttle, garden…
The morning of her birthday, I was ready to bake the cake. Once I bake the cake, it's pretty much no-turning-back because depending what it is depends what I bake it in. At the moment, we were on a bird's nest with eggs in it and a bird sitting on top (and the bird sitting on top would be sturdy and removeable so it could be played with beforehand… we weren't planning to have a cake party, so I didn't care if the girls played with the cake before eating it). I got the cake mix out of the cupboard, then said, "So, we're doing a bird-on-a-nest cake, right?" She said, "No, I was just thinking… I'd rather have a ladybug."
Oh. Ok. Uhhh. Yeah. Sure. No problem.

Turns out a ladybug is a VERY simple cake to make. There are 2 things I'd have done different, though.
1. I baked it in a mixing bowl and I wish I'd have picked a mixing bowl that was a little deeper, that curved more at the bottom. I thought this ladybug got too flat and wide. But, on the other hand, maybe looking LESS life-like is a good thing!

 
2. I cut about a third of the circle off for the head… should've cut off more like a fourth. I thought the head looked too big.
But anyway, here it is in pictures. You'll see that it is easy… no carving involved. And you could just use black and red frosting instead of the fondant.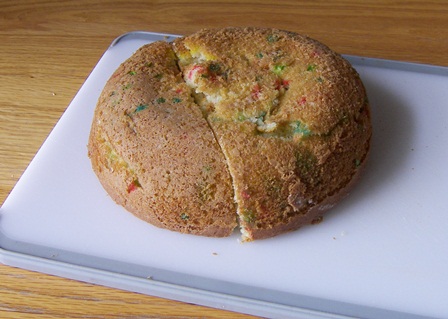 Cutting off excess red fondant. The other part is frosted and ready for black.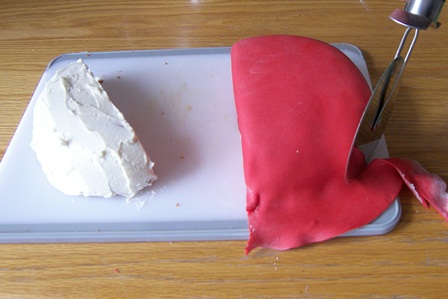 Making the line down the back where the wings separate…

Starting to look a bit more ladybug-ish. You can see the leaf on the right… I rolled out green fondant, cut out a leaf shape, and made a few indents for veins. Then, I put wads of tin foil hit-n-miss around underneath it until it dried… that way, the leaf has a bit of character to it instead of just laying totally flat.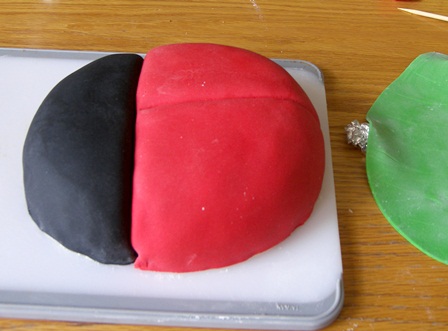 Looked around in my cupboards for something the perfect size to cut out circles for spots. Found a water bottle lid. 😉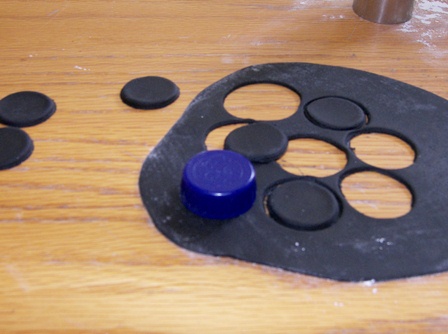 The antennas are made out of fondant wrapped around a twist-tie… not kidding about that! I got to that part and hunted around for something to use. My first thought was to use little pretzel sticks, but we didn't have any. Everything else is either cake, fondant, frosting, or covered cake board.
"Done, Tiffany. Here's your ladybug."
"Mooooooooommmmm! You forgot the mouth!"
Oops!
(That did actually happen… I didn't make up that little exchange just because the pictures look like it.)
NOW we're done…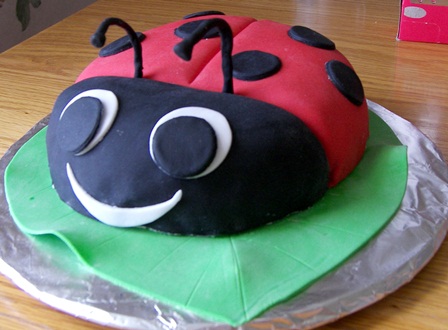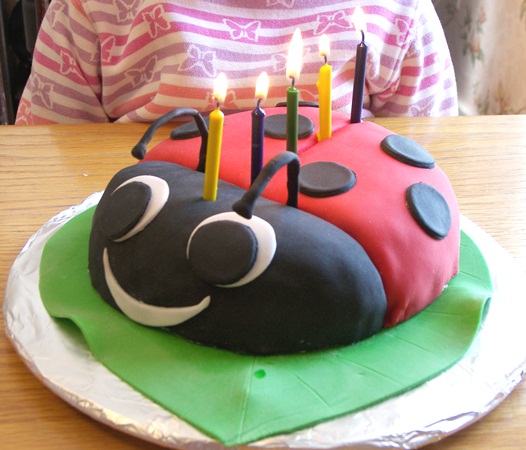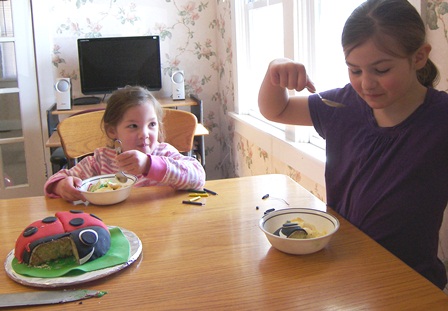 Tiffany's birthday wasn't totally party-less. She woke up to a little ribbon & balloon canopy, complete with her name and a couple of gifts. For her birthday meal in the evening, she opted to go to a restaurant with Preston and Kara (and us, of course), where the waiters and waitresses gave her a birthday wish. As we were walking out, a couple of the waitresses wished her a happy birthday again. She was surprised that they remembered it was her birthday.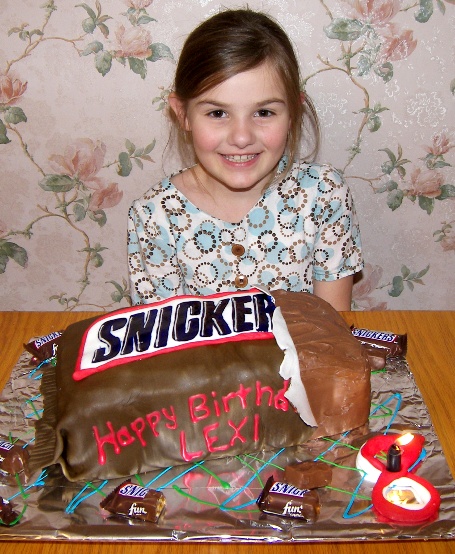 For over 3 years, Lexi's favorite candy bar has been Snickers. Usually, the reason a food is your favorite kind is because you've tried some variations and one was head and shoulders above the others. Well, not so with Lexi and Snickers bars.
Here is how Lexi came to like them… Once upon a time, when she was 4 years old, we went to our small hometown county fair, a county fair in which there are veggie races ("Will the corn beat the cucumber? Oh look! The potato is taking the lead!") and a cornbox (as opposed to a sandbox) and pig swimming races (I didn't even know pigs could swim, so that I had to see!) and, of course, pony rides. Like all good dads, Lexi's dad gave in to her big brown eyes when she asked for a pony ride. There was a line of kids and a circle of ponies. When Lexi was at the front of the line, her dad helped her up on the next pony as the man in charge of the pony ring told her with a smile, "YOU can ride on Snickers!". It was surreal, a dream come true, she was sitting on a REAL pony… and she wasn't even dreaming!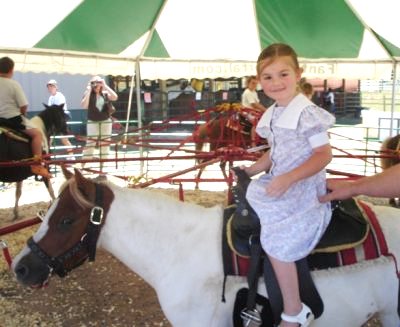 Sure, she had sat on ponies before, but they were always hard cold pretend ones on a carousel, and wow, this was more fun than a carousel! It was a little scarier too, but sometimes scarier goes with funner, like ponies vs. carousels.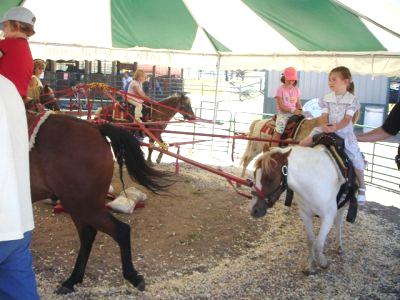 She talked about Snickers for days. One day, I said, "Did you know there's a candy bar that's Snickers?" The poor Snickers-candy-deprived child said, "No! There is? What does it taste like? Can we get one?" I said, "Sure. Remind me next time we go to town." She did remind me and during her first bite, she declared it her best candy. And they lived happily ever after. Just between you and me, I'm pretty sure Snickers knocked M&Ms out of the favorite candy slot BEFORE she even tasted it… beloved ponies can have that effect on little girls.  
On to the cake…
First, I baked a sheet cake and then cut it in 3rds and then stacked it up with frosting between the layers. The reason I did that is because a 9×13 would've been just the wrong dimensions to get the length and height I wanted.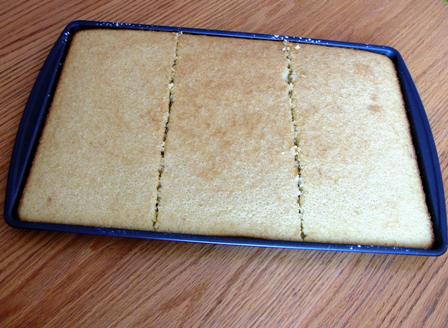 Next, I melted caramel (just plain caramel, I didn't mix any milk or anything in). It was a caramel loaf (consistency of wrapped candy caramels) from a bulk foods store. Then, I mixed peanuts into it. Then I waited til it was still soft enough to spread, but hard enough to not drip down over the side of the cake.

And there it is. All spread out. And not dripping out over, although some was kind of threatening to at the ends.

Now, it's time for…. THIS!!!
*be still, my beating heart*
It's 2.7 lbs of pure milk chocolate, which I chunked up and melted.


Side note: I purposely chewed gum during this cake project so I wouldn't gain 10 lbs from snitching!
I lined a cookie sheet with tin foil because it holds its shape when bent, which will come in handy in a bit. I made a chocolate pond on it, then set the cake on top, then poured some over the top.

Then, I bent up the tin foil, which made the pooled chocolate have no place to go except up the side of the cake… exactly where it was supposed to go.

 I let it sit there for a bit til the chocolate hardened, which didn't take long because I had put it in the fridge for a bit while I took care of my baby, with the hardening faster idea in mind.
When I pulled the foil down, this is how it looked…

Then I repeated the process, but used tin foil AND Saran wrap. Not sure why the Saran wrap. It was just a whim. And when it hardened and I took it all off, it looked like this. Oh, before it hardened, I swirled the chocolate on the top. I did smooth out the chocolate on the side a bit between this picture and the next one, by using a hairdryer on Low to soften it WHILE smoothing it with a knife.

Now, let the fondant fun begin. I colored the fondant brown and rolled it out. Then, I rolled out some white and laid it on top, which was actually the underside… because I wanted to flip the wrapper back and wanted it to be white inside, not brown. The 'glue' for fondant to stick together is water. Easy enough.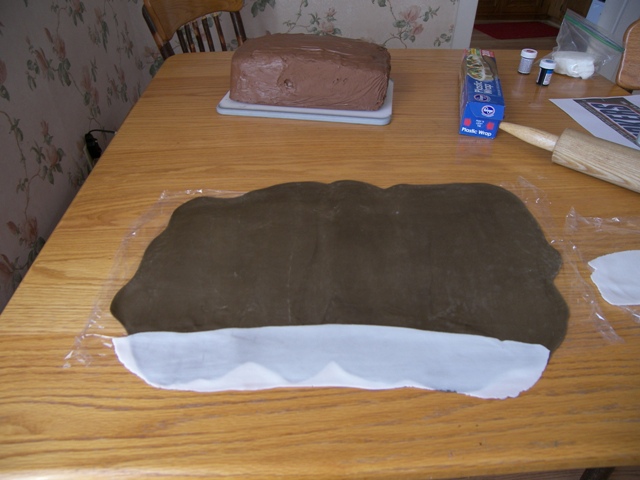 Then I put it over the cake, with enough extra to wrap underneath too.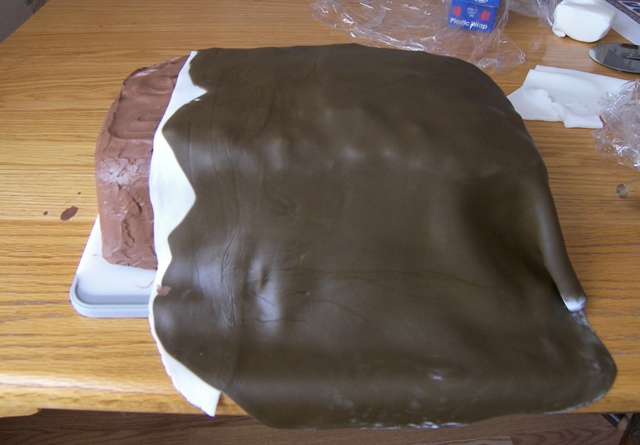 Next, I tucked it underneath, folded it in the back, trimmed it evenly, and crimped it with a fork. Fondant is pliable until it dries out, and I wanted that back part to stand out, not point down, so I poked a few toothpicks into the cake in under there to hold it up. Then, I trimmed it unevenly in the front and pulled it back a bit. What you can also see here is how I did the lettering. I printed it out and could actually sort of see thro the fondant to trace it on. I mixed up some watery blue mixture, but it was too light, so I just ended up doing it right out of the food coloring paste can. I used a small paintbrush.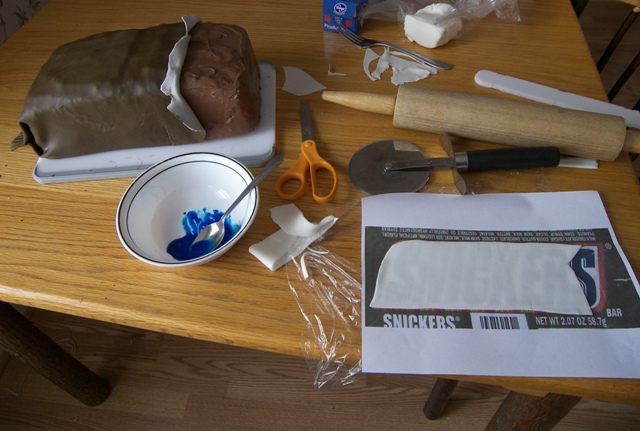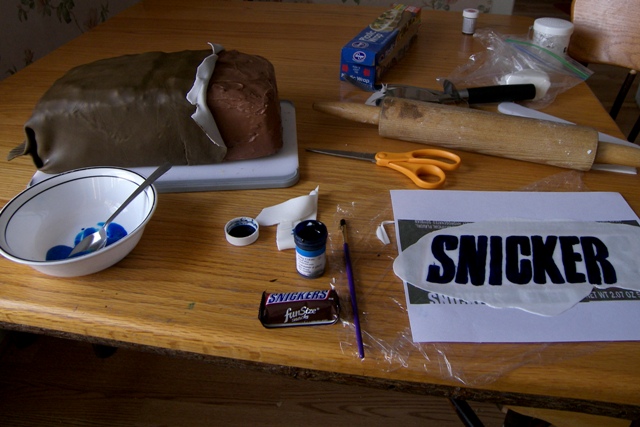 Then, I put the white part on (with water 'glue'), piped the white 'shadowing' on (that REALLY made a world of difference! Compare the writing on these 2 pictures.), and made a 'snake' with red fondant and put it around the white ('gluing' it with water). Then, I piped "Happy Birthda LEXI" on it. Yup, there's no Y, but an A is hiding under the wrapper.

Then, I laid a paper towel on a cooling rack, covered it all with tin foil, 'scribbled' blue and green on it for a festive/kid look, and made an 8 out of fondant and put the top of a taper candle in the middle (yeah, I know, cheesy, but in all my cake-ingredient shopping, I didn't think to put candles on the list and I didn't have 8 on hand and I didn't think it was worth running for some. I did get a pack of 8 little Snickers though, which were each going to hold a candle, sitting around the cake like they are.) This is a view from towards the back so you can see the crimping on the back of the wrapper.

There's nothing on the back of the bar. I could've written "Hungry? Grab a Snicker bar!" or some other slogan that they have on wrappers, but I decided not to mess with it anymore. Plus Tiffany ate some of my frosting and there wasn't enough left to pipe it.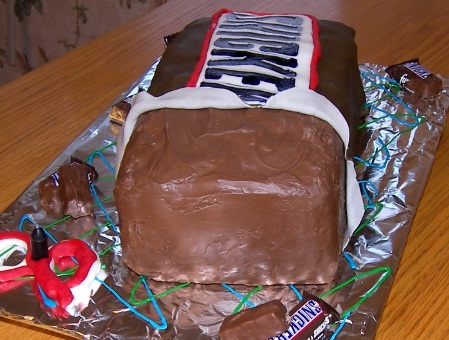 Here's my FAVORITE picture of all!