Posted on November 22, 2013
These fresh fruit kabobs drizzled with chocolate are the perfect item for adding a bit of beauty and pizzazz to the table without a lot of time-consuming work. You can't beat that, right? So, keep it in mind next time you need to take food somewhere. It doesn't even require a fork so it works for "bring finger food" occasions. These particular ones were made for my husband Shannon to take to a company potluck at his office at Keller Williams Real Estate.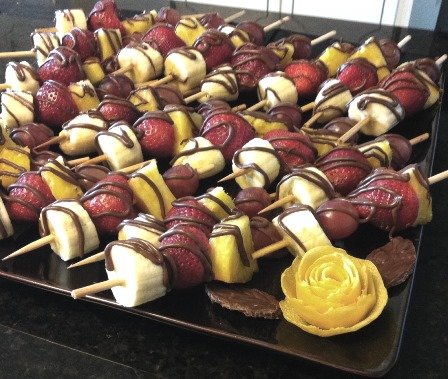 There is no recipe, just use any kind of fruit you want to… They all work great. Well, except apples. Apples sometimes split when you put them on the skewers. If you're using apples, the thinner the skewer the better. Just for the record, apples and chocolate go together awesomely! Is awesomely a word? I figure as long as you know what a word means, it doesn't really matter if it's technically not a word.

Chunk up/slice all the fruit that gets chunked or sliced. Take stems off of fruit that gets de-stemmed. Toss fruits that get brown with lemon juice (more on that later).
In other words, before I start threading them on skewers, I like to have them all ready to go.
Then, start poking fruit on until: 1. Fruit is gone, 2. Skewers are gone, or 3. You have the desired amount.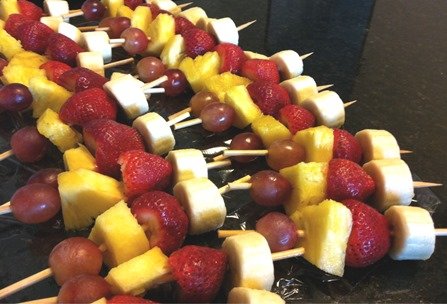 After the fruit is all on the skewers, put about a half cup of chocolate chips or candy melts in a sandwich bag, but don't seal shut. Put it in the microwave for 30 seconds. Flip it over and microwave it for 20 second. Work the bag with your hands and put them in for 10 seconds. Do this until all the chocolate feels smooth and no chunks are left.
I need to get back in my zone… that zone where I automatically remember to take pictures at each step! I was having too much fun and just kept rolling instead of stopping for pictures.
Now, you're ready to drizzle. Put the kabobs all really close together so less drizzle lands on the table. Snip a little corner off of the bag and just scribble back and forth over the fruit. Then immediately separate them or else the chocolate will harden and pull drizzles off of its neighbor.
Put them on a plate. Garnish if you want to.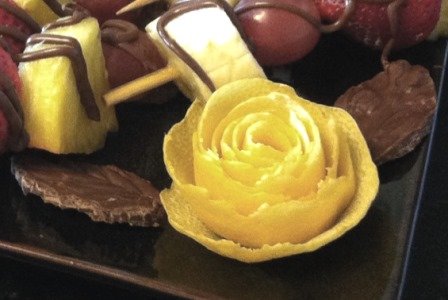 Here are tutorials on the rose and leaves, in case you want to make some:
Rose • Chocolate leaves
The rose tutorial is actually for making a tomato rose, but it's the same technique.
Now, about the bananas and keeping them from browning.
Lemon juice is the secret here. I did a little test where I checked them after 3 hours and after 6 hours. A little after the 6-hour mark, my girls came home from school and I let them eat my experiment for an after school snack… and then thought of it later that I should've tested the bananas longer, like 24 hours. But what I did learn is that lemon juice works its magic for at least 6 hours, and that was the info I needed because unless they have to set/freeze/marinate/etc, I rarely make things more than 6 hours ahead of time. Maybe that's because I'm a procrastinator.
So here we go, the experiment. The pictures above were taken right after I made it, where even a fresh banana would still be looking good. The pictures below were taken 3 and 6 hours afterwards.
3 hours after being tossed with lemon juice: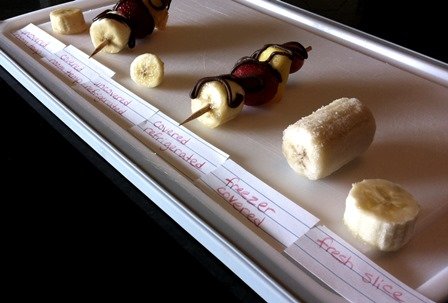 From left to right: uncovered room temp, covered room temp, uncovered refrigerated, covered refrigerated, covered frozen, and a fresh slice.
The fresh slice is NOT 3 hours old, it's just there for comparison. The frozen one is thrown in there for fun… it actually has no lemon juice on, it was peeled and put into the freezer right away and is probably more like 3 months old.
6 hours after being tossed with lemon juice:



The middles are starting to get a little brown, but are still fine.
What I was surprised was that between all the lemon-juiced ones, there was pretty much no difference! I'm glad about this tidbit because it gives flexibility. Here is a closer up. They all stayed firm too, no mushiness.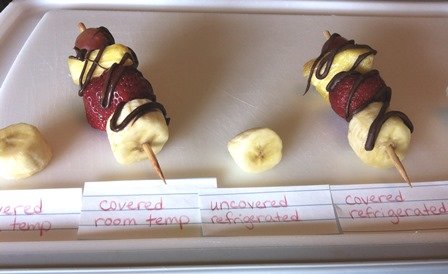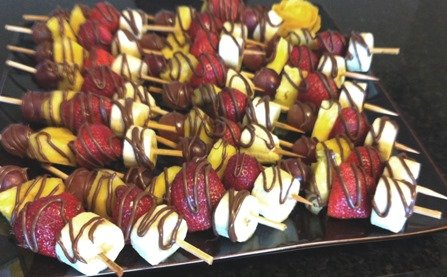 Here come the Holidays… make some of these pretty things!  It's a delicious, healthy snack to set out on the snack table (with the chocolate covered Ritz crackers, cookies, red-green-silver-foil-wrapped Hershey kisses, and party mix).
Filed Under
Breakfasts
,
For special occassions
,
Garnishing
,
Side dishes
,
Snacks
|
3 Comments
Posted on November 13, 2013
You know how certain words make your mind immediately go somewhere? Well, Southern Fried Chicken does that to me. I picture a diner in the south with a comfy waitress who reminds me of Grandma and calls all her customers "Honey" and has a smile that warms the entire place and makes you want to come back again. Right after that, I think of my friends in Macon, MS. Yep, I think of you guys instead of FL or anywhere else in the south.
Here was our menu for supper.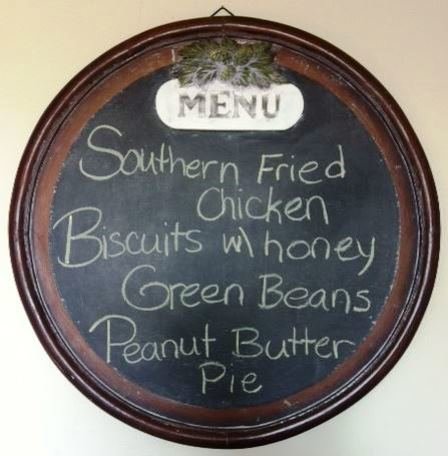 This chicken recipe is kind of a concoction of different recipes and things I've heard/learned. So, I'll just write it all in one concise recipe and you can change it up even more if you want. :)
Southern Fried Chicken
2 lbs chicken breast cut into strips (they fry faster if you cut em up, I cut each piece into about 3 pieces)
1 cup buttermilk
1 cup flour
1 tsp. salt
1 tsp. pepper
1/2 tsp. paprika
Light olive oil …Yeah, I'm serious, olive oil. It's healthier and it keeps the chicken from being too greasy. Just make sure it says light-tasting on it.
A few hours before supper, put the chicken breast and buttermilk in a big Ziploc bag. Mix it around a bit to make sure all sides of all the pieces have been coated in the buttermilk. Put the bag in the fridge.
Dump oil in an electric skillet and turn to 350 to get it to heating. Mix the flour and seasonings in a bowl. Take the pieces out of the buttermilk bag and coat them in the flour mixture.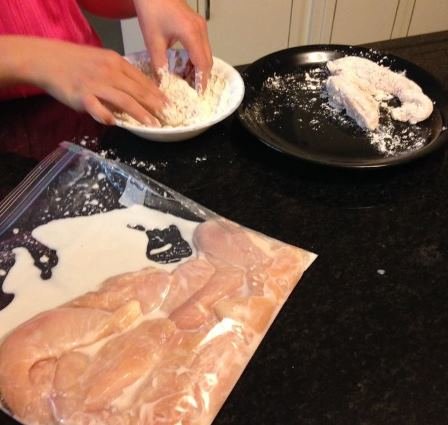 When the light goes off on the skillet, put in a few pieces. Don't put too many in at a time or the temperature of the oil will go down too low and oil will soak into the chicken. Fry 4 minutes on each side or until the internal temp is 170.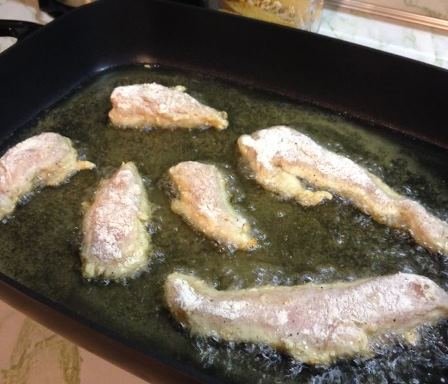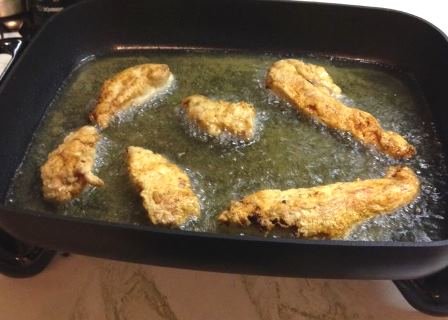 Transfer them to a paper-towel-covered plate to drain. To keep the first batch(es) hot while you're finishing frying, you can put them in a warm oven. I only had 2 batches, so I just stacked them together after they had drained and then covered them. They stayed nice and hot.
We ate them with BBQ sauce and Ranch dressing… not at the same time. But just now that I'm thinking about it, I think I've heard that those 2 mixed makes a really good sauce. I'll have to remember that next time. Honey mustard is another good option.
This meal was on the table in about 1/2 hour from walking into the kitchen. Well, the pie was made ahead of time. Lexi (she's 10 now) started on the chicken flouring while I mixed up the biscuits. Then I started frying while the girls (yes, all 3) cut the biscuits… can you say "flour on the ceiling"? Just kidding, but there was definitely some on the floor. And the green beans were easy, just cooked and seasoned.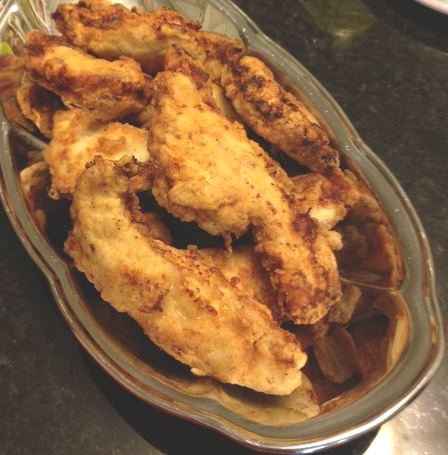 Finger lickin' good!! I know, I know, that's so cliché. Here's something not cliché: Go make 'em!

Filed Under
Chicken and Turkey
|
Leave a Comment
Posted on November 9, 2013
Wow, my backspace key is smoking. It's like I don't know how to write anymore. It all sounds weird, so I keep starting over. So, I'm just going to write, even if it sounds rusty. I missed this site. And my mom and my sister Jan say they're tired of looking at the kid lunches now. Time to dust it off and start posting again.
My afternoon was spent cooking yesterday. And thinking. And not thinking about taking pictures of what I was cooking! I need to get into the habit again! What I was thinking about is how working in the kitchen is what I want to do with my life in the future. I think I could probably find people who'd take a meal or birthday cake or bucket of cookies now and then.

Problem is, the ladies who are the age that I picture being when that happens in the future are still so crazy busy. They're not exactly sitting around knitting. If that's me at that age, I guess I'll just have to hire a maid.
I was going thro' some pictures a bit ago to find a recipe to feature or at least pictures of some sort. What I found was miscellaneous pictures.
First, we have an unidentified cheesecake. I have no idea where this recipe comes from, which is sad because it looks so sinfully good. It's layered and swirled and chocolate chippy. And it's in my kitchen and I vaguely remember making it. Oh, if I'd only know where I got the recipe! Any ideas?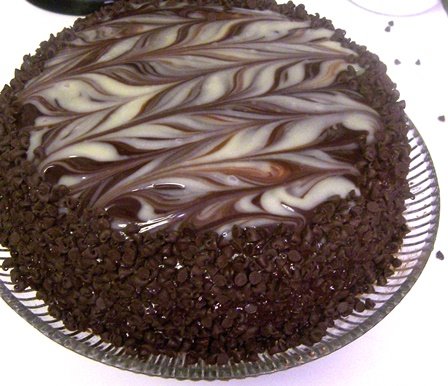 Here is a slice so you can see the layers.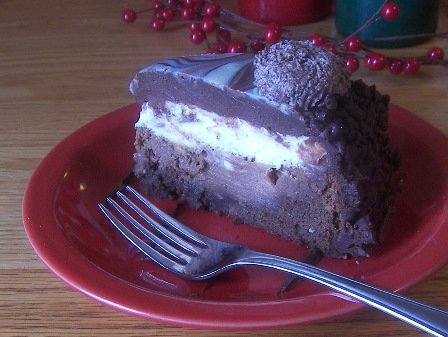 Next, is another mysterious recipeless dish. This might be a bit easier to identify, so let me know if you know what it is!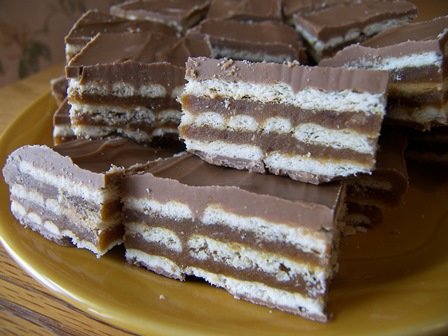 Here is a progress picture. The light layers are crackers. The other layers look carmelly and then chocolate on top. Mmmmm!!! You can bet I'll make these again if I figure out what recipe it is!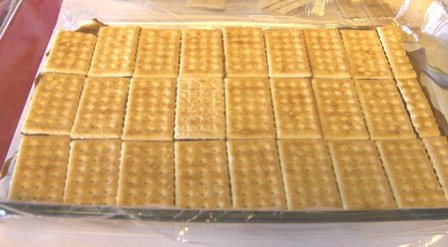 Here is just a way to change up peanut butter pie. Like, for example, if you don't like to make pie crusts. The directions are very complicated, so pay attention: crumbs, pudding, crumbs, pudding, crumbs, pudding, crumbs.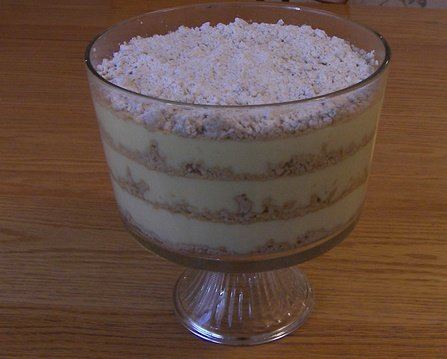 I'm not saying the OSU fans in this Kroger grocery store are crazy about their football team or anything, they're just selling pop.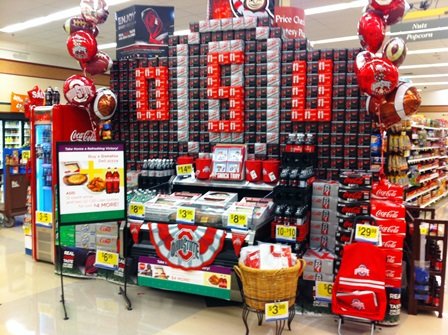 This next picture says more than just cookie baking going on.
One thing it says is that we moved to a different house. My kitchen quadrupled in size. So did the cupboard space and the countertop space. I'm fine with that.


Another thing it says is that there is someone in the picture who hasn't been in my blog before. That is Bonnie. Bonnie and Tommy are special and live in an attached apartment here. They are a part of our life. It hadn't really crossed our minds before that someday we'd become houseparents to mentally handicapped adults, but an opportunity came up and here we are. They are pretty independent and like to do a lot of things for themselves like cleaning and simple cooking and laundry. Then, they do other things on the farm like chores (raising calves, chickens, rabbits), cleaning a rental cabin, and mowing. Their mode of transportation is a golf cart and do they ever put on the miles in the summer!

Transportation around the farm, that is. Their mode of transportation off the farm is us. They also work a couple afternoons a week at a local thrift store. They love it… it helps them feel useful and needed.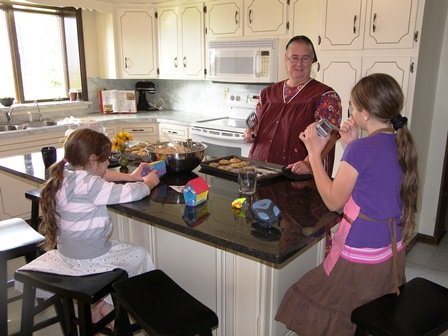 Fall is in the air. I love this time of year.
And I leave you with a reminder to always add lots of whipped cream to your hot chocolate…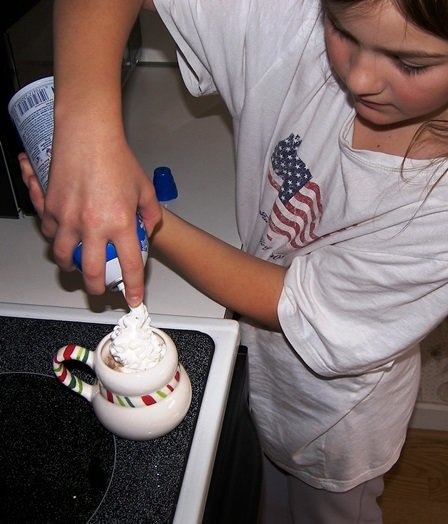 Filed Under
Tidbits
|
9 Comments
Posted on March 14, 2012
I'm not sure who has more fun with this… me or the kids. The thing about kids is that they're so forgiving. For example, if your lion lunch looks more like a sun with whiskers, they'll love it anyway. And they'll even call it a lion, and they'll grrrr while they're eating it. Those of you reading this will probably fall into one of 3 categories:
1. Think "That's a waste of time."
2. Think "That would take too long, but I'd like a few easy ideas to do someday… maybe one day when I have nothing else to do *hahaha, laughing at your own joke of nothing to do*, or for a birthday party for one of the kids or something."
3. Think "I need to make lunch anyway, so instead of cutting a sandwich in half corner-to-corner and throwing it and chips on a plate, I might as well take a couple extra minutes and cut a roofline at the top of the sandwich and place some Doritos here and there to make it a house-on-fire lunch. Not saying I do it all the time… just hit n miss for fun. Because psssssst *whisper* Sometimes I fix lunch in 30 seconds flat and my kids' lunches look like this:"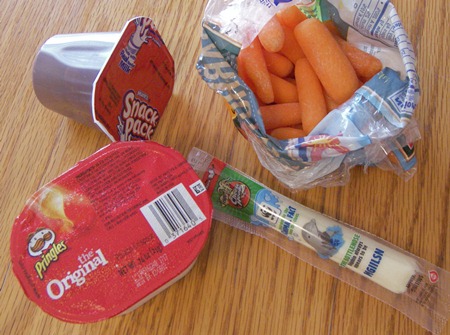 If you are person #1, I don't care, I won't try to change your mind… I'll just feel privileged that you're still putting up with me on here. :)
If you are person #2, do it, find that 'someday', seriously, I can't tell you how much the kids will love it.
If you are person #3, ahhh, let's just remember that strengths and weaknesses lie side by side… because I'm pretty sure that spending time playing with food instead of folding laundry would be considered a weakness.

You may notice that this is almost all grilled cheese sandwiches. Nothing fancy. No special recipes or anything.
I'm just going to put up 10 or so pictures here of ones I've remembered to take pictures of. Most of them were quickly snapped with my cell phone… without necessarily planning to post them, just more for my own interest. I thought of redoing them all and getting decent pictures, but you know what? I don't specialize in the photography line like a few of my talented friends do. (My talented friends' first piece of advice would probably be "use a camera, never a cell phone!")

I think the pictures are pretty self-explanatory, but I'll try to explain sorta what I did under each picture. I just used whatever I had on hand… nothing was planned ahead, so sometimes I had to improvise, like using melted chocolate on a ham and cheese sandwich… it wasn't very much though, I just needed something dark for eyebrows. I think you'll notice the improvising as you look at the pictures.

1. Let's Go Fishing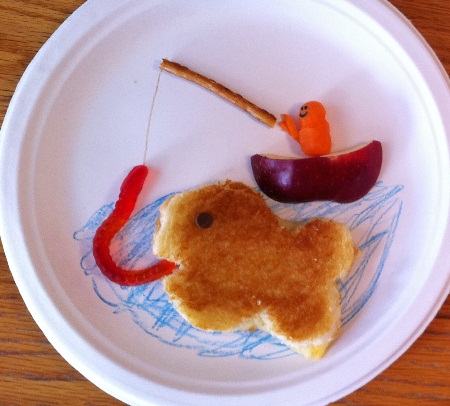 Apple boat, fish-shaped grilled cheese sandwich, carrot fisherman, gummy worm, pretzel fishing pole, brown crayon fishing line, blue crayon water, edible marker face (well, just the ink is edible, not the whole marker

), chocolate chip eye.
2. House on Fire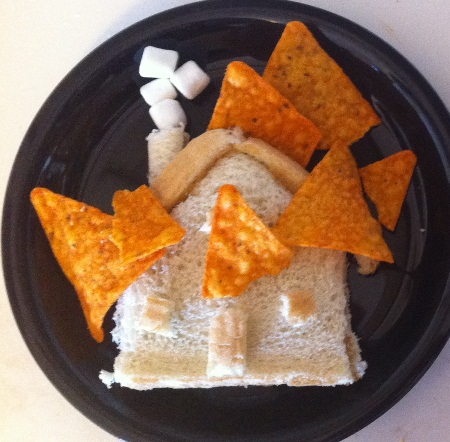 Sandwich cut into a house shape, windows doors and roof line out of crust, chimney cut from scraps, marshmallow smoke, Doritos fire.
3. Pig with Mudhole and Feeding Trough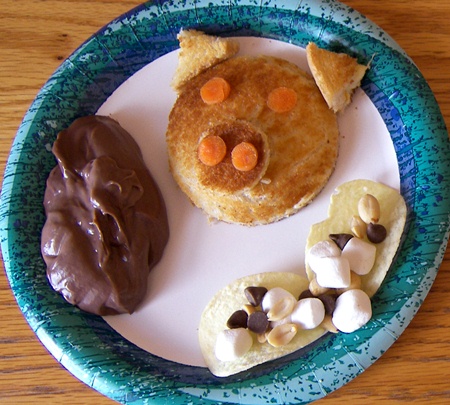 Grilled cheese pig with ears from scraps and snout from one side of another sandwich, carrot eyes and nostrils, Pringles trough with snack mix pig food, chocolate pudding mud.
4. Caterpillar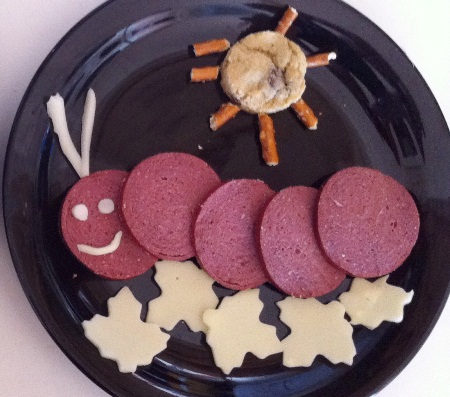 Trail bologna caterpillar with shredded cheese mouth and antennas, cheese eyes, cheese leaves, cookie & pretzel sun. I let them eat crackers with it, but I should've incorporated the crackers into the caterpillar to make it more interesting and varigated!
5. Butterfly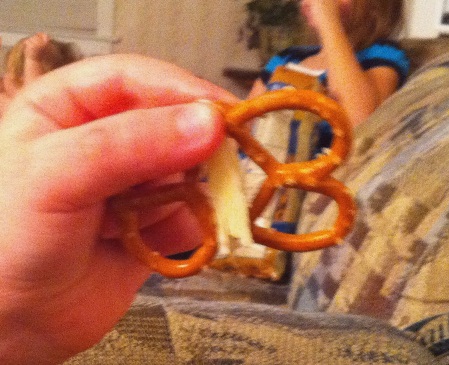 Snacking on cheese and pretzels on evening, Tiffany (5) suddenly came over to me and said "Look Mom! I made a butterfly with my cheese and pretzels!"
6. Sailboats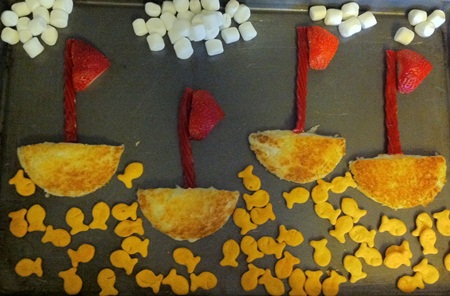 Grilled cheese boats, licorice masts, strawberry sails (it was this lunch that I realized "hey! It would be very easy to make hearts out of strawberry halves!"), Marshmallow clouds, cracker fish (swimming in invisible water, ha).
7. Semi and Car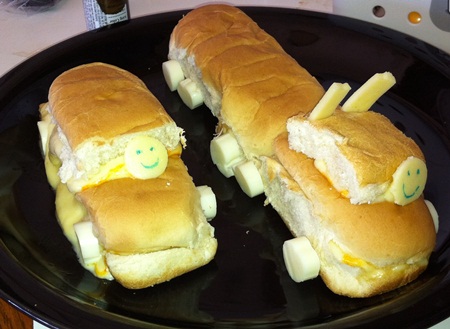 Bake ham n cheese sandwiches with hot dog bun instead of hamburger buns. Get them out of the oven and add unmelted cheese details: wheels, smoke stacks, driver with face drawn on. For the cabs, I added one layer from another sandwich. The kids drove these around a bit before eating them. The wheels are held on by toothpicks. A toothpick is the perfect length to span the width of a hot dog bun and have a bit left over on each side to press the cheese onto. The faces stayed on because I put them against the hot melted cheese and they stuck.
8. Lion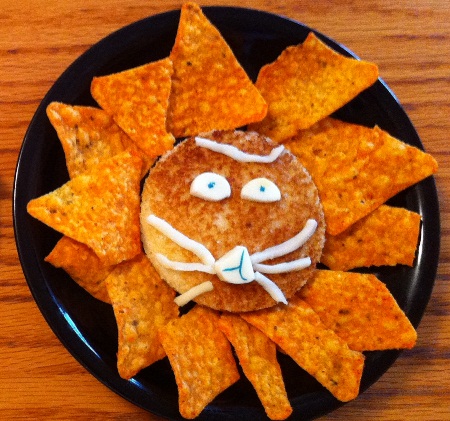 Yeah, you can laugh at these lunches, I don't care.

Grilled cheese head, shredded cheese and cheese chunk face, Doritos mane.
9. Spiral and a Scissors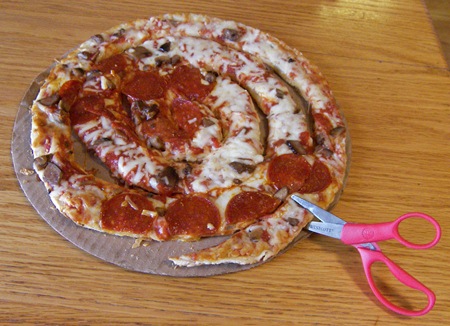 Cut-your-own-piece pizza. The girls cut small pieces so they could use the scissors more often.
10. Dog and Bone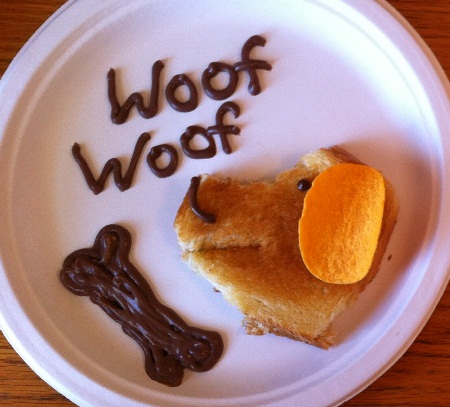 Grilled cheese dog, Pringles ear, piped chocolate pudding eye, nose, bone, and words.
11. Puzzle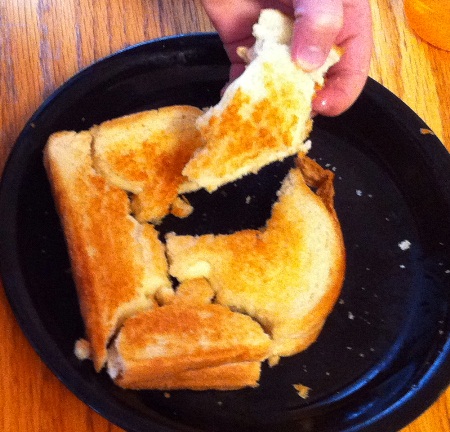 Grilled cheese puzzle pieces… very simple, but Tiffany had fun playing with it anyway.
12. Are You Ready for some Football?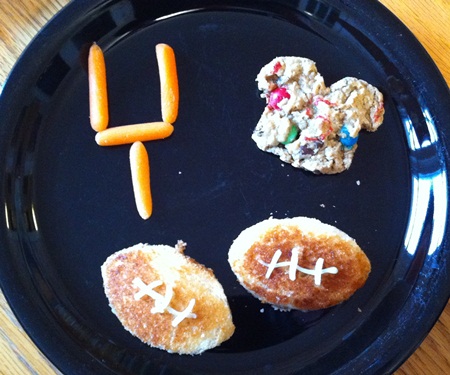 Grilled cheese footballs with shredded cheese laces, carrot goal posts (not fastened, just arranged there, and they roll while transporting the plate, then you have to fix them again :) ), cookie jersey (you can't see it very well, but I used red edible ink to draw a 5 on it (because the tot eating it was 5) and drew lines at the end of the sleeves).
13. Angry Birds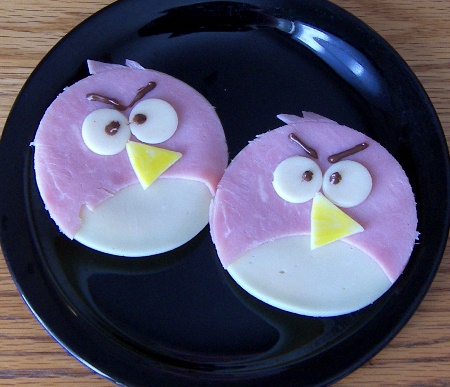 Head is round bread, round cheese, and crescent ham with 'tufts', cheese eyes and nose (I didn't have yellow cheese, so I colored white cheese with an edible ink marker), melted chocolate eyebrows and 'pupils'.
Ok, this ended up being 13… an unlucky number! I'm not superstitious, but maybe I should add another one that I just thought of that I made this week to go with a lunch, but didn't take a picture:
14. A carrot man. Think stick man with 5 baby carrots: 1 carrot was the torso, 2 were legs, 2 were arms. The head was a round piece of cheese with a smile drawn on with an edible ink marker. Then, I put a raspberry upside down on his head for a cap. One carrot man was sitting and one was standing (or laying, rather). Everything was held together with little pieces of toothpicks. Could even dress them up with fruit roll-ups or cheese/ham slices or something… didn't think of that till right now.
Have fun! We are! :)
Filed Under
Cooks in Training
,
Easy meals
,
Tidbits
|
11 Comments
Posted on January 20, 2012
We have snow!! So I'm gonna post a snowman.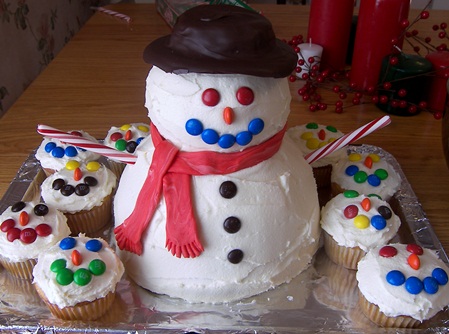 You know, I was just thinking… after I wrote those first 2 sentences, I looked out the window for awhile at the snow I was talking about… you know the snow that I used TWO exclamation marks after when I said we have snow, and I realized how my standards have changed. Do you know how much snow we have right now?
About 1/2 inch.
1 inch at the deep parts.
Wow.

I was born and raised in northern WI and moved to OH 3 years ago. If we'd get this much snow in WI and Shannon's dear grandpa from PA would call and say, "What's the weather like out there? Do you have snow?", same as he'd always start every call with between Sept and May, we'd say "No, not really, just a little dusting." I do really like the mild winters here though. I think it's pretty cool that in Ohio right now, it's mid-January and I still haven't gotten out my winter coat… my temp mark for bulk-of-winter-coat-is-worth-it-for-the-extra-warmth-over-light-coat is about 25 degrees, unless I'm going to be out for a long period of time.  I haven't gotten my boots out either because… I have none. I threw them away last year because they were so out of style and I was so in love with them… so when I was tempted to wear them, I'd weigh the pros (love them) and cons (out of style)… and love always won. So the only way to make myself stop wearing them was to throw them away.
All that to say that I'm in the market for boots. I love the style of boots right now… especially the sorta short ones with a heel and slouched and black and a bow-type thing on the side… so I'll probably be back in my out-of-style-but-love-em predicament again in 5 years.

Maybe I'll buy some boots tomorrow… we seriously need to get out of the house because we've been sick for nearly a week around here and I think we're all functioning at 85 – 100% power today now… so what better thing to do on a Saturday than to go out on the town.
Anyway… let's circle back around to where we started… "I'm gonna post a snowman".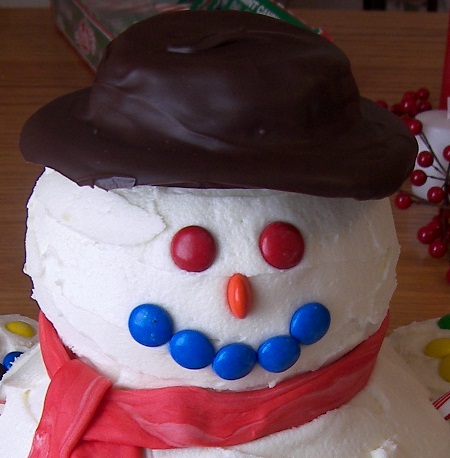 Isn't it crazy how M&Ms can almost seem to make something have a personality?

I feel like I need to talk really fast to interrupt any crazy "I'd never have time for that!" thoughts. It's simply 2 cake mixes… dump one in a mixing bowl instead of a 9×13, dump the other one in a small mixing bowl and the rest in cupcake liners. Bake. Frost… you don't even have to add food coloring because snow is conveniently white!

Press M&Ms on. Make a melty chocolate/peanut butter hat. Fruit roll-up scarf. Eat. There is no carving or shaping of cake going on here. I made this for dessert for hot lunch at school.
Get your 5-yr-old to decorate the cupcakes… Tiffany did all of them while I did the snowman. We used orange M&Ms for noses only and put them sideways so they stuck out a little more.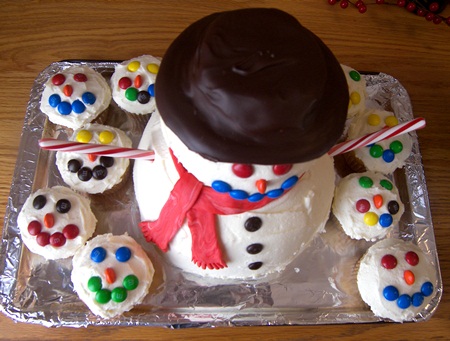 Keep the 18-month-old demolition-crew-of-one as far away as possible. Or do what I did and count one cupcake and a small handful of M&Ms as loss and set her up to destro—, I mean, decorate it.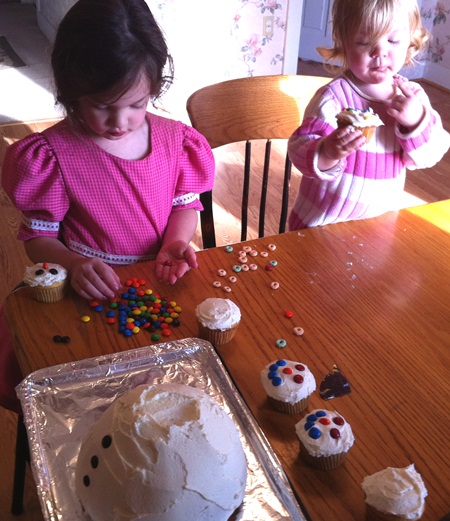 *cell phone pic alert* Yeah, we tried just giving Megan some Apple Jacks to munch on so she could happily watch while munching, but nope, no luck, she was more into M&Ms and gooey frosting.
One thing I should say about the baking… I was afraid the cake wouldn't get done in the middle, so I looked around the kitchen, saw a glass Coke bottle (filled it to make it heavier), covered it in tin foil, and put it in the middle, like it's sitting in the mixing bowl here… kind of an angel food cake pan effect. It worked perfect. I don't know if it would be necessary or not, though. I baked the cake for 1 hour.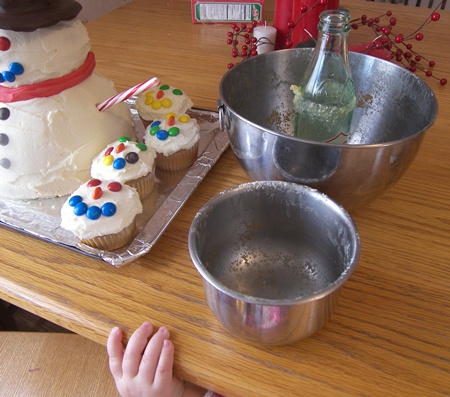 I used candy canes for the arms (broke off the curved part), but you could use pretzel rods or whatever. The hat is a chunk of leftover buckeye-type peanut butter filling dipped in melted chocolate with too much chocolate poured on top so it ran down beside it, making a hat brim. Then I put it in the fridge until it hardened. You could pretty much use anything… like a chocolate-dipped small cookie or whoopie pie or something.
*gasp* Did I just used the phrase "too much chocolate"?! Sorry, it should read "extra chocolate" instead… I'm more comfortable with that term.
Add a fruit roll-up or fondant the color of your choice for the scarf. Snip the ends with a scissors to give a tassle effect.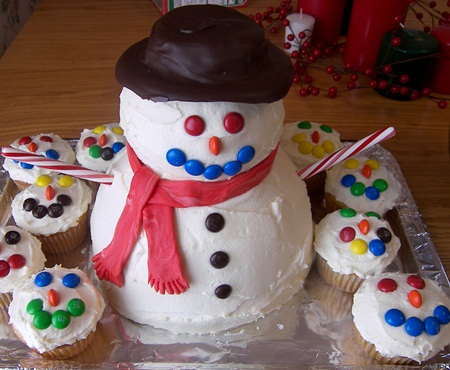 And there you go… celebrate winter with your kids! Whether you have 2 feet of snow, a 1/2 inch of snow, or only dream of snow.
Filed Under
Cakes
,
For special occassions
|
9 Comments