Posted on March 14, 2012
I'm not sure who has more fun with this… me or the kids. The thing about kids is that they're so forgiving. For example, if your lion lunch looks more like a sun with whiskers, they'll love it anyway. And they'll even call it a lion, and they'll grrrr while they're eating it. Those of you reading this will probably fall into one of 3 categories:
1. Think "That's a waste of time."
2. Think "That would take too long, but I'd like a few easy ideas to do someday… maybe one day when I have nothing else to do *hahaha, laughing at your own joke of nothing to do*, or for a birthday party for one of the kids or something."
3. Think "I need to make lunch anyway, so instead of cutting a sandwich in half corner-to-corner and throwing it and chips on a plate, I might as well take a couple extra minutes and cut a roofline at the top of the sandwich and place some Doritos here and there to make it a house-on-fire lunch. Not saying I do it all the time… just hit n miss for fun. Because psssssst *whisper* Sometimes I fix lunch in 30 seconds flat and my kids' lunches look like this:"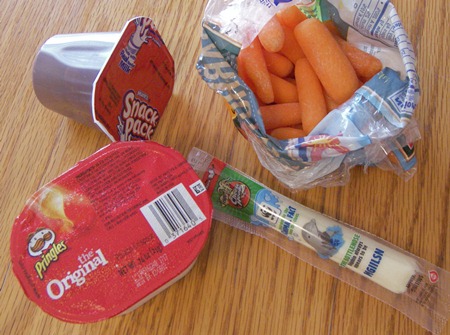 If you are person #1, I don't care, I won't try to change your mind… I'll just feel privileged that you're still putting up with me on here. :)
If you are person #2, do it, find that 'someday', seriously, I can't tell you how much the kids will love it.
If you are person #3, ahhh, let's just remember that strengths and weaknesses lie side by side… because I'm pretty sure that spending time playing with food instead of folding laundry would be considered a weakness.

You may notice that this is almost all grilled cheese sandwiches. Nothing fancy. No special recipes or anything.
I'm just going to put up 10 or so pictures here of ones I've remembered to take pictures of. Most of them were quickly snapped with my cell phone… without necessarily planning to post them, just more for my own interest. I thought of redoing them all and getting decent pictures, but you know what? I don't specialize in the photography line like a few of my talented friends do. (My talented friends' first piece of advice would probably be "use a camera, never a cell phone!")

I think the pictures are pretty self-explanatory, but I'll try to explain sorta what I did under each picture. I just used whatever I had on hand… nothing was planned ahead, so sometimes I had to improvise, like using melted chocolate on a ham and cheese sandwich… it wasn't very much though, I just needed something dark for eyebrows. I think you'll notice the improvising as you look at the pictures.

1. Let's Go Fishing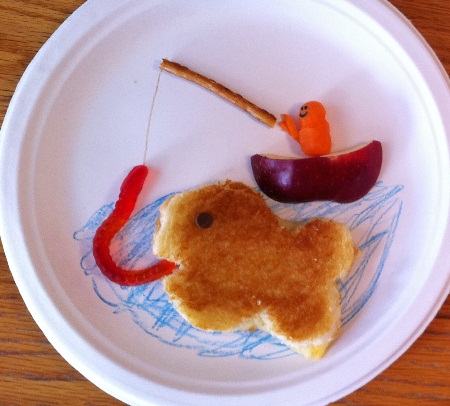 Apple boat, fish-shaped grilled cheese sandwich, carrot fisherman, gummy worm, pretzel fishing pole, brown crayon fishing line, blue crayon water, edible marker face (well, just the ink is edible, not the whole marker

), chocolate chip eye.
2. House on Fire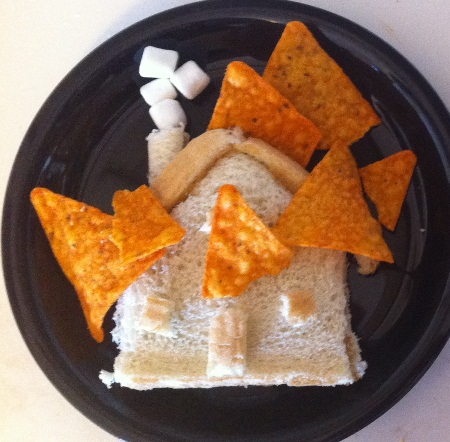 Sandwich cut into a house shape, windows doors and roof line out of crust, chimney cut from scraps, marshmallow smoke, Doritos fire.
3. Pig with Mudhole and Feeding Trough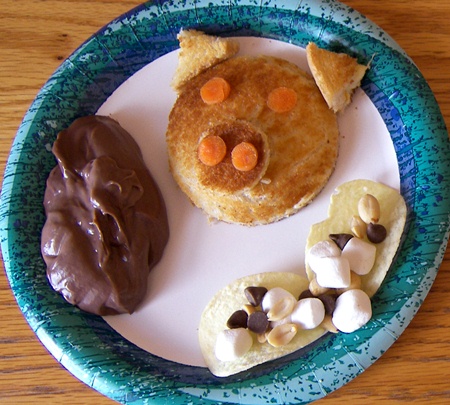 Grilled cheese pig with ears from scraps and snout from one side of another sandwich, carrot eyes and nostrils, Pringles trough with snack mix pig food, chocolate pudding mud.
4. Caterpillar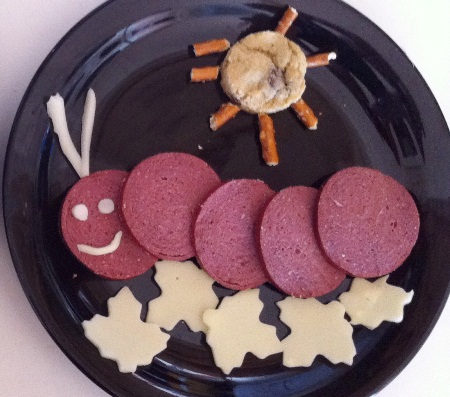 Trail bologna caterpillar with shredded cheese mouth and antennas, cheese eyes, cheese leaves, cookie & pretzel sun. I let them eat crackers with it, but I should've incorporated the crackers into the caterpillar to make it more interesting and varigated!
5. Butterfly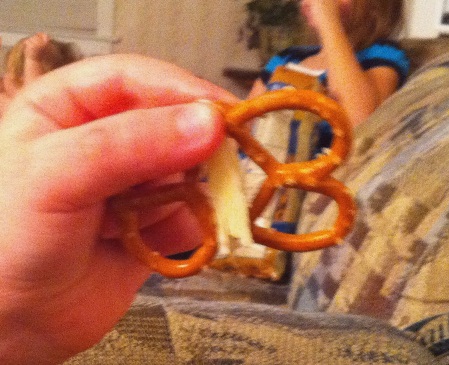 Snacking on cheese and pretzels on evening, Tiffany (5) suddenly came over to me and said "Look Mom! I made a butterfly with my cheese and pretzels!"
6. Sailboats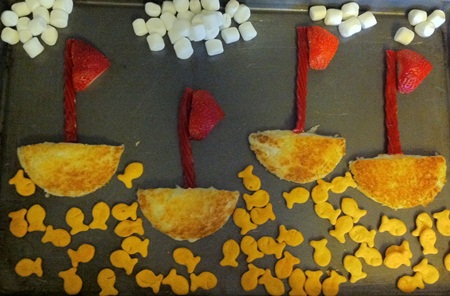 Grilled cheese boats, licorice masts, strawberry sails (it was this lunch that I realized "hey! It would be very easy to make hearts out of strawberry halves!"), Marshmallow clouds, cracker fish (swimming in invisible water, ha).
7. Semi and Car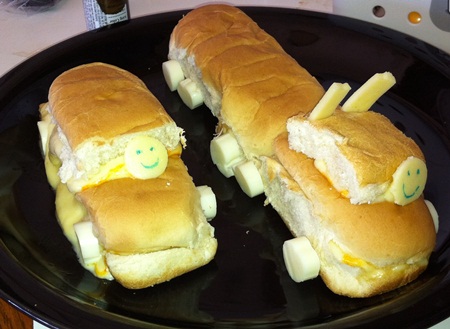 Bake ham n cheese sandwiches with hot dog bun instead of hamburger buns. Get them out of the oven and add unmelted cheese details: wheels, smoke stacks, driver with face drawn on. For the cabs, I added one layer from another sandwich. The kids drove these around a bit before eating them. The wheels are held on by toothpicks. A toothpick is the perfect length to span the width of a hot dog bun and have a bit left over on each side to press the cheese onto. The faces stayed on because I put them against the hot melted cheese and they stuck.
8. Lion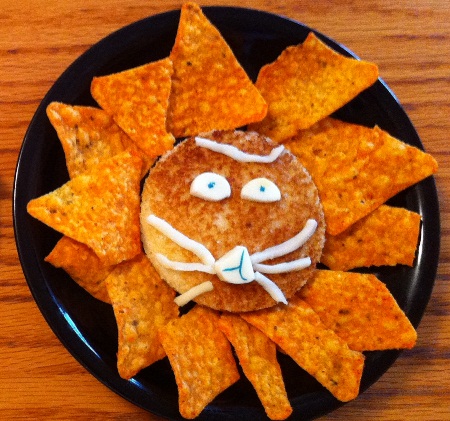 Yeah, you can laugh at these lunches, I don't care.

Grilled cheese head, shredded cheese and cheese chunk face, Doritos mane.
9. Spiral and a Scissors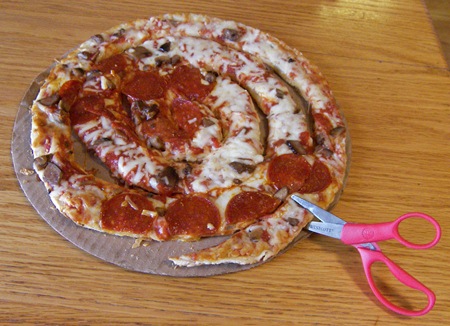 Cut-your-own-piece pizza. The girls cut small pieces so they could use the scissors more often.
10. Dog and Bone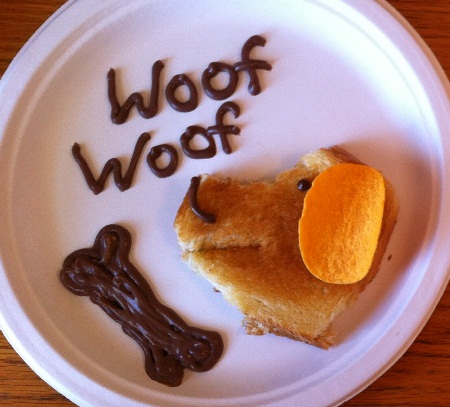 Grilled cheese dog, Pringles ear, piped chocolate pudding eye, nose, bone, and words.
11. Puzzle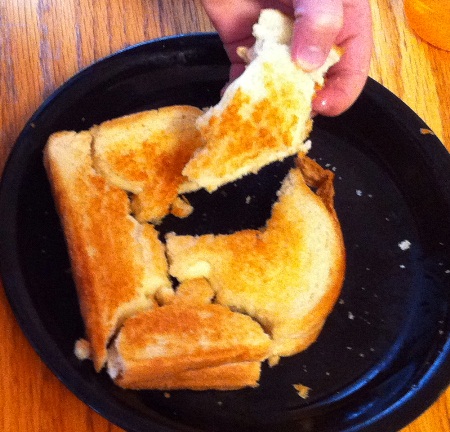 Grilled cheese puzzle pieces… very simple, but Tiffany had fun playing with it anyway.
12. Are You Ready for some Football?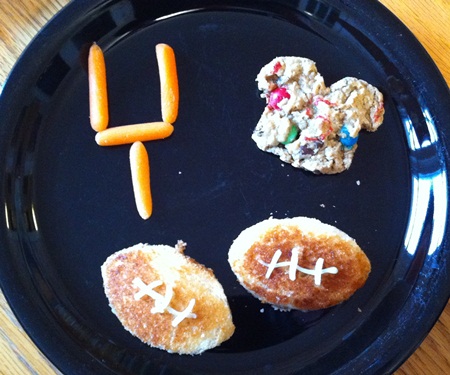 Grilled cheese footballs with shredded cheese laces, carrot goal posts (not fastened, just arranged there, and they roll while transporting the plate, then you have to fix them again :) ), cookie jersey (you can't see it very well, but I used red edible ink to draw a 5 on it (because the tot eating it was 5) and drew lines at the end of the sleeves).
13. Angry Birds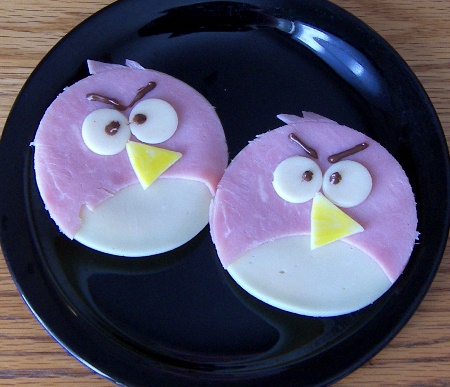 Head is round bread, round cheese, and crescent ham with 'tufts', cheese eyes and nose (I didn't have yellow cheese, so I colored white cheese with an edible ink marker), melted chocolate eyebrows and 'pupils'.
Ok, this ended up being 13… an unlucky number! I'm not superstitious, but maybe I should add another one that I just thought of that I made this week to go with a lunch, but didn't take a picture:
14. A carrot man. Think stick man with 5 baby carrots: 1 carrot was the torso, 2 were legs, 2 were arms. The head was a round piece of cheese with a smile drawn on with an edible ink marker. Then, I put a raspberry upside down on his head for a cap. One carrot man was sitting and one was standing (or laying, rather). Everything was held together with little pieces of toothpicks. Could even dress them up with fruit roll-ups or cheese/ham slices or something… didn't think of that till right now.
Have fun! We are! :)
Filed Under
Cooks in Training
,
Easy meals
,
Tidbits
|
11 Comments
Posted on January 20, 2012
We have snow!! So I'm gonna post a snowman.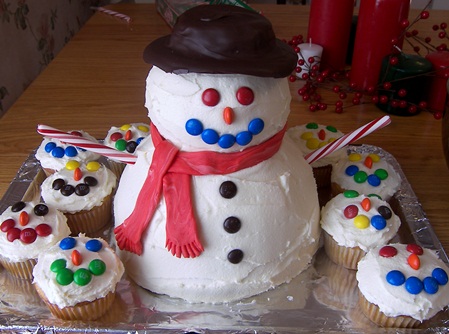 You know, I was just thinking… after I wrote those first 2 sentences, I looked out the window for awhile at the snow I was talking about… you know the snow that I used TWO exclamation marks after when I said we have snow, and I realized how my standards have changed. Do you know how much snow we have right now?
About 1/2 inch.
1 inch at the deep parts.
Wow.

I was born and raised in northern WI and moved to OH 3 years ago. If we'd get this much snow in WI and Shannon's dear grandpa from PA would call and say, "What's the weather like out there? Do you have snow?", same as he'd always start every call with between Sept and May, we'd say "No, not really, just a little dusting." I do really like the mild winters here though. I think it's pretty cool that in Ohio right now, it's mid-January and I still haven't gotten out my winter coat… my temp mark for bulk-of-winter-coat-is-worth-it-for-the-extra-warmth-over-light-coat is about 25 degrees, unless I'm going to be out for a long period of time.  I haven't gotten my boots out either because… I have none. I threw them away last year because they were so out of style and I was so in love with them… so when I was tempted to wear them, I'd weigh the pros (love them) and cons (out of style)… and love always won. So the only way to make myself stop wearing them was to throw them away.
All that to say that I'm in the market for boots. I love the style of boots right now… especially the sorta short ones with a heel and slouched and black and a bow-type thing on the side… so I'll probably be back in my out-of-style-but-love-em predicament again in 5 years.

Maybe I'll buy some boots tomorrow… we seriously need to get out of the house because we've been sick for nearly a week around here and I think we're all functioning at 85 - 100% power today now… so what better thing to do on a Saturday than to go out on the town.
Anyway… let's circle back around to where we started… "I'm gonna post a snowman".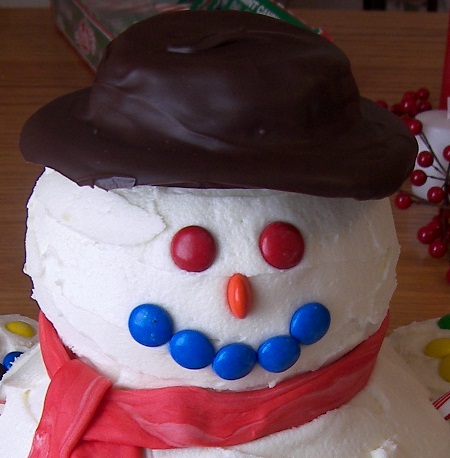 Isn't it crazy how M&Ms can almost seem to make something have a personality?

I feel like I need to talk really fast to interrupt any crazy "I'd never have time for that!" thoughts. It's simply 2 cake mixes… dump one in a mixing bowl instead of a 9×13, dump the other one in a small mixing bowl and the rest in cupcake liners. Bake. Frost… you don't even have to add food coloring because snow is conveniently white!

Press M&Ms on. Make a melty chocolate/peanut butter hat. Fruit roll-up scarf. Eat. There is no carving or shaping of cake going on here. I made this for dessert for hot lunch at school.
Get your 5-yr-old to decorate the cupcakes… Tiffany did all of them while I did the snowman. We used orange M&Ms for noses only and put them sideways so they stuck out a little more.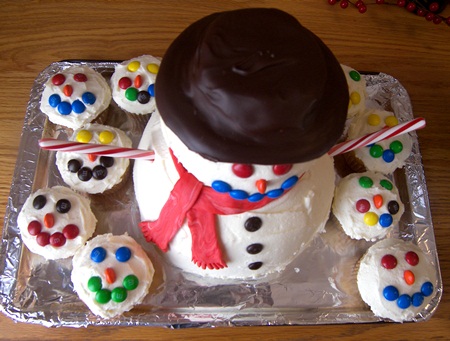 Keep the 18-month-old demolition-crew-of-one as far away as possible. Or do what I did and count one cupcake and a small handful of M&Ms as loss and set her up to destro—, I mean, decorate it.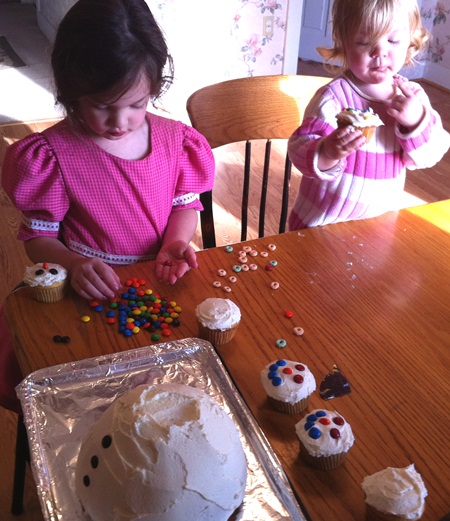 *cell phone pic alert* Yeah, we tried just giving Megan some Apple Jacks to munch on so she could happily watch while munching, but nope, no luck, she was more into M&Ms and gooey frosting.
One thing I should say about the baking… I was afraid the cake wouldn't get done in the middle, so I looked around the kitchen, saw a glass Coke bottle (filled it to make it heavier), covered it in tin foil, and put it in the middle, like it's sitting in the mixing bowl here… kind of an angel food cake pan effect. It worked perfect. I don't know if it would be necessary or not, though. I baked the cake for 1 hour.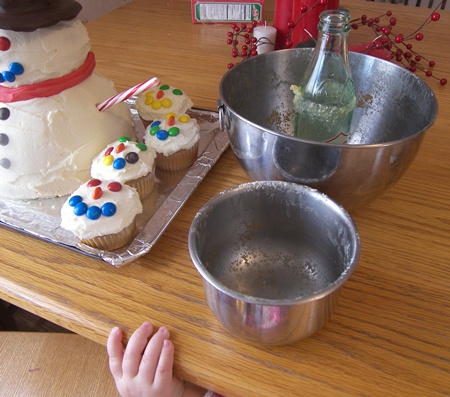 I used candy canes for the arms (broke off the curved part), but you could use pretzel rods or whatever. The hat is a chunk of leftover buckeye-type peanut butter filling dipped in melted chocolate with too much chocolate poured on top so it ran down beside it, making a hat brim. Then I put it in the fridge until it hardened. You could pretty much use anything… like a chocolate-dipped small cookie or whoopie pie or something.
*gasp* Did I just used the phrase "too much chocolate"?! Sorry, it should read "extra chocolate" instead… I'm more comfortable with that term.
Add a fruit roll-up or fondant the color of your choice for the scarf. Snip the ends with a scissors to give a tassle effect.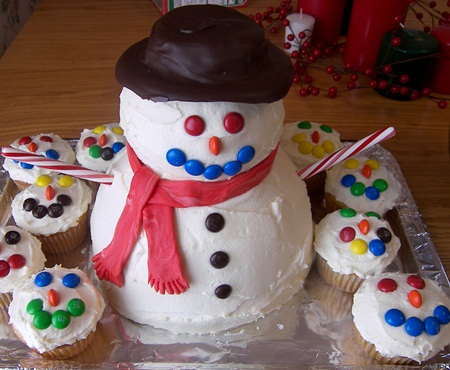 And there you go… celebrate winter with your kids! Whether you have 2 feet of snow, a 1/2 inch of snow, or only dream of snow.
Filed Under
Cakes
,
For special occassions
|
9 Comments
Posted on September 28, 2011
Next to the thing of this being a cozy delicious Fall-ish drink, you know what the best thing about it is? It tastes for all the world like it has pumpkin in it… but it doesn't! Here's why that's so great: I would have to open a whole new can of pumpkin puree just to get one little spoonful out to stir in here because most of the time, I don't usually have open cans of perishable pumpkin puree on hand in my fridge.
Oh! I just had a lightbulb moment! (which is very noteable because it's 5:20 a.m. and at 5:20 a.m., thinking thro the fog on my brain is a stretch, much less a lightbulb moment going on!) You could freeze little dollops of pumpkin puree in an ice cube tray, then they'd be ready in the right quantity to pull out at will. You could do that when you freeze or can your pumpkin puree each Fall. Notice I'm pretty much just using the term "you"… I did pumpkin puree 3 years ago and decided it wouldn't be on my list of things-you-can-buy-in-the-store-but-the-do-it-yourself-mess-is-worth-the-extra-good-taste. The only 2 things so far on that list for me are sweet corn and strawberry jam.
You know, I was just thinking about that lightbulb moment… it wasn't so bright after all because this recipe doesn't even take pumpkin puree! It's like answering a question that was never asked! But I'll just leave it there in case you want it or in case it would spark some other cool idea for mini serving sizes in ice cube trays… like right now I have bacon grease frozen in one and next time I need to fry something, out of the freezer and into the pan it goes. Wow, I think we're taking a nature hike on a bunny trail! Where was I?
Pumpkin spice lattes. In case you're picturing me curled up in a blanket on the couch in pjs typing on my laptop with one of these lovely lattes steaming in a cup on the end table, you'd be wrong. Well, it's right until you get to the latte part. I had full intentions of sipping one while writing this, but then I thought about the blender… and then I thought of it possibly waking the kids. So, I thought of taking the blender outside, but that seemed a little desperate. And cold. Then, I thought of taking the blender into the office/exercise room… but then I had flashbacks of making this latte yesterday afternoon………………..
I poured the scalded milk into the blender, put the lid on, and pressed the button. I also subconsciously knew that my 15-month-old was running into the kitchen. The next moment was a blur of thoughts about scalded milk flying thro the air and what if it hits the baby. The moment after that was relief that none hit the baby and the baby purposely splashing in warm milk puddles on the floor.
……………….Now, back to the present. I do try to learn from my mistakes and hoped this crazy scenario wouldn't happen again, but on the off-chance it would, I decided that maybe I shouldn't take the blender into that room. I pictured milk potentially all over Shannon's desk and dripping off the treadmill and soaking down into the carpet… because I wasn't totally sure what mistake I had made to know how to fix it. My guess is that hot liquid going at high speeds in a small airtight space creates pressure. I just never blend hot stuff… next time I'll try doing only 3/4 cup or so at a time or putting the lid on loosely and putting a towel over the whole works. Or both. It's gotta be blended though because it's gotta be frothy! What's a latte if it's not frothy?!
 Also this morning, I was planning to take progress pictures and a decked out with whipped cream final picture, and I still might do that, but I probably won't post them today because today is going to be crazy… I have 3 things planned, none of them overlap, none of them are at home, and they'll probably take an average of 3 hours each. But I'll edit those pictures in later.
Pumpkin Spice Latte … recipe from my friend Dinah (Thanks, Dinah! This recipe is a keeper for sure! Especially at this time of the year!)
2 cups milk
2 tsp. sugar
1/2 tsp. pumpkin pie spice
1/2 tsp. vanilla
1/3 cup double strength coffee (I used just regular strength, but I'm kind of a coffee wimp… if I ever tell you "You're the creamer in my coffee", that would be a very good compliment to you.

)
Whipped cream, optional

Heat milk til there is a skin on top (scald it basically). Pour it into the blender with the sugar, pumpkin pie spice, and vanilla. (Dinah said if you don't have pumpkin pie spice, just dash in cinnamon, nutmeg, allspice, and ginger til it tastes right.) Blend just until frothy, then fill two mugs about 3/4 full. Add coffee to each mug. (Dinah said she made hazelnut coffee and that added a special taste of its own.) Put whipped cream on top, then sprinkle more pumpkin pie spice on top. I didn't put whipped cream on when I made it yesterday because I didn't have Reddi-Whip on hand and there was no Cool Whip thawed in the fridge and I wanted to enjoy my latte NOW.
Here's my take on this recipe: I was honestly surprised how good it was! I've seen and tried alot of "coffee shop knock-off" recipes and very few of them were worth making, I thought. This one is a winner, though. I'm not gonna mess with it too much because it's close enough to perfection as is, but one variation I thought of is replacing the sugar and vanilla and 1/4 cup or so of milk with 1/4 cup of French Vanilla creamer. I also think I'll up the pumpkin pie spice quantity just a little next time. And then there's always the add-pumpkin-puree option.

Please make this… it's quick and easy and uses common ingredients and it's handier than Starbucks. You know you want a cup!

Filed Under
Beverages
|
8 Comments
Posted on July 21, 2011
There. I did 2 posts with meat in, so let's get back to the fun stuff!

No, really, I am planning to keep it a little more balanced… I think anyway. Sometimes I think I should've named this site something like "Chocolate Dipped Tidbits" or "Living for Chocolate, Dying for Some More" and do sweets only, what with that being my passion and all.
Speaking of which, I totally get Tiffany (my 5-yr-old) in this little conversation that happened one day last week:
Her: "May I have an ice cream cone?"
Me: "No, you already had one today."
Her: "Pleeeeeeeeeeeeease? I REALLY need one."
Me, feeling sorry for her, but sticking to my guns: "No."
Her, pulling out the trump card in desperation: "I'll give you all my money if you let me have one."  
If we run out of cones and ice cream around here, my girls think it's a real crisis. Currently, we have sugar cones (the pointy ones that sorta look like waffle cones) and regular cones in 2 sizes (the ones that are flat on the bottom and taste like newspaper just plain). These cone cake pops use the mini size of the regular cones.
Awwww, aren't they adorable?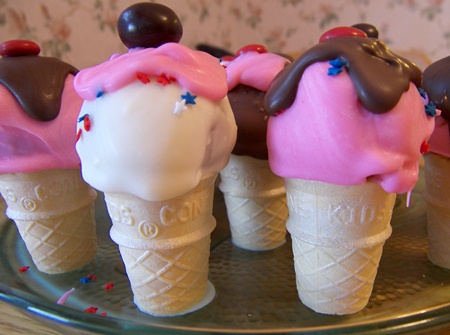 You really do need to see these in real life. The cuteness factor doubles from a picture to real life.
I know you can't really tell the exact size because there's nothing to compare it to. So, here's one in a 13-month-old pudgy hand, if you know what size they are in real life. This is a real ice cream cone, but the same size cone.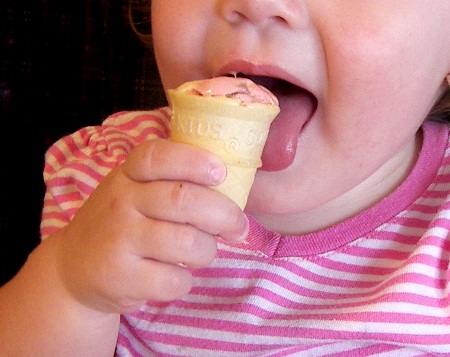 Yeah, we're getting Megan hooked on ice cream cones already. This size is so perfect for her because she's done eating it by the time it starts melting and dripping.
I got this Ice Cream Cone Cake Pops idea from Bakerella's website and her Cake Pops cookbook (which my friend Ruthie gave to me for my birthday last year… it was on my wish list, and I never told her, how cool is that?!) Bakerella used sawed-off sugar cones, but I decided to just use mini regular cones so I wouldn't have to do all that cutting.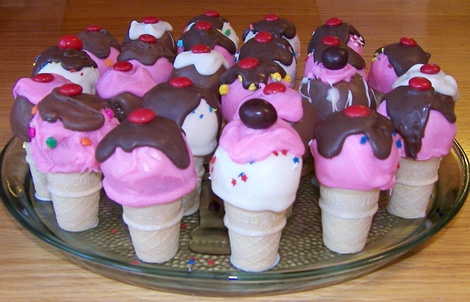 So here's what you do. Take a baked cake and crumble it up and add a bought can of frosting and mix it together.
Or…
Get the leftover cake out of the freezer from a graduation cake you made earlier, thaw it, crumble it, mix up some frosting and mix a few dollops into the cake crumbs. That's what I did. So, these cake pops were white cake mixed with cinnamon cake.
By the way, next time you're buying cake mixes and you're undecided on the kind, please buy a cinnamon one. This is the first time I tried it and it was SO good! You'd think I would've already thought to try that, what with having married into a we-love-cinnamon family. I want to make one sometime with cream cheese frosting. Mmmm mmmm mmm!!! You can use cream cheese frosting in these cake pops, but then you should refrigerate them, which is why I used regular frosting.
Here are the cake crumbs and dollops of frosting. I forgot to take a picture after it was mixed…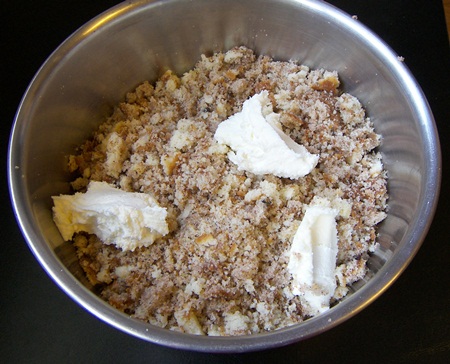 Roll the cake mixture into balls about the size of a golf ball, maybe a little smaller. Don't make all those little dents in it like a golf ball has, though. Put the cake balls in the freezer for 15 minutes, then transfer them to the fridge if you're not ready to dip yet. They should be chilled, but not frozen.
Here is when I was just ready to start. Those bowls are both melted white chocolate, but the one has pink food coloring in it. The melted milk chocolate is missed on the picture. I put some M&Ms in the bottom of the cones just for a fun surprise.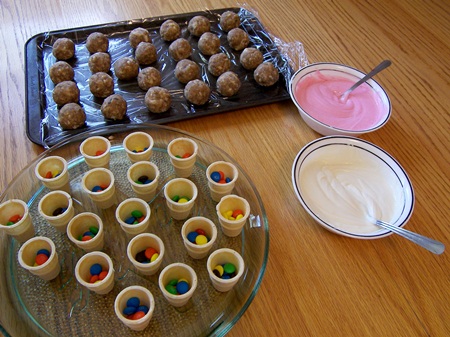 Dip a skewer in the melted chocolate, then into a cake ball. You can take a spoon and spoon some chocolate over to get it fully covered if the chocolate isn't deep enough to fully immerse the cake ball, but don't spin or stir or twist it around in the chocolate because crumbs may fall off or it might come apart. Then, put the drippy chocolate covered cake ball on one of these mini cones and pull the skewer out. It will kind of start to drip over the sides to make a melty look. That is a good thing.
This is after the process is underway…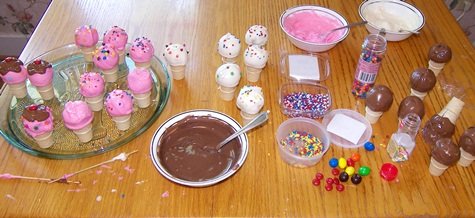 After the cake pops are dipped and put on the cones, take another color of melted chocolate and put on top, letting it start going down the sides a bit. Put on sprinkles if you want to. Put a red M&M or peanut M&M on top for a cherry.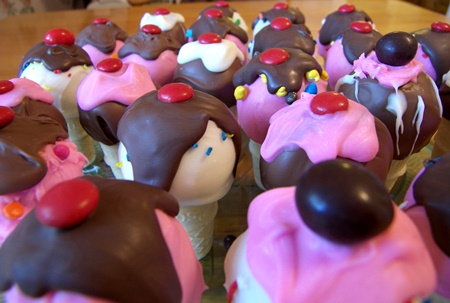 To make tipped over ones, put the cake ball on a flat surface instead of on a cone, then put the cone slanted on top of it. Bakerella calls this a "happy accident on purpose". I love that term! :)
 Now, we leave Bakerella and go on to an extra tip and idea for these from me:
1. These little things are top-heavy. So if you're taking them somewhere, put a little bit of melted white chocolate on the bottom of the cone, then set it on the plate. In no time, it is hardened and you can move the plate around at will… without ice cream cones landing on the floor.
2. Pipe thick chocolate letters on plastic wrap or wax paper, put them in the fridge till they're hard, and stick them to the top with a dollop or two of melted chocolate… and you've just personalized your cake pops to the season/event/occasion!

Here are some specific ideas:
– Write "Welcome Home" on them and put them on the counter, ready for someone coming home. That's actually the very thing that made me think of putting letters on top of these… around the time I was making these for a church picnic, some friends of ours were coming home from a trip and I had intentions of doing that with the extra ones, but with a combo of a change of plans in my day and procrastination, they got home before I got it done. But at least I'm glad for the idea now, to use in other ways. 
– Use them for the cake at a birthday party and write "Happy Birthday (insert birthday person's name)" 
– Write your kids' names.
– Make the entire alphabet, with extra A's, E's, T's, M's, S's, and whatever other letters are used more often. Then, let your kids play with them, writing words and phrases or even complete sentences.
And last but not least, if you love someone, do this…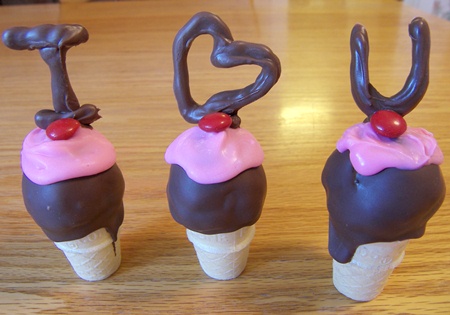 Filed Under
Cakes
,
Snacks
|
8 Comments
Posted on July 14, 2011
Being a mom and having guilt go together like pancakes and syrup. It just goes with the turf. You wake up in the morning and right away you can think of things to feel guilty about. I should spend more time… I should not have gotten upset when…  I shouldn't have let them… Maybe we should give them… I should be getting up, what with the baby yelling for me from her crib and all…
If you get that first paragraph, then you know what I mean when I say how it makes you feel when your children make good choices… despite all your mistakes, something is getting through.
Well, here's my little triumph in the food dept… my girls count Grilled Chicken Breast Salad as one of their favorite meals. We have it at least every other week. It's hard to get a healthier meal than this, really… fresh veggies, hard-boiled egg, lowfat mozzarella cheese, some croutons, and grilled (not breaded or deep-fried) chicken breast. In the tortured mental games that I sometimes put myself through, them liking salad seems like it, in some way, compensates for the times I say yes to ANOTHER piece of candy or that lazy Saturday when we had ice cream cones for breakfast (hypothetically speaking, of course, not like any responsible parent would ever actually allow that, or do it herself), or those times when I let the girls fend for themselves for lunch and it's anything but a square meal, a triangle meal at best.
Chicken Breast Salad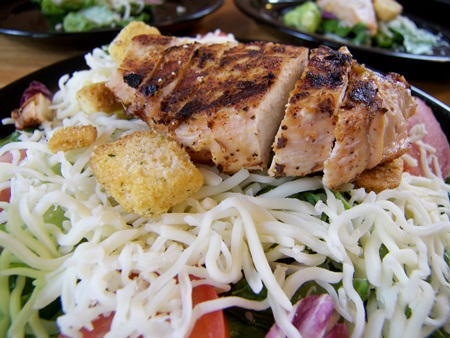 I'll show you how a meal that involves grilling is a joint effort for us… I'll color code it just to humor myself.
His 1st job: Starting the grill, either charcoal or gas. This particular time, he used gas because it gets ready faster.
My 1st job: Thawing the chicken breast. Here's how I do it. It goes from freezer to thawed in 5 minutes… which is good news to any of you who don't always plan ahead and don't get the meat out the night before to begin thawing!  
Take this out of the freezer: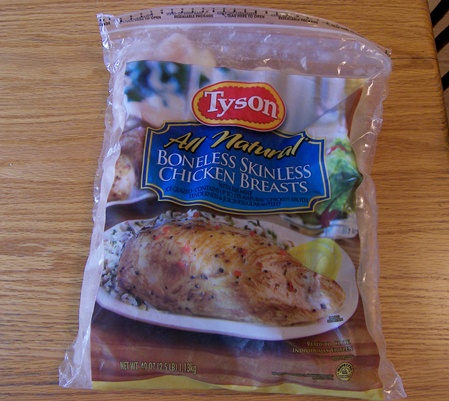 Put the chicken pieces out on a dinner plate.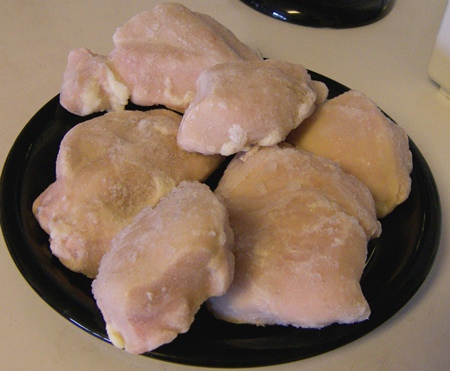 Put the plate in the microwave on High for 1 minute. Flip the pieces, reposition them so what was on the outside is now on the inside, and if one was on top, don't put it on top the next round… in general just move them around at random.
Repeat that step 4 more times. If we're having rolls or breadsticks to go with it, during those minute intervals is when I'd be getting them in the oven. Trim off some fat and drain off the juice. Your plate of chicken breasts should look like this, thawed and ready to hand over to the master of the grill.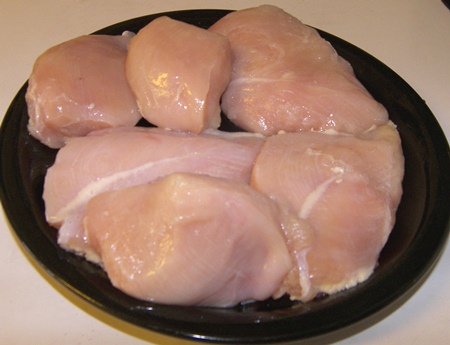 He seasons them with Chef Paul Prudhomme's Blackened Steak Magic seasoning. You can season more boldly when it's going on a salad than if you'd be eating the meat by itself. If you notice the 2 small ones with little seasoning, those are the ones the girls will eat. Their tastebuds seem to not be mature enough yet to handle the extra kick, so theirs get only Lawry's Seasoned Salt and I think Shannon might sprinkle some Lawry's on ours too. And then he puts them on the grill.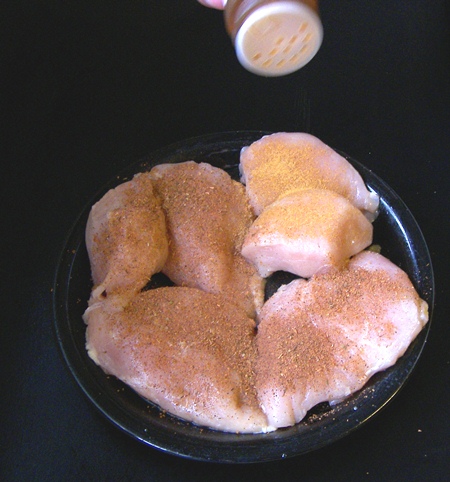 Meanwhile, I'm making salads…
Lettuce
Tomatoes
Mushrooms
Hard-boiled eggs
Shredded cheese
Croutons
Whatever else you want or have on hand like Carrots, Bacon, Italian seasoning, whatever. And they don't all need to be the same… personalize them to each person's taste.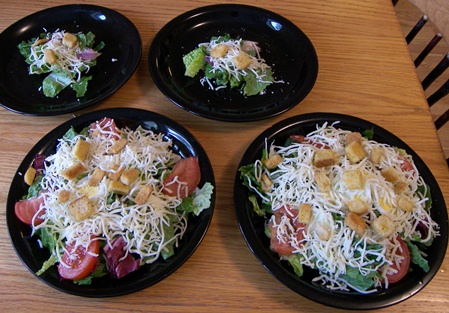 Looks kinda refreshing on a hot day, huh?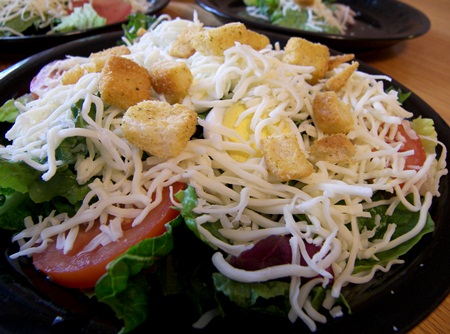 Meanwhile, the chicken is on the grill. I left my salad-making and followed Shannon out to the grill when he went out to flip them…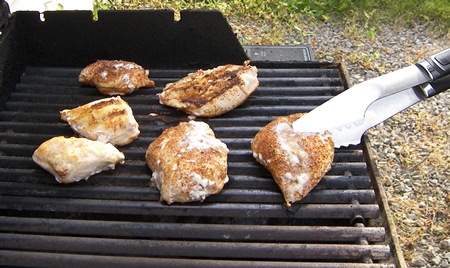 Those of you who want to make this salad, I hope you sorta know how to grill chicken breast because when I asked Shannon what he did and how and time on the grill and stuff, I got very sketchy details, but I also got some great tips.
For example, I asked how long they were on before he flipped them and he didn't know. He said you need to be on the edge of your comfort zone with it, though, and not overdo it. He said alot of people freak out about making sure chicken is done and then end up with dry rubbery chicken. You want it so it's just so done, not pink anymore, and juicy. So, of course, I asked how to know when that is and he said, "You just go by instinct."
So, yeah, good luck with that.
You could use a meat fork thermometer. Shannon used to have one, but hasn't for quite awhile because, uhhhh, one time yours truly immersed it in water because the handle was messy and, you know, of course one time of immersion wouldn't matter… famous last words. Yet, grilled chicken breast around here always ends up being perfect… done, but still juicy.
My only job left is to get out the cutting board and the knife… HIS knife, I should say. Yeah, we each have our own knife this size and we each think our own is THE best. Sometime, I should put them both on here and take a poll. I'll best mine would win because, if for no other reason… it has a case!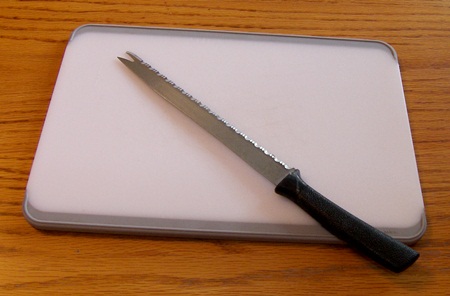 Soon, he brings the chicken in, slices it,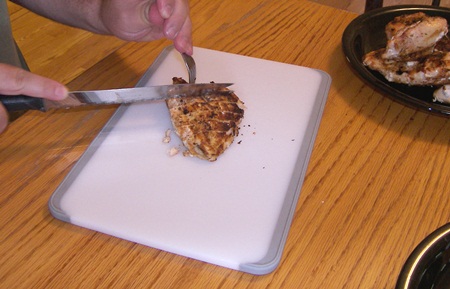 and places it on top of the salads.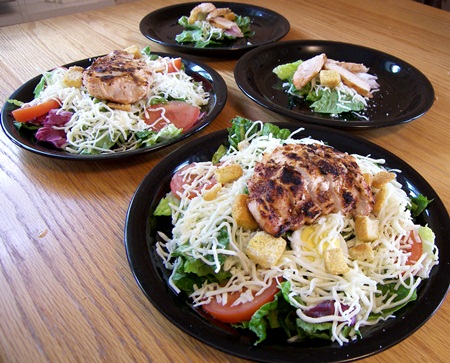 Zig-zag some Ranch dressing over it…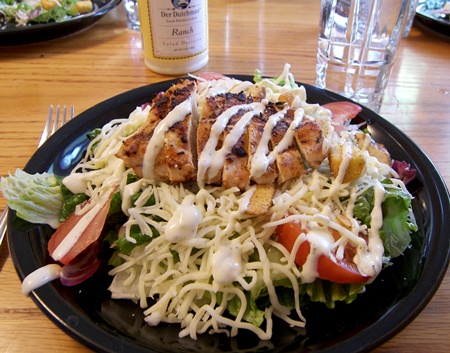 And dig in! 
You don't think this salad is so healthy that it could actually take away those cavities caused by the extra pieces of candy, do you?
Filed Under
Chicken and Turkey
,
Easy meals
,
Grilling
|
11 Comments