A year ago, I was memorizing the feel of a newborn in my arms; today I have to curl her legs up so she fits between the arms of the rocker.
A year ago, she couldn't even hold her own head steady; today she WALKS up to me and raises chubby little arms, asking to be held.
A year ago, she wiggled her little self into my mommy heart; today she is wiggled in even deeper.
A year ago, I'd lay her on the couch and go do some work, knowing she'd stay there; today if I'd do that, I'd probably find her 3 minutes later in the bathroom pulling TP off the roll.
A year ago, I had to guess what she needed when she cried; today I still have to guess some, but she can get her point across very well when she needs/wants something.
A year ago: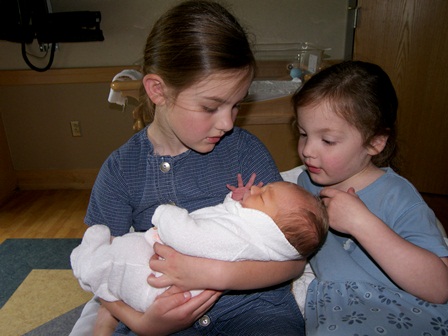 3 months old. I saw this 4-generation picture in the 3-months-old category of pictures and decided to put it on here, for a few reasons… because I'm proud of my dad and yesterday was Father's Day, because my grandma is very special to me and I'm so thankful I still have her, because some of you who know them might be interested in this picture, and because I love seeing 4-generation pictures.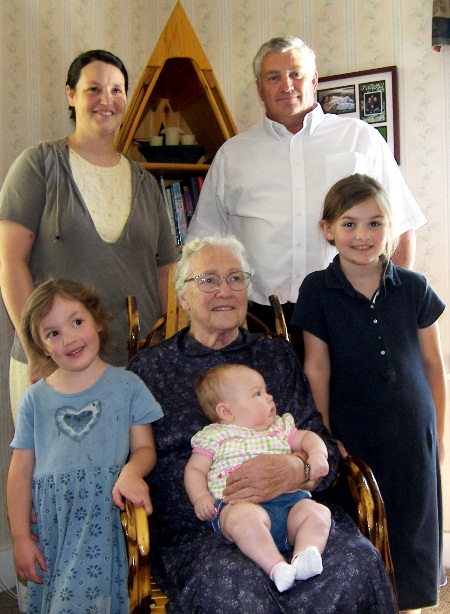 And we'll zoom in so you can see that at 3 months, Megan had some chubbies going on…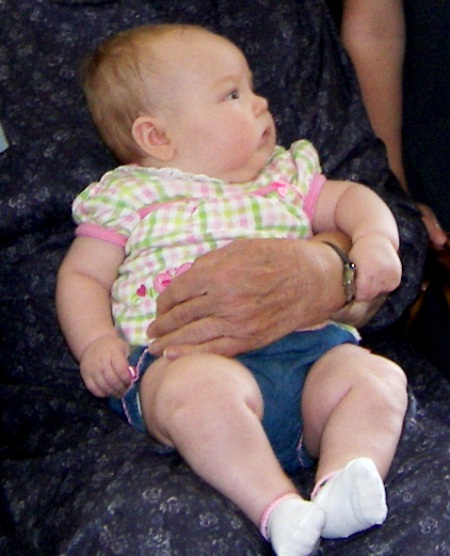 I'm just noticing that this picture is really neat… young baby skin against her great-grandmother's aging hand.
6 months. All smiles, which was/is very typical of her…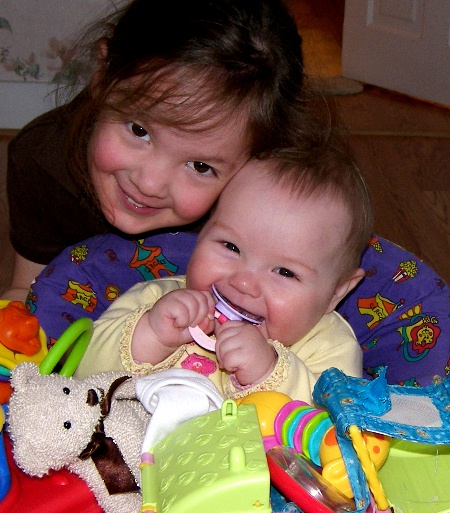 9 months. Wanna pinch those cheeks?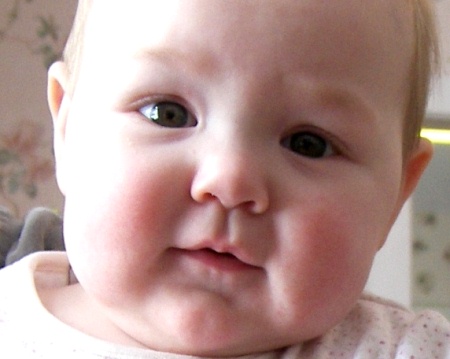 1 year. And yes, she feels as sturdy as she looks.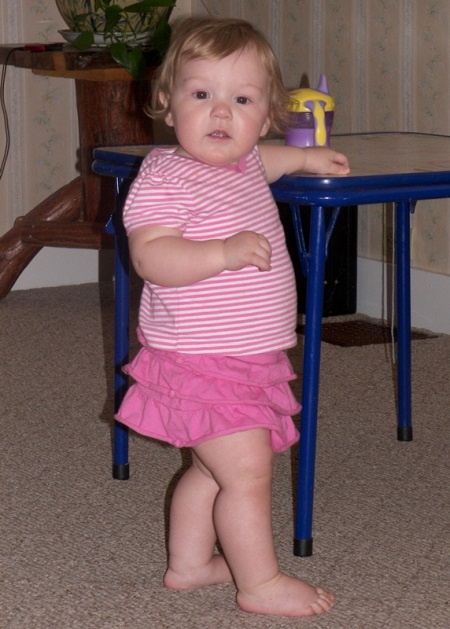 My little Megan. Easy-going. Happy. Charming. Friendly. Chunky. And surrounded by love. Thank-You, God, for her.
And now for the cake. It was a puppy cake.
Here is the cake sitting beside the inspiration for the cake.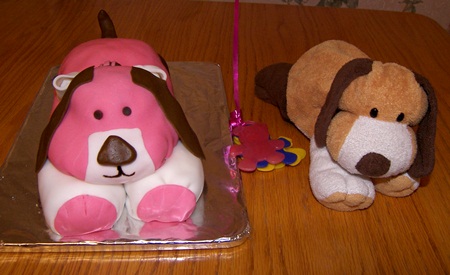 I know, so classy… dig thro' the toybox for birthday cake ideas. Well, ok, that's not actually what happened. First, I decided to make a puppy cake. Then, I needed a puppy to look off of. Then, I said, "Tiffany, could you please go find Sammy?"
My friend Kristen helped me with this. She brainstormed with me and we decided to make it pink and brown instead of tan and brown, so if you look closely, or more like just look… it's not hard to see… you'll see that everywhere that Sammy is tan, Birthday Puppy is pink, and the dark brown and white are the same on both. And then we added a bow. Kristen kneaded some fondant and made the button on the bow, the nose, and the eyes. She is 13 and she is confident and creative… two things which are very helpful when putting details on a cake!
I only have one progress picture of this cake. It's one when it was mostly frosted and the legs are already covered with fondant.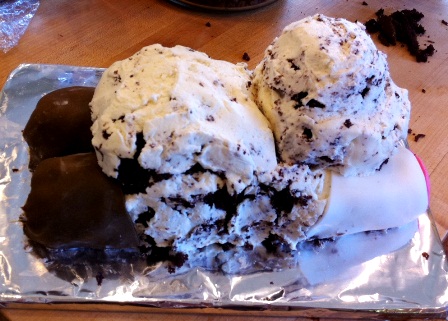 The way to spell magic is f-o-n-d-a-n-t. ???? Doesn't look like much, does it?
But put some fondant on and look what happens…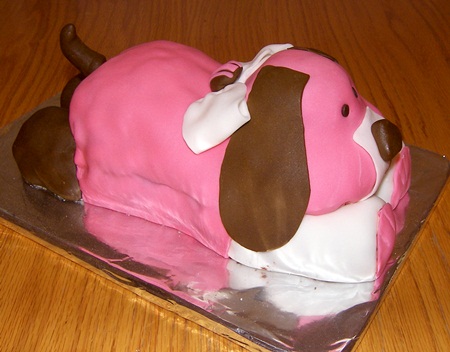 Yeah, I did smooth the frosting out some, but for some reason a crease showed up where the layers meet. I wanted sort of a lumpy loosely-stuffed look, but not necessarily a crease look! Oh well.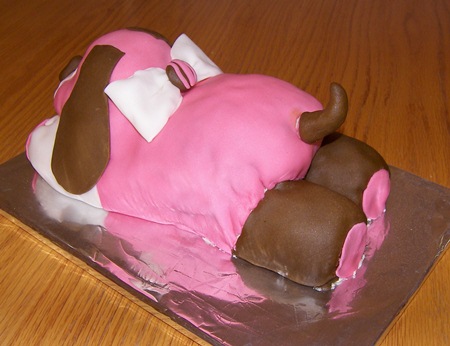 Here is a close-up of the bow.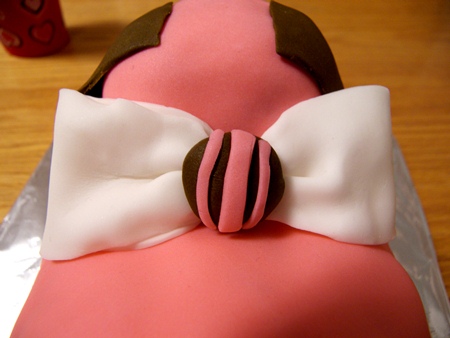 As I was making the white part of the bow, I told Kristen we'll need something for the middle of it and right away she started rattling off ideas, so I told her to have at it and here's the little button she came up with. Cute!

The cake was sitting out on the table and one time when I walked through the dining room, this is what I saw… it was Shannon's doings. ????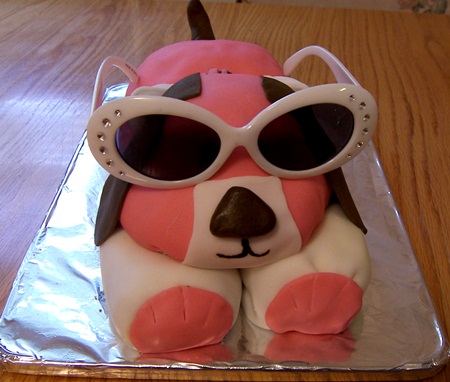 Ok… we have some kids around here somewhere. Let's add them to the cake pictures…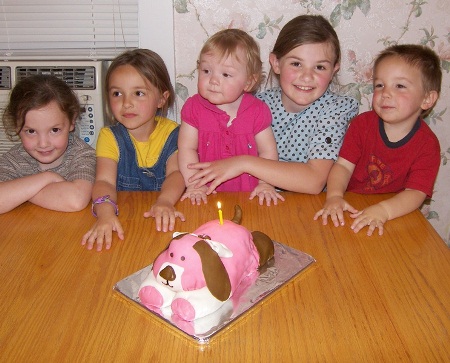 Yay! It's cousins from WI!
Tiffany, Kaitlyn, Megan, Lexi, Chad
I was planning to make a bone to give to Megan to dig in, but then that didn't really happen, so she just got a leg of the puppy. First, she broke off a piece and tried to give it to Kara. Such a thoughtful giving person at such a young age, making sure other people get cake before allowing herself to indulge.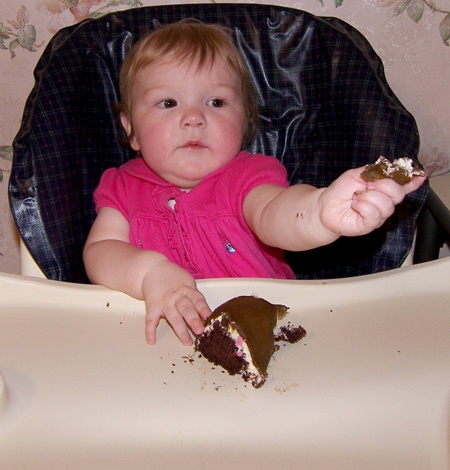 Then, she dug in herself…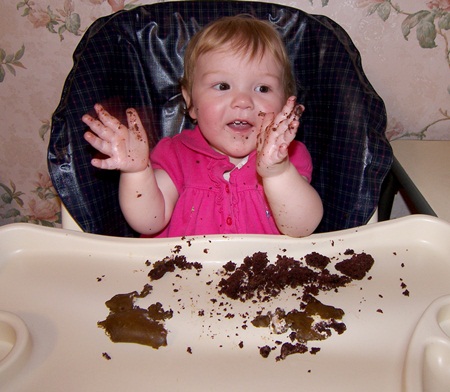 Happy birthday, Megan. I hope you stay this sweet and good-natured forever!
Comments