Posted on April 25, 2011
Filed Under Birthday cakes
I'm really glad I have friends who have boys. And that they let me make birthday cakes for them. Otherwise, when would I get a chance to make boy cakes, what with having only girls? I know girls love Lightning McQueen and Thomas the Tank Engine too, but when it comes to birthday cakes, a zoomin' car or train isn't the first thing they'd usually pick… although, while I was making this cake, Lexi said, "Mom, I know I'm not a boy, but I WOULD really love a Lightning McQueen cake next time." I'll bet she'll change her mind before December 7.

This Lightning McQueen cake was for my friend Joe's son, Regan. Regan turned the big 5 this past week. Here he is. Cute little guy!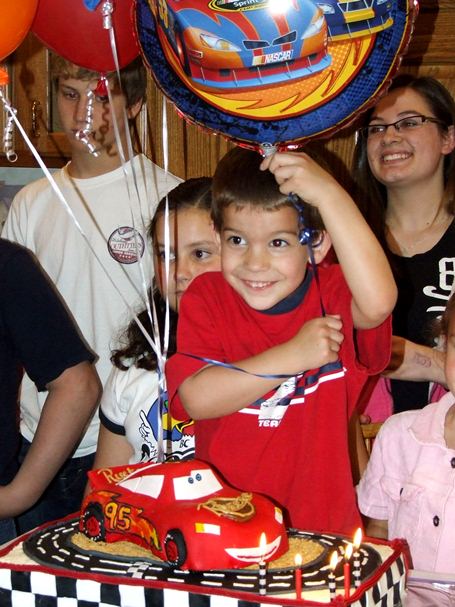 And a brave little guy. He's all smiles… on the picture, anyway.
This is the first time that I've ever written a Kitchen Scrapbook post that I felt like just closing my laptop and crying.
There was pain behind the smiles at the party and there is pain woven throughout this post. There was a mama-shaped hole the size of Texas at this birthday party. Regan suddenly lost his dear mama this past January. It just breaks my heart. And no 5-yr-old should have to celebrate a birthday without a mama. Thus, a little extra love was built into this cake because that thought was in the front of my mind the entire time I was making it. Deb was a dear friend and I feel very honored to have had the privilege of making a birthday cake for her son.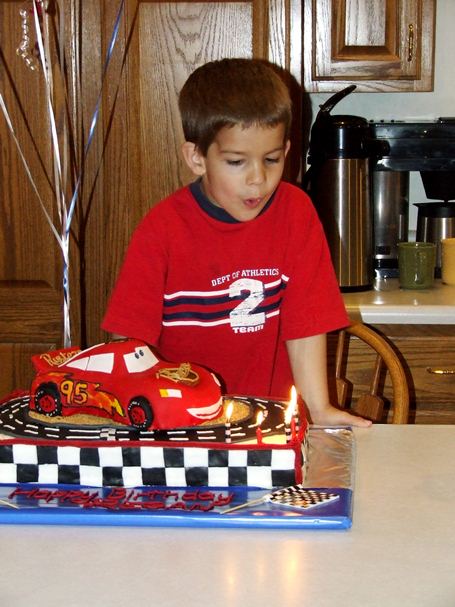 1-2-3 BLOW, Regan!!!!!
I didn't ask Regan what type of cake he wanted… I was just going to do something in the cowboy/horse dept because that's a significant part of his surroundings. But… Lexi is in 2nd grade with Regan's older brother Riley, and she came home from school one day and said, "Riley said Regan wants a race car cake." So, I asked Joe and he said Regan would love that, either Lightning McQueen or Dale Earnhardt Jr. By the way, did you know that Dale Earnhardt Jr and I have the same birthday? He's 2 years older, though. Brett Favre and I have the same birthday, too… only he's 7 years older. Anyway, that's my claim to fame… being in the October 10 Birthday Club with them… we get together every year on our birthday and split the time in 3rds, talking about Nascar, NFL, and birthday cakes. I could be wrong on some of these details. But even though Dale Jr and I have the same birthday, we decided on Lightning McQueen because Missy was going to get party decor to go with whatever the cake is and there's anything and everything you could ever want for a Lightning McQueen party.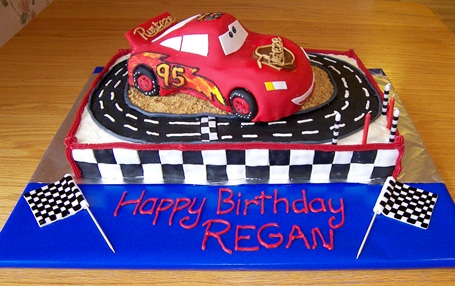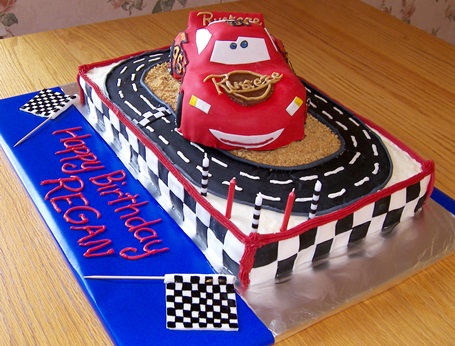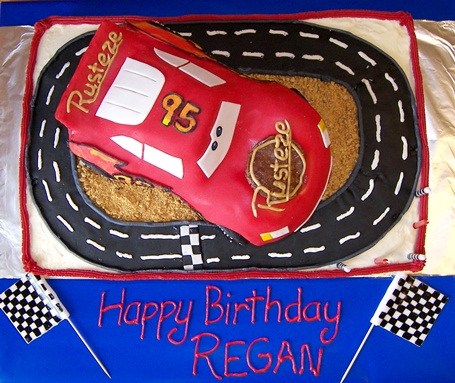 I didn't take progress pictures of making this cake because it's made pretty much the same as the Lightning McQueen I made a couple years ago (I'll post a link at the end of this post).
I did do something different with this one for the spoiler because the spoiler of the other one had issues and had to be propped up with toothpicks… and toothpicks propping stuff up sort of takes away from the coolness of a 3-D cake. With this one, I cut a slit in the cake and put a graham cracker in it, then covered the whole works with fondant. Here it is before it's covered with fondant…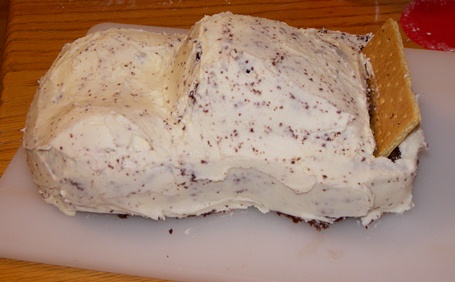 I think the graham cracker eventually took on the moisture from the cake and broke because at first, it was solidly in place, but after a couple hours, I could easily wiggle it. It didn't matter though because by that time, the fondant had dried enough to hold it firmly at the proper angle.
In case you wonder what something is or how it's done, I'll just make a list here, hopefully answering some questions before you need to ask them. ????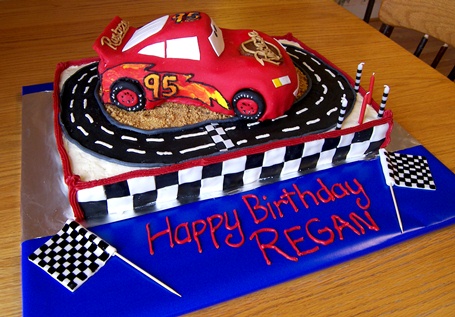 Cake board – flat cardboard box, covered with wrapping paper and a strip of tin foil for the cake to go on.
Flags – wooden skewer with white fondant square, I took a paintbrush and painted little black squares on it (my 'paint' was food coloring paste)
Birthday wish – piped on with red frosting, the moisture from the frosting soaked into the wrapping paper a bit… it worked fine, but you wouldn't want to do it too far in advance because it gets worse and worse and looks like dark shadowing around the writing.
Base under racetrack – 2 white sheet cakes with a layer of melted-chocolate-chips-mixed-with-peanut-butter between… because just plain ol' white cake is booooooooooooooooooring (that's a fact, but you can consider it an opinion if you prefer to ???? ). The cakes are covered with a layer of white frosting. Here is a cut view…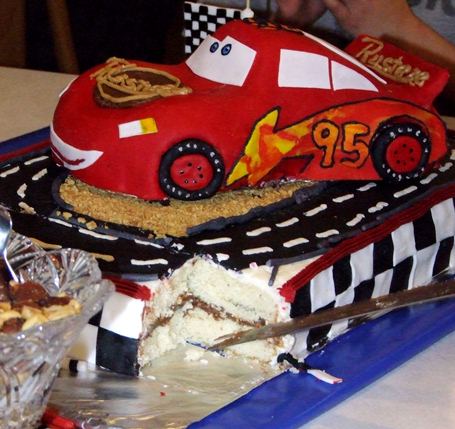 Checkered squares around base – I love this look, but I'd do it different next time. How I did it was very time-consuming. I cut a bunch of little fondant squares, then fit them all in on all 4 sides of the cake. Next time, I'd put a black strip the entire way around the cake and then cut little white squares and put them on, spaced appropriately to get the checkered look. Or I'd put a white strip all the way around and paint black squares on like I did the flags.
Race track – black fondant with piped frosting accents, graham cracker crumbs for dirt in the middle
Car – chocolate cake carved into a car shape and covered in frosting, then in fondant. I was afraid the weight of the car would make it sink down into the frosting of the base, so I cut a piece of cardboard roughly the footprint of the car, covered it in tin foil, put the car on it, and then set it on top of the base where I had spaced and poked 5 skewers down thro' and cut them off about even with the top of the cake.
Details on car – it's all fondant with frosting accents except the Rusteze logo and the eyes. The brown circle on the logo is… ahhhhhh… FUDGE! and the writing is peanut butter. The eyes are painted on with a paintbrush and blue and black food coloring paste.
And you've gotta notice the candles! I was so tickled to find them! They fit in SO perfectly!!! 

Now… I KNOW you're itching to make your own Lightning McQueen birthday cake for that sweet little guy in your life ???? , so here is the post with step by step directions with progress pictures: Lightning McQueen step-by-step
And for those of you who are thinking "Oh, I could never do that!", this post is for you: Pictures of Lightning McQueen cakes that readers have made and emailed to me. So proud of them for taking on the challenge! And a couple of them said, "It was easier than I thought it would be." ????
Have fun being 5, Regan!
Comments