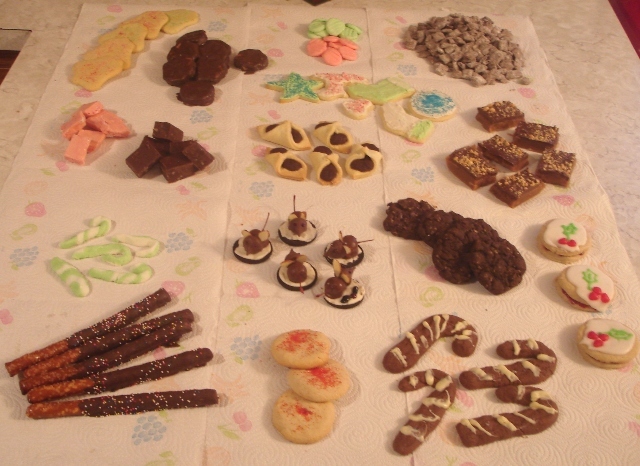 Liz, Lin, Ruthie, Sandra, Lourdes, and I all got together for a cookie/candy exchange. Ah, so fun!!!! All that good stuff sitting there. And it's fun to see what everyone is making. And you take home a nice assortment of stuff for no more effort than you put into it.

I don't even know what everything was called, but it's all on the picture up there. There were 2 kinds of fudge (peppermint and chocolate). The chocolate fudge didn't last long around here.

It was my top pick of everything! I think Linda made it. There were several different kinds of cookies, some buttermints, choc covered Ritz sandwiches, caramel/chocolate candy, mice

, and choc dipped pretzels.
Lourdes and Liz making buttermints…

The best part… dividing it all up. Lourdes, Liz, and Sandra.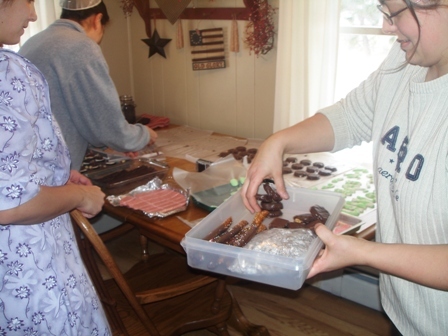 In the afternoon, Sandra and Ruthie made blended coffees for us all. I shared mine with Tiffany and then she didn't want to give it up…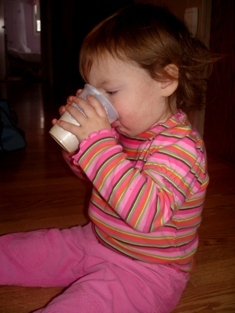 I'll feature my 3 contributions to the cookie/candy exchange…
They are all taken from Taste of Home Christmas Cookies and Candies.
Envelopes of Fudge
1/2 cup butter, softened
1 pkg (3 oz) cream cheese, softened
1 1/4 cups flour
FILLING:
1/2 cup sugar
1/3 cup baking cocoa
1/4 cup butter, softened
1 egg yolk
1/2 tsp vanilla
1/8 tsp salt
1/2 cup chopped walnuts
In a mixing bowl, cream butter and cream cheese. Gradually add the flour. On a lightly floured surface, knead until smooth, about 3 minutes. Cover and refrigerate for 1-2 hours or until easy to handle. For filling, combine the sugar, cocoa, butter, vanilla and salt. Stir in walnuts, set aside. On a lightly floured surface, roll dough into a 12 1/2″ square; cut into 2 1/2″ squares.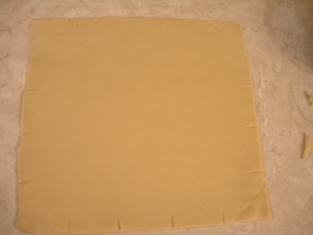 Place a rounded teaspoonful of filling in center of each square (I piped the filling on). Bring 2 opposite corners to center. Moisten the edges with water and pinch together.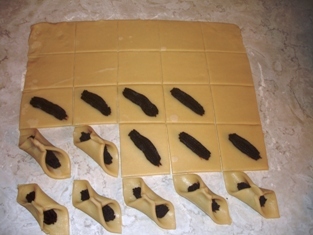 Place 1″ apart on lightly greased baking sheets. Bake at 350 for 18-22 minutes or until lightly browned. Remove to wire racks to cool. Yield: 25 cookies.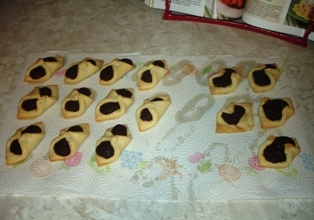 Yeah, there were a few flops! It works better to pinch the corners together, then fold them down and pinch again.
Christmas Eve Mice
24 Oreos
1 cup choc chips
1 tsp shortening
24 maraschino cherries with stems, well drained
24 chocolate kisses
48 sliced almonds
green decorating gel
red decorating gel
Everyone else was done, so they helped me do these. They were kinda fun to do and we got some laughs out of the deformities, but it does look easier than it is! Here are Lin and Ruthie working on them…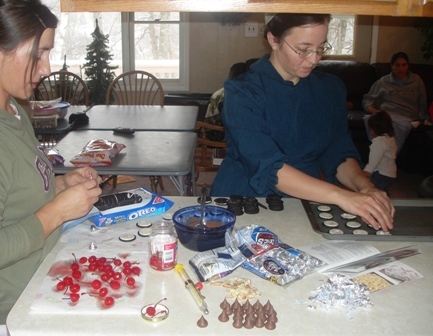 Carefully twist cookies apart; set aside the halves with cream filling. Save plain halves for another use. In a microwave, melt choc chips and shortening; stir until smooth. Holding each cherry by the stem, dip in melted chocolate, then press onto the bottom of a kiss. Place on the cream filling of cookie, with cherry stem extending beyond cookie edge. For ears, place slivered almonds between the cherry and kiss. Refrigerate until set. With green gel, pipe holly leaves on the cream. With red gel, pipe berries between leaves and pipe eyes on each chocolate kiss.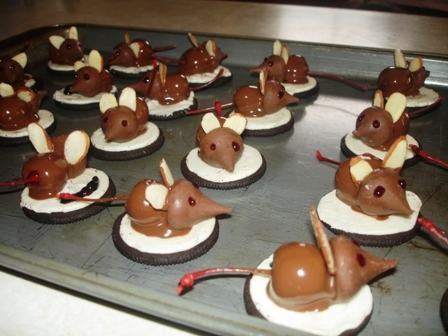 Store in an airtight container at room temp. Yield: 2 dozen.
Ice Cream Sundae Caramels
2 cups sugar
2 cups (16 oz) dark corn syrup
2 cups (1 pint) vanilla ice cream, melted, divided
1 cup butter
8 oz choc candy coating
1/2 cup peanuts, finely chopped
In a heavy 4-qt saucepan, combine sugar, corn syrup, 1 cup ice cream and butter. Cook and stir over low heat until mixture boils. Increase heat to medium; cook and stir until candy thermometer reads 242 (nearly firm-ball stage).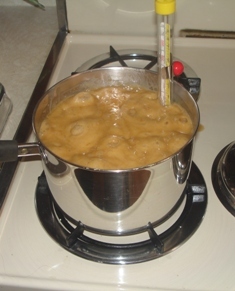 Remove from heat; gradually stir in remaining ice cream. Return to heat; cook without stirring to 244 (firm-ball stage). Immediately pour, without stirring, into a buttered 9×13 pan. Let cool until firm. Invert candy onto a baking sheet. Melt candy coating; spread over candy. Sprinkle with nuts. Cut into 1″ squares. Yield: About 3 1/2 pounds.