Posted on December 17, 2010
Filed Under Candy, Holiday cooking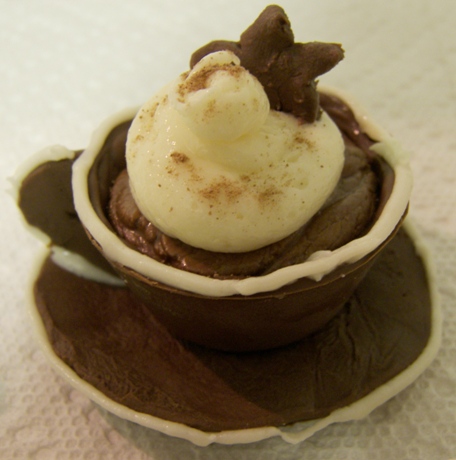 My sister-in-law Sheila had a birthday last month and her mom got her some teacup truffles from a local bakery. She was showing them off …notice I said SHOWING, not SHARING! ????
Here is a picture of them…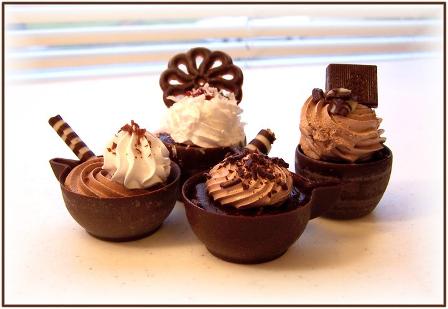 Aren't they adorable? As soon as I saw them, they went into my oughta-try-them-sometime cooking folder in my OneNote. By the way, Sheila took that picture. One of my Kitchen Scrapbook New Years Resolutions is to research food photography (lighting/props/angles/how to make it look good/etc) and practice and get to know my camera and aperture and focus and settings on it to up the photo quality a bit on here. I was planning to go online for that education, but it looks like I don't need to go any farther than our family gathering over the holidays to get tips… I love this picture! Looks like it came out of a magazine. Of course, the truffles look like they came out of a magazine, too!
I was at a cookie exchange today and I took a plate of candy instead of a dozen cookies. WAY more fun to make and nobody seemed to mind.

I decided this was my chance to try the teacups, thought it would be a cute touch to a candy plate.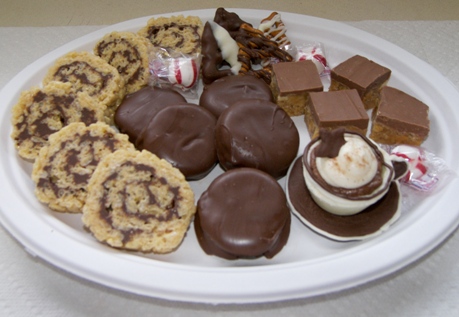 On the candy plate is:
— Rice crispy rolls
— Chocolate-covered Ritz crackers filled with peanut butter (to be featured tomorrow)
— Misc chocolate-coated/drizzled tree-shaped pretzels
— O'Henry bars
— Chocolate teacup
— Store-bought peppermint candies
These teacups are not as hard and time-consuming as they may look. I want to make some more and next time, I'm not gonna go as crazy with piping trim on! Actually, I think I'll skip the piping altogether. I wanted them all coordinating with white and brown chocolate and I think it ended up looking too busy or messy or something. I think next time, I'd make the cup and saucer both the same monotone color. So, minus all that piping, these teacups were done in 7 steps, mostly easy steps:
1. Line the cups  of a mini muffin pan with white or dark or milk chocolate to form the cup part.
2. Make a saucer out of partially hardened chocolate.
3. Form a handle out of partially hardened chocolate and 'glue' it on with melted chocolate.
4. Fill the cup with fudge (that's what I did here) or truffles or mousse or whatever.
5. Pipe white frosting on top to look like whipped cream (remember that cup of frosting I had left over from the red velvet sandwich cookies? It came in handy here! ???? )
6. Sprinkle the whipped cream with a bit of Nestles Quik powder.
7. Form a little decoration out of partially hardened chocolate or make a chocolate curl or use some other decoration for garnish.
Here are pictures and "What I learned" tips with each step…
Step #1.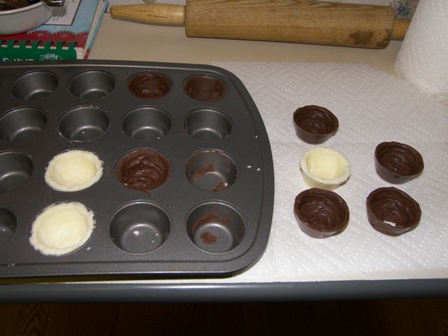 What I learned:
Grease the cups WELL.
The thicker the chocolate, the better… if it's too thin, the cups might break as you get them out (see the one in the front right has a hole in the bottom).
Chill before getting them out.
Best way to get them out is to push against the inside of the cup and turn it, when it comes loose, pull it out.
Step #2: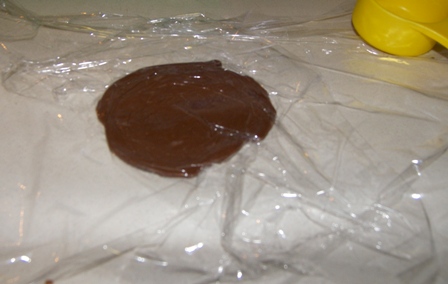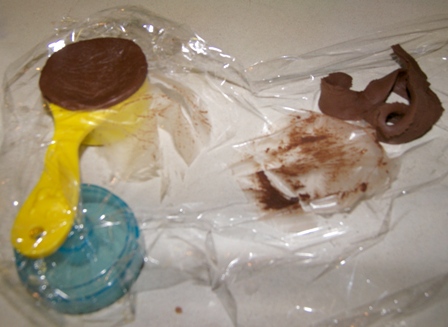 What I learned:
Use utensils/Saran wrap to do the work… using fingers melts the chocolate and creates a sticky mess.
Cut a perfect circle by using a round cutter… a drinking glass works great.
Lay the saucer on a measuring cup… it will sink down just a little in the middle to create a 'saucer' look.
The fridge was my friend. Chocolate hardens faster in the fridge. ????
Step #3: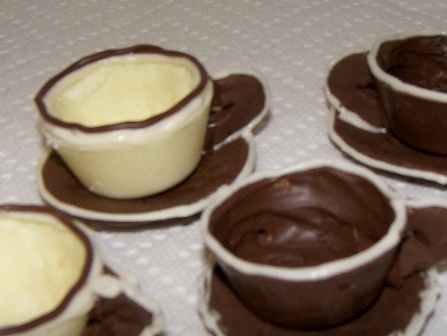 What I learned:
If the cups are chilled before putting the handles on, they adhere faster.
You need to hold the handle against the cup until the melted chocolate between them has hardened… otherwise the handle might fall off when you set it down. *rolleyes*
The rest of the steps don't have 'what I learned' tips because there were no issues/problems/lessons learned. That's a good thing. 

Step #4: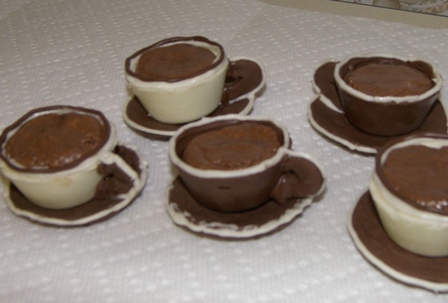 Step #5: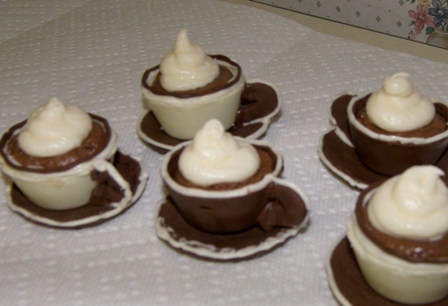 Steps #6 & 7: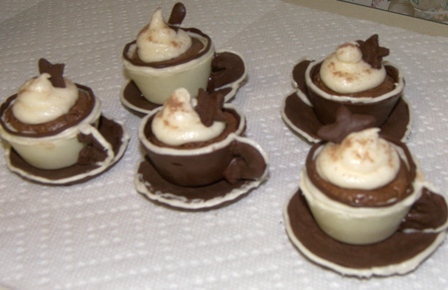 I made stars because, you know, Christmas. I thought stars would be easier than holly or trees or a wreath or a gift or a manger scene. ???? I just made a ball, then flattened it, then pinched it in 5 places, then perfected the points. Haha, perfected the points? Then why aren't they perfect?! :p I guess I should've said I just made a ball, then flattened it, then pinched it in 5 places, then messed around with it till it looked more or less like a star.

Oh, and the one doesn't have a star, in case anyone noticed. It was the last one and REFUSED to turn out, so I ate it and just stuck in a random dripping from where I had drizzled the pretzels.
Oh, and here are the 5 plates of cookies that I came home with… Peanut Butter Kiss cookies from Rosalyn, Frosted Sugar cookies from Beth, Monster cookies from Sherri, Pumpkin cookies with caramel frosting from Rita, and White Chocolate Chip cookies and some coated party mix and chocolate-covered peanut butter crackers from Mary Esther. I love love love cookie exchanges!!! When else can you mass produce one thing and end up with a fun variety?!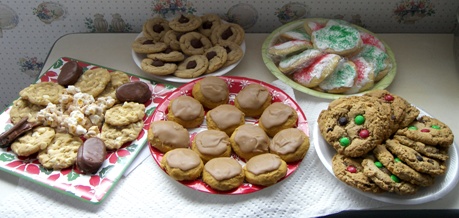 Comments