Posted on January 18, 2010
Filed Under Candy, Holiday cooking
Fudge. Yum. It's one of my areas of weakness.
Louise, one of my message board buddies, posted this recipe. I made it before Christmas, so it is LONG gone, but you should have the recipe anyway. I do still prefer the melted chocolate chips, butter, peanut butter, and marshmallow combo, but will definitely keep this recipe on hand for when I need a fudge fix and am out of chocolate chips and marshmallows… two things that I don't always keep on hand.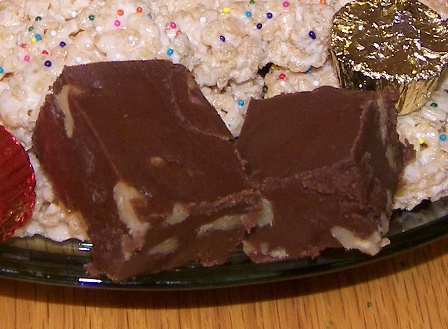 Peanut Butter Fudge
3 1/2 cups powdered sugar
1/2 cup cocoa
1/2 cup peanut butter
1 cup melted butter
1 tsp. vanilla
pinch of salt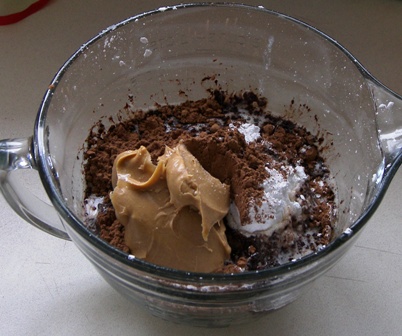 Mix all ingredients together, and blend until smooth. Press into a 8 or 9 inch square pan, and chill. Louise says, "I like to line my pan with waxed paper so I can easily flip the hardened square out to cut later on. This stuff tastes sinfully delicious, and melts in your mouth!" She is so right on that last sentence! ????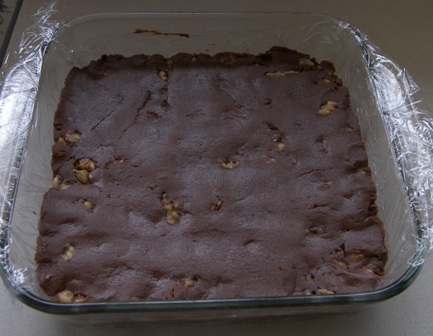 This was Christmas, remember? Where the fudge went was on a plate to take to the 1st & 2nd grade room for after the Christmas program… rice crispy bars cut into Christmas-y shapes, fudge, and Resees cups.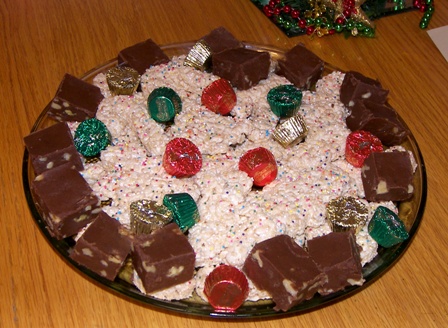 Side note: The picture doesn't show the shapes too good, but rice crispy bars can be made to fit about any occasion… just make them a bit thinner than usual and sprinkle them with colors and cut them in shapes to fit the ocassion. Kinda like this layered finger jello.

Comments