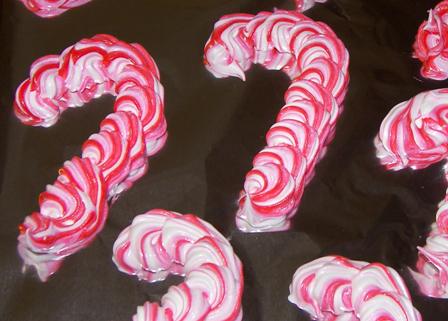 Mostly when we talk about food, we think of taste. Well, not this time… the strong point of these candy canes is the looks, not the taste. Aren't they pretty? I think they'd technically be called a candy… they have no substances like a cookie does. Speaking of substance, they might even be calorie-free because when you take a bite of one, within seconds, that bite dissolves into nothing inside your mouth, so the calories must dissolve into nothing too, right?

Lexi says they taste like dried out frosting.
They were fun to make… you get to make swirls with a decorating bag. I actually did something I've never done before in featuring cooking and took a video. It's a very poor video, but my standards have gone from no videos to poor videos, so gradually, I'll up my standards to good videos. Part of the problem may be that my lighting was bad or that I saved it in low resolution or that I was piping the meringue with one hand while holding the camera and videoing with the other hand. Not a good idea. Live and learn.
By the way, if someone would just out of the blue ask you, "How do you spell meringue?", could you spell it? It has gotta be one of the weirdest-spelled words in the English language!
Meringue Candy Canes …from the Taste of Home Christmas Cookies and Candies cookbook
3 egg whites
1/2 tsp. cream of tartar
3/4 cup sugar
1/4 tsp. peppermint extract
Red paste food coloring
In a mixing bowl, beat egg whites until foamy. Add cream of tartar; beat on medium speed until soft peaks form. Gradually add sugar, 1 Tablespoon at a time, beating on High until stiff peaks form and sugar is dissolved, about 6 minutes. Beat in peppermint extract.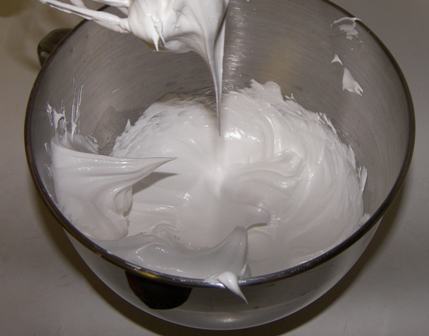 Cut a small hole in the corner of a pastry bag; insert star tip #21. On the inside of the bag, brush 3 evenly spaced 1/4″ strips of red food coloring from the tip to 3/4 of the way to the top of the bag. Carefully fill bag with meringue. Pipe 3″ candy canes onto parchment-lined baking sheets. I didn't have parchment paper, so I used tin foil. Worked great and they didn't stick to it.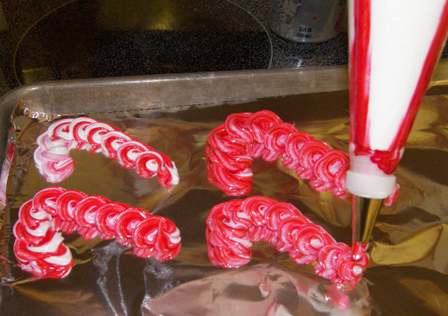 And now for the video: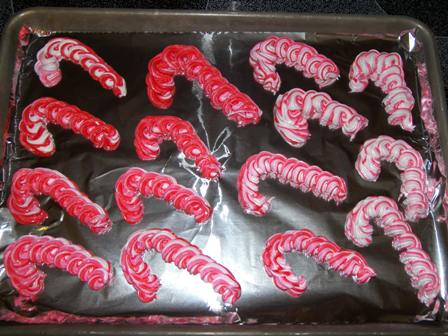 See the difference in redness here in these 2 panfuls? The top ones on the left were made first. I guess the food coloring got less concentrated as the meringue slid past.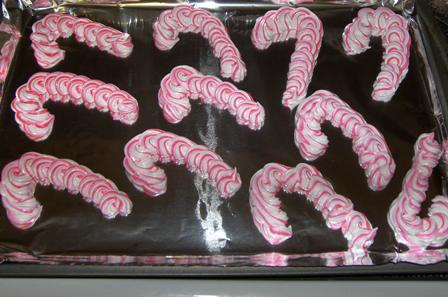 Bake at 225 for 25 min; rotate baking sheets to a different oven rack. Bake 25 min longer or until firm to the touch. Turn oven off; leave canes in oven with door ajar for at least 1 hour or until cool. Yield: 4 dozen. I must've made them bigger because I got only about 2 1/2 dozen, but I did use the #21 tip.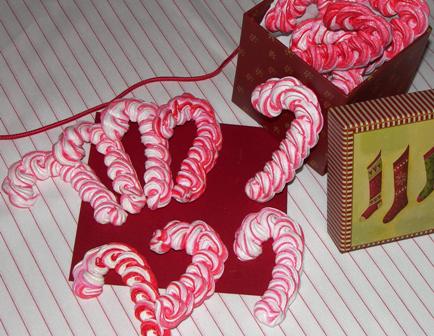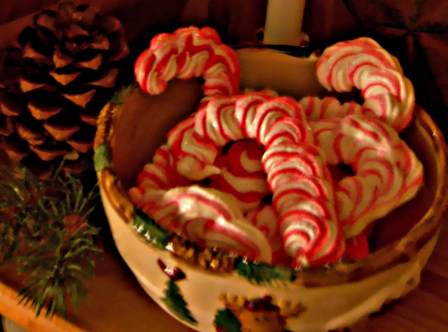 Put these festive candy canes on an assorted cookie plate for your mailman this Christmas! Or take a plate to your local fire dept. Or to your neighbors. Or eat all your Christmas cookies yourself.
Comments