Posted on June 12, 2009
Filed Under Cakes
When you saw 'Watermelon Cake' in the title, did you think it would be a cake that tastes like watermelon or a cake that looks like watermelon? Well, whichever you thought, you were right. It's both.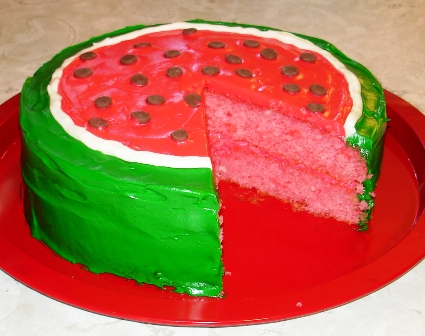 I was going back thro' some pictures the other day and found the making of this cake from last summer. I had totally forgotten about it! So, here it is now, a year later.
These pictures are dated July 4. Uh, wait, July 4?! July 4?!!!! I'm just wondering WHY in the world was I making watermelon cake on July 4th?! It's a holiday! I shoulda been out on a pontoon on Round Lake or at the grocery store buying burgers and brats or something! But the watermelon cake was right in among the USA jello and the flag fruit pizza and the fireworks pictures (all featured here), so… I guess it was the 4th. No wonder I forgot about it!
Watermelon Cake …from the 2002 Quick Cooking annual cookbook
1 pkg. (18 1/4 oz) white cake mix
1 pkg. (3 oz) watermelon gelatin …If you can't find watermelon flavored, just use strawberry or something else red or pink. That's what I did.
2 eggs
1 1/4 cups water
1/4 cup vegetable oil
2 1/2 cups vanilla or cream cheese frosting …I used cream cheese.
Red and green food coloring
Chocolate chips
In a mixing bowl, combine dry cake mix, gelatin, eggs, water, and oil. Beat on low speed just until moistened. Beat on high for 2 minutes or until well blended. Pour into 2 greased and floured round 9″ cake pans.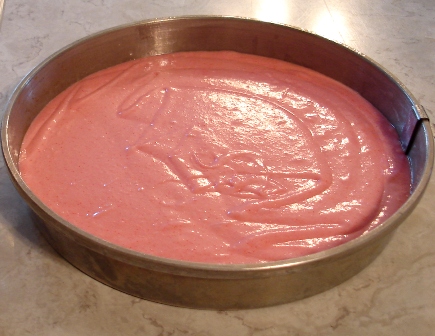 Bake at 350 for 30-35 minutes or until a toothpick inserted near the center comes out clean.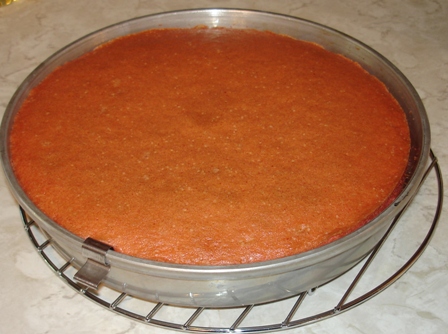 Cool for 10 minutes; remove from pans to wire racks to cool completely. Set aside 2 Tbsp. of frosting. Place 1 1/4 cups of frosting into a bowl; tint red. Tint remaining frosting green. Place one cake layer on a serving plate; spread with 1/2 cup red frosting to within 1/4″ of edges.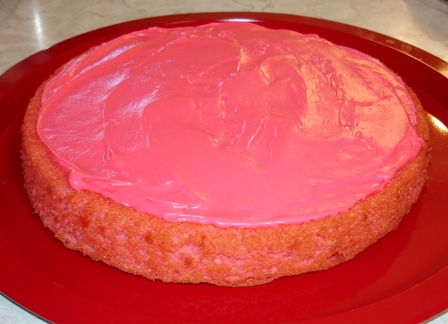 Top with second cake. Frost top with remaining red frosting to within 3/4″ of egdes. Frost sides and top edge with green frosting.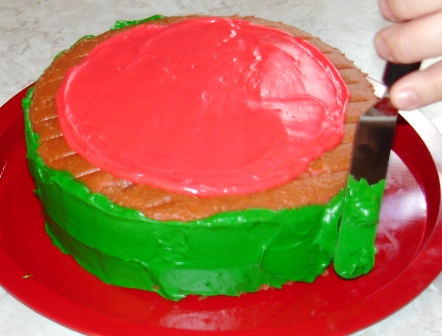 Place reserved white frosting in a resealable plastic bag; cut a 1/4″ hole in one corner. Pipe around top edge of cake where red and green frosting meets.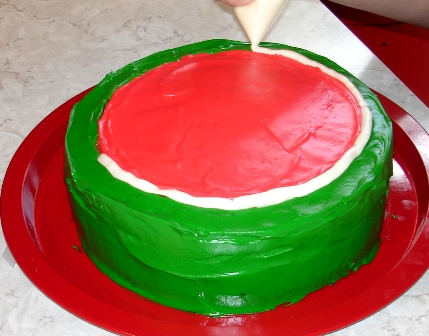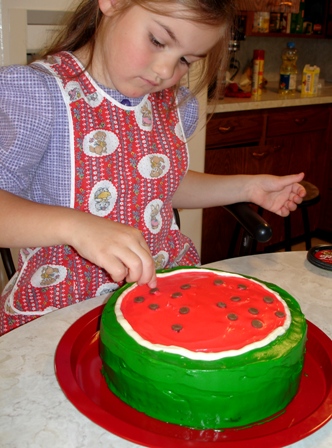 For seeds, insert chocolate chips upside-down into cake top. Yield: 12 servings.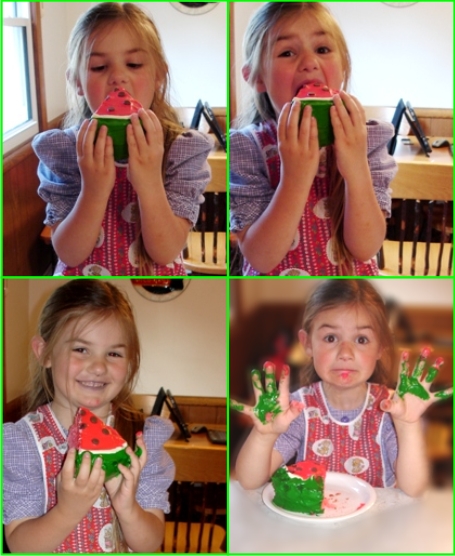 Comments