Posted on June 23, 2009
Filed Under Cooks in Training, Main dishes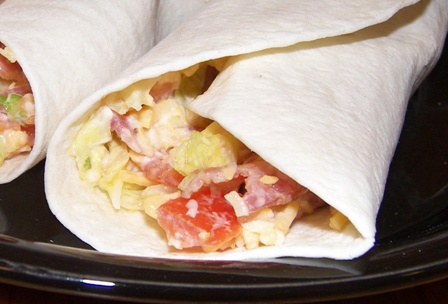 I'm trying to decide if this should even be a Cooks in Training post.
Reasons it should be:
1. Lexi and Tiffany made them.
2. The recipe comes from the Kids Cook! cookbook.
3. There is no kettle or baking involved.
Reasons it should not be:
1. What. a. mess!!!!!!
2. There is a sharp knife involved.
3. Next time we have these, I'll make them myself.
I don't want to give the impression that the Cooks in Training posts aren't usually messy. ???? It's just that this one struck me as extra messy. Maybe it was because the floor around their chairs looked confetti-covered. Maybe it was because they were handling bacon (read: grease) twice. Maybe it was because when they wrapped their wraps up, the tortillas ripped and the filling was falling out and trying to fix the problem only made it worse.

Oh well, we all have our bad days in the kitchen. And these little cooks are no exception. The wraps tasted great, which is what matters. And it was a nice variation from a regular BLT sandwich. Which is not a bad thing either:

   Mmmmmmmm! Yum.
This recipe has everything all diced up and mixed together, but it would probably be easier and quicker to just leave the ingredients whole and layer them in the tortilla.
Burrito BLT Wraps …from Betty Crocker's Kids Cook! cookbook
8 slices bacon
1 large tomato
2 cups shredded lettuce
1 1/2 cups shredded cheddar cheese (6 oz)
1/3 cup mayo or salad dressing
6 flour tortillas (8″-10″ across)
Put a paper towel on a microwavable plate. Put 4 bacon slices on top of paper towel. Add another paper towel and put on 4 more bacon slices. Put another paper towel on top of bacon. Microwave on High for 4 – 6 minutes or until bacon is crisp. Break it into pieces (after it cools, of course).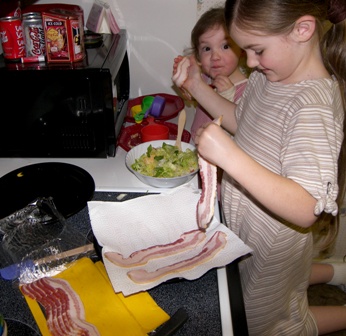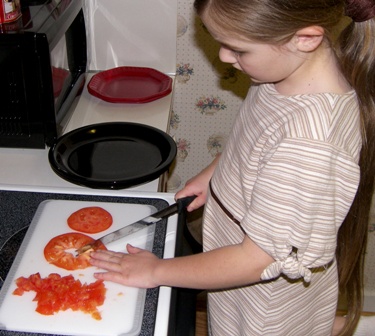 Chop the tomato into small pieces.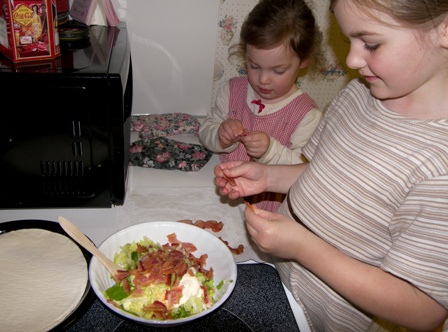 Put the bacon, tomato, lettuce, cheese, and mayo in a bowl. Toss together. Spread the BLT mixture evenly over the tortillas.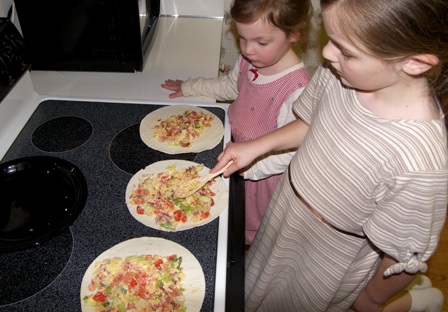 Fold up the bottom 1/3 of each tortilla, then roll it up.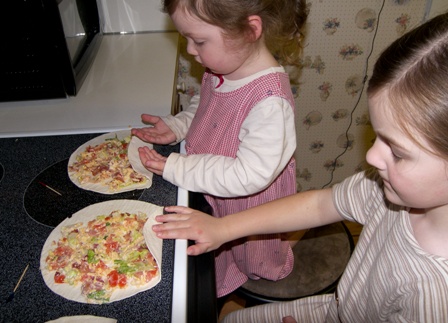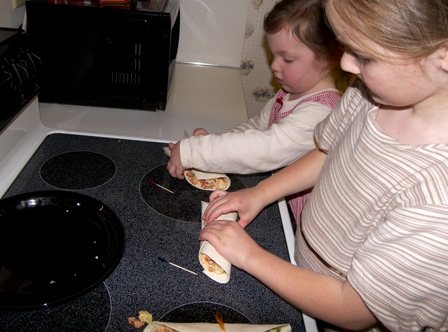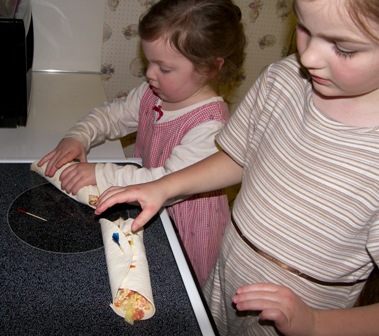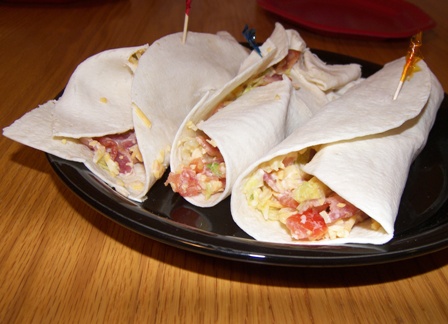 And here they are! In all their messy beauty. The pretty toothpicks were a bit hit. ????
Whenever I think of BLT wraps, I think of one time when one of my friends said that one day, the whole family was working outside and suppertime rolled around and she made BLT wraps and cut up some watermelon and took it out to the picnic table for them to come and get it whenever. I just thought that sounded so summer-y.
Comments