Posted on February 11, 2007
Filed Under Cakes, Holiday cooking, Salads
I just thought about it that I should've done a little Valentine's meal in advance in case anyone wants ideas. For as long as I can remember, Mom made a heart-shaped meal every Valentine's Day. Even after we children started getting married, it has stayed a tradition and we still get together for it. It's often heart-shaped meatloaf, scalloped potatoes with heart-shaped potato slices on top, salad with heart-shaped cheese and meat in it, bread slices cut out in heart shapes, red punch, candy favors and jellos beside each plate, and a chocolate cake with caramel and white mtn icing. But, we're not stuck on the same menu. One year we made heart-shaped pizzas. Here are a couple pictures of the table from the last couple years. I didn't have good pictures of the food… I wasn't into food photography then yet.

When we have our meal this year, I'll be sure to get good pictures and put them on here.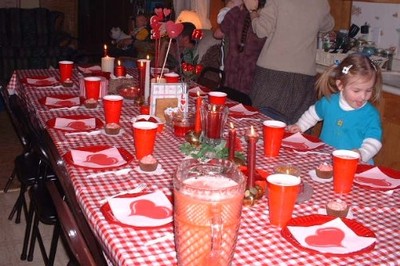 2005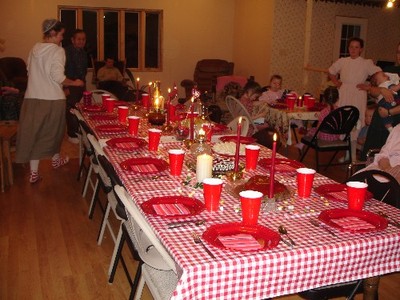 2006
Krista and Lexi with their Valentine chocolates from Grandpa.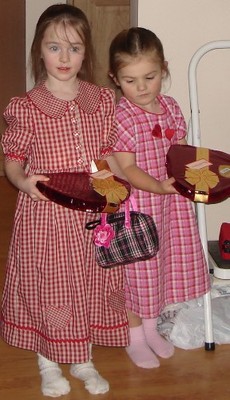 ———————————————————————————-
And now for a couple recipes… We had carry-in/fellowship meal/potluck at church today. I, wanting to be in the Valentine's mood, made a couple things that were red and pink. I was on for salad and dessert.
Easy Cottage Cheese Salad …From the Magnolia Cookery cookbook.
This is not kidding when it says 'easy'! Here are the ingredients: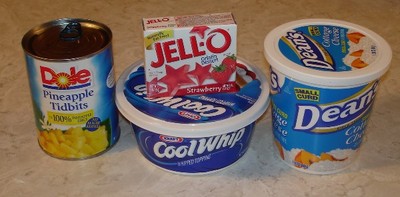 A can of pineapple, a 3 oz box of jello (any flavor), a carton of Cool Whip, and a carton of cottage cheese.
One thing that makes it easy is that everything is all measured for you because you use it all.

Mix cottage cheese with dry jello. Mix well. Let set 5 min. Drain juice from fruit, then add to cottage cheese. Fold in the Cool Whip. Best when refrigerated 1 hour before serving. I really like this stuff!!!! But, no other comments from the other people in this household, please… they don't feel quite the same about it as I do.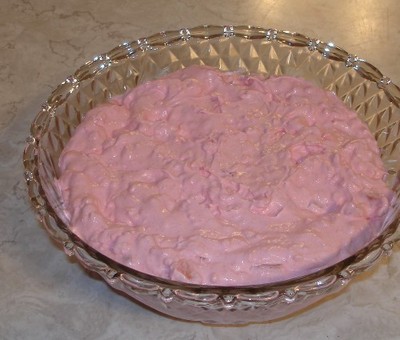 Red Velvet Cake …From an Easy to Bake, Easy to Make recipe card
2 1/4 c. flour
1 1/2 c. sugar
1/2 c. (1 stick) butter, softened
2 Tbsp. unsweetened cocoa powder
1 1/4 tsp. baking soda
1/4 tsp. salt
2 large eggs
1 c. buttermilk
1 Tbsp. white vinegar
1 Tbsp. red food coloring
1 tsp. vanilla extract
2 cans (16 oz each) prepared cream cheese frosting, at room temperature
Preheat oven to 350. Coat the bottoms of two 9″ round cake pans with cooking spray. Place 1st 6 ingredients into large bowl of electric mixer. Mix on low speed, scraping bowl, until mixture resembles moist crumbs. Add eggs, buttermilk, vinegar, red food coloring, and vanilla and mix on low speed until dry ingredients are moistened. Beat on high speed until light and fluffy, about 3 minutes. (I wish I would've taken a picture of the unbaked batter, it looks pretty neat.) Divide batter between prepared pans. Bake until toothpick inserted in centers comes out clean, 25-30 minutes. Remove cakes from oven and cool in pans on wire racks for 10 min. Turn cakes on to racks to cool completely. Stir frosting in cans to fluff the contents. With a spatula, loosen cakes from pans. Invert one layer onto plate.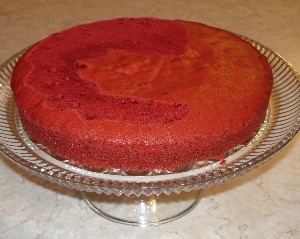 You can tell part of it is cut away… I do that to make it as level as possible. Plus, it gives some extra cake to make crumbs to go on top. Spread with 2/3 cup frosting. Place second layer on top.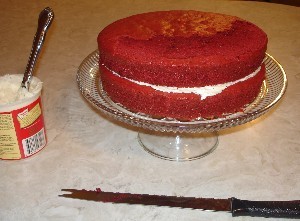 Spread top and sides with remaining frosting.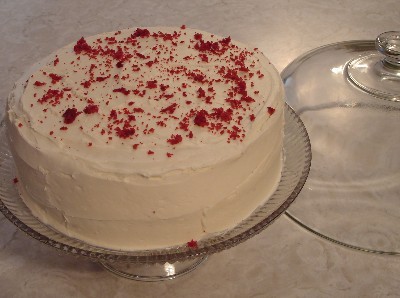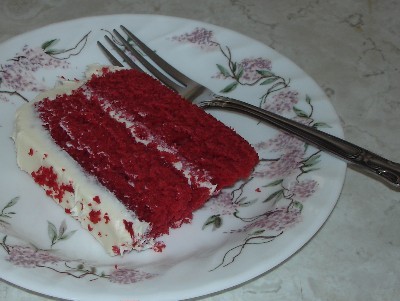 It is SO good! People rave about it every time! It's moist and soft. I usually make my own cream cheese frosting, but this time (because I like to try to make things as accurately as possible to feature on here) I bought it, like the recipe says. And, it just isn't as good as homemade frosting!
I thought about baking it in heart-shaped pans, but didn't then. If you make it for V-tines Day, you could do that OR bake it regular, then cut out heart-shaped pieces with a cookie cutter, then layer and frost them for individual serving sizes. That would look kind of cute sitting beside each plate.