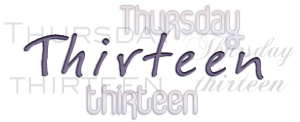 Nobody likes to spend alot of time in the middle of the day making lunch, right? Well, actually I'd love to if I didn't have a never-ending "to do" list hovering over me, following me around everywhere, making me fight off the guilt it gives me when I decide to throw responsibility to the wind and relax in my kitchen, cooking and baking to my heart's content more food than we could ever eat.
Plus, it doesn't seem worth it to make something 'nice' just for the girls and I. Especially since I never know when they're gonna eat alot or when they're gonna take 2 bites and say "Mom, I'm full". If I spent only 10 minutes making lunch, I don't feel as compelled to yell say, "Honey, I just spent 2 hours making this food!"
So, here are some ideas to keep on hand for quick lunches. And, no, 'leftovers' are not on the list! That's not something we need to note to keep on hand on purpose. Leftovers just kind of happen automatically. They can make nice lunches too, though, depending what it is. But, just for the record, I don't like when a meal has leftovers.
Only two ingredients and 12 minutes of baking time! These are a real hit with kids (and grown-ups too). If you aren't sure how to do them, the recipe name in red is a link to go to the post where they're featured.
2. Cheese Quesadillas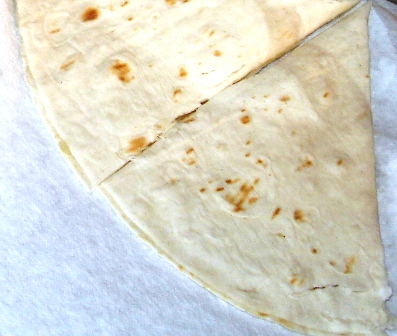 Only 3 ingredients and about 1 minute in the microwave. Lay 1 tortilla out flat and sprinkle shredded cheese on half.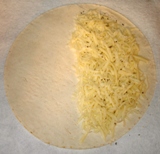 Sprinkle some Italian seasoning over it.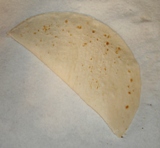 Fold tortilla over cheese and wet edges with a bit of water and press together. Put it in the microwave for about half a minute, then check it by pressing down on the tortilla. If the cheese feels soft and melted, get it out. If not, let it in for a bit more.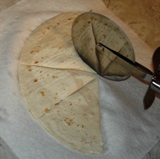 Cut into fourths with a pizza cutter. Good with sour cream and salsa, but my girls eat them plain as a finger food. These could be jazzed up alot more or fried instead of microwaved, but that's is the quickest way to do them.
—————————————————————————————————————-
3. Grilled Cheese Sandwiches and Tomato Soup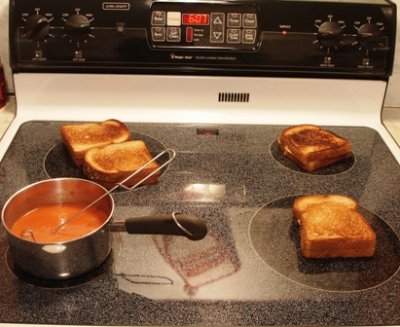 Tomato soup from a can is what I use. And yes, I do cheese sandwiches directly on my smooth top stove. What about you?
—————————————————————————————————————————
4. Open-faced meat and cheese sandwich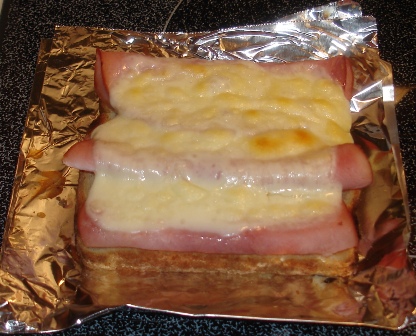 Only 3 ingredients and and a couple minutes under the broiler. And if you use a piece of tin foil, you don't even dirty a pan!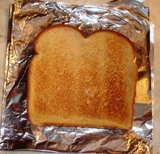 First, a piece of toast.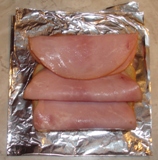 Then some deli meat.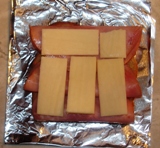 Then the cheese. Turn the broiler on High and put sandwich on a rack in the highest position. It takes a couple minutes, but check it now and then anyway. This is just delicious, especially with the cheese browned a little!
———————————————————————————————————————–
5. Peanut butter and jelly sandwiches

 Here's our peanut butter and jelly sandwich making pro. She's quite a pro at making a huge mess too. A couple days ago, I came into the kitchen and there was jelly on the floor. I asked what happened and she nonchalantly said, "Oh, the bread slipped off the counter." You know, no big deal, just spread more jelly on and the mess will take care of itself. It always does. I have tried having her clean up her own messes, but while the first mess may sort of get cleaned up, the process usually makes another whole mess of its own.
6. Quick stromboli


This may look vaguely familiar if you've been on this site recently!
7. Ravioli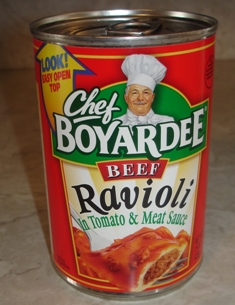 This came in handy for me one day last week. I had some morning guests and I wasn't sure how long they were planning to stay, but I had a few lunch options around so I was able to say, "I'll make a quick lunch if you have time for it". We had ravioli, French bread, cheese slices, applesauce, and cookies. The cookies I baked that morning while we were hanging around in the kitchen, chatting and looking thro' cookbooks.
——————————————————————————–
8. English muffin pizzas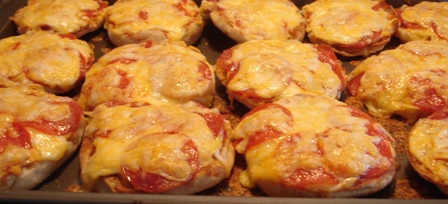 Split apart English muffins and toast them. Arrange them on a baking sheet and spread with pizza sauce, some cheese, 3 or 4 slices of pepperoni, some mushrooms if desired, and then some more cheese. Bake at 400 for about 15 minutes or till they're browned to your liking.
9. Good ol' frozen pizza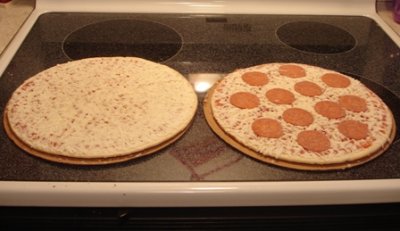 You're probably all familiar with this. If not, you either need to get out more or lower your standard of eating when in a hurry. The thin ones aren't as good, but they sure bake faster!
10. Hot dogs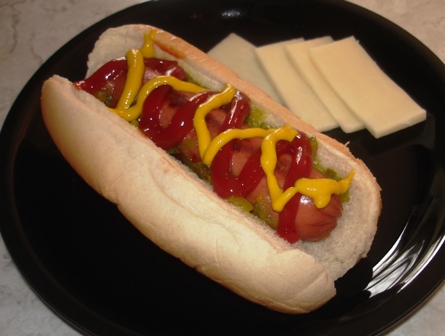 Throw them in a frying pan (fast), or under the broiler (faster), or in the microwave (fastest). Or charcoal grill (SLOW).
11. Nachos w\ salsa and sour cream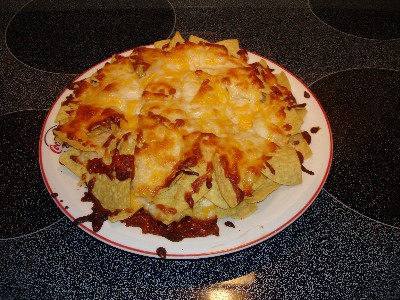 These have only 2 ingredients with an optional 3rd or 4th and take 7-10 minutes in the oven. Or, we've already done them in the microwave too, but the cheese doesn't get brown and crispy then.
12. Throw a salad together. 
Instead of starting with a head of lettuce, a big time-saver is starting with this: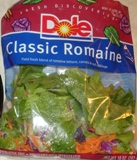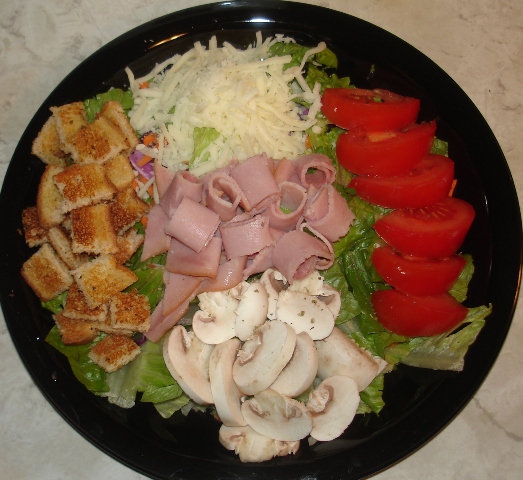 13. Now, for #13, here are some side dish ideas to go with the main course…
—applesauce or other fruit, like apple slices, canned peaches, etc.
—carrots
—cheese slices
—yogurt
—potato chips, pretzels, or other salties
—jelly bread
Desserts
—cookies or cake
—ice cream bars, sandwiches, or plain
—and this: A quick single serving dessert I was inspired with one day…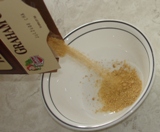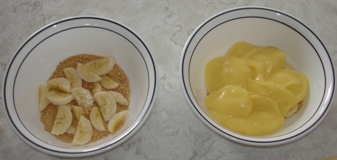 Dump about 2 Tbsp. of cracker crumbs into a bowl. Top with 1/4 banana sliced. Mix up a box of instant pudding and put 1/2 cup of it on bananas. Slice another 1/4 banana on top of pudding and sprinkle another Tbsp. of graham crackers on top.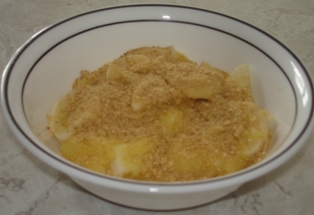 This is actually really good! And the neat thing is that you can make exactly how many servings you need and exactly the size of servings you need instead of making a big bowlful and having some left over. We've been in a streak of having it pretty often around here!
Don't forget to visit other Thirteeners at Thursday Thirteen!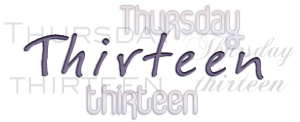 I would really do well to live beside a grocery store. Somewhere that you don't have to even cross a street to walk to it. Then, I could nickel and dime my checking account to death instead of giving it heart attacks with big grocery bills every week. There are people who live in houses that close. I envy them and wonder if they just run over when they need something or if they plan ahead, keeping their cupboards stocked and keeping a perpertual grocery list on the fridge for a once a week run.
Our grocery store is at the end of Main Steet. It would also be close enough to live on Main Street, above one of the stores. I still remember when I first found out that people live up there. I was 9 or 10. Every time after that, when we'd drive down Main St, I'd be looking up, not around. And dreaming of living up there one day, preferably in the one above the fudge shop. I'd sit out on the deck and watch the world go by and nobody would know I'd be watching because who looks way up when you're shopping on Main St?! To be honest, I still look up there when I'm on Main St. Not because it's still my dream to live up there, just because it still kind of intrigues me, I guess. I even took a picture of it a couple months ago, since I was on Main St with my camera anyway…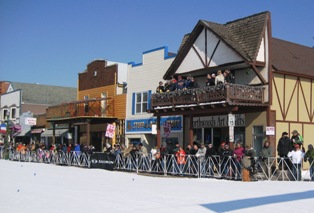 The street is snow-covered because the Birkebeiner Ski Race was going on… that's why I was on Main Street with my camera. Looks like someone is hosting a Birkie party on their deck up there.
Anyway, since I don't live in town and don't plan my menus in advance, my big laminated 'Ingredient Substitution Chart' comes in handy pretty often. This is one time when I won't run out of ideas before getting to #13… I could easy do a Thursday Thirty-three today!
I've tried substitutions on my own. Some of them worked, like substituting blown up marshmallows for marshmallow creme in this dip recipe. Others failed, like the time when we were first married and my brothers were overnight guests. My oldest brother is diabetic and late that night, I suddenly thought about it that I have nothing in the house for breakfast for him… no bacon, no English muffins, no eggs to make eggs or pancakes with, only sweetened cold cereal. Then, I thought about it that I could make biscuits from scratch and sausage gravy. In the morning, to my dismay, the sausage I thought I had happened to be hamburger, so I decided to try to spice it up to make mock sausage. Fast-forward about 20 minutes… my brothers are in the kitchen eating and as I'm walking towards the kitchen, I hear my younger brother (who's back is toward me) mutter, "This is gross." as my other brother gave him a 'shut up, she's coming' look. They never said anything to me about it… I guess they knew not to attack a new cook on her cooking. I don't remember if I hadn't test-tasted it first or what, but I did later and yeah, he was right, it was gross.
1. When you're out of unsweetened chocolate, for every ounce or square that is called for, substitute 3 Tbsp. cocoa and 1 Tbsp. fat or oil.
2. When you're out of cornstarch (for thickening), for every tablespoon that is called for, substitute 2 Tbsp. flour.
3. When you're out of whipped cream, chill a 13 oz. can of evaporated milk for 12 hours, add 1 tsp. lemon juice, whip until stiff, and measure according to recipe.
4. When you're out of eggs, for every egg called for, substitute 1/4 cup egg substitute OR 3 Tbsp. plus 1 tsp. thawed frozen egg OR 2 1/2 Tbsp. dry whole egg powder & 2 1/2 Tbsp. lukewarm water. Or, just make these cookies. 😉
5. When you're out of garlic cloves, for every clove called for, substitute 1/8 tsp. garlic powder.
6. When you're out of flavored gelatin, for every 3-oz pkg called for, substitute 1 Tbsp. plain gelatin and 2 cups fruit juice (then omit the water you'd normally add to a 3-oz pkg).
7. When you're out of fresh herbs, for every Tbsp. called for, substitute 1 tsp. dried.
8. When you're out of lemon juice, for every tsp. called for, substitute 1/2 tsp. vinegar. But don't do this for lemon meringue pie!
9. When you're out of miniature marshmallows, for every cup called for, substitute 10 large marshmallows.
10. When you're out of buttermilk, for every cup called for, substitute 1 cup plain yogurt OR 1 cup minus 1 Tbsp. milk  and 1 Tbsp. lemon juice or vinegar and allow to stand 5 or 10 min OR 1 cup milk and 1 3/4 tsp. cream of tartar.
11. When you're out of fresh onions, for every small onion called for, rehydrate 1 Tbsp. minced onion.
12. When you're out of shortening (for use in baking), for every cup called for, substitute 1 1/8 cups butter or margarine and decrease salt in recipe by 1/2 tsp.
13. This last one, I just recently got from a friend… when you're out of sour cream, combine 1/4 cup skim milk, 1 Tbsp. lemon juice, 8 oz. cottage cheese, and 1/4 tsp. salt. Blend all in blender. Makes 1 cup sour cream.
And if you're out of the substitute items (for example, no cottage cheese on hand to make the sour cream that you're out of), I don't know what to do about that either. I guess make something else or go to the store.
Don't forget to go visit other Thirteeners over at Thursday Thirteen!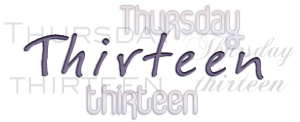 I don't know how many recipes are on here, but I have spent the last while going thro' and picking out my favorites. Well, that's not quite accurate… if they'd be my top favorites, they'd probably all come from the dessert or cookie category. Chocolate this, chocolate that. And your eyes would glaze over. So, instead, I went thro' the categories and picked one from each of 13 categories… some categories were hard to choose from!
So, here are 13 of the recipes I'd recommend trying sometime (the recipe name is linked to the post that the recipe is featured on). Try something for supper tonight! If you have all the ingredients, that is. I often think it would be so handy to live nextdoor to the grocery store, what with my lack of planning ahead and all!
1. Monster cookies – from the Cookies and Bars category.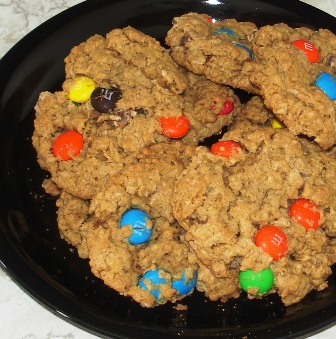 This is the kind of cookie that I make the most often, even way more than regular chocolate chip cookies. I bake these probably about every 6 – 8 weeks… more often if I'm not on a diet. Speaking of which, yes, I do know the calorie count. It's 175 calories per cookie if you get 7 dozen out of the batch.
2. Glazed Meatloaf – from the Beef category.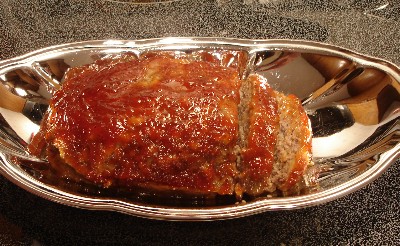 After years of looking for the perfect meat loaf recipe, I finally found it. It is just incredible. And I don't even put the shredded carrots in. That top ketchup part is great too! Mmmmm, now I'm getting hungry.
3. Red Lobster Biscuits – from the Breads, Biscuits, and Rolls category.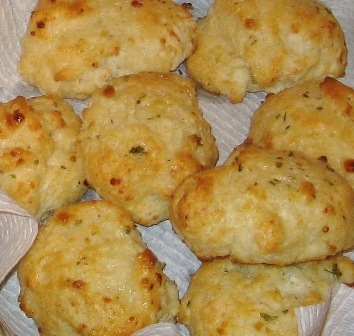 Ever been to Red Lobster? These taste like the real thing! They are so soft and so good and very melt-in-your-mouth. Just delicious! And they're fast and easy… except the part where you beat the dough with a wooden spoon for 30 seconds!
4. Raspberry Cream Cheese Rolls – from the Sweet rolls and Coffee cakes category.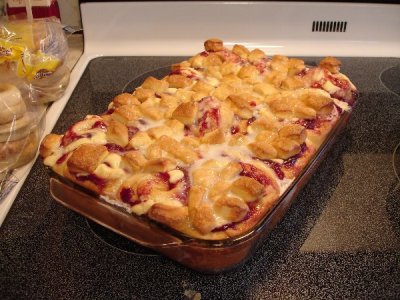 I've gotten several recipe requests for these after people have tried them at my house. You start with donut mix instead of from scratch. I couldn't find donut mix at any grocery stores around here, but found it then at a bulk foods store. That cream cheese filling in there is so good. You could also try other fruit filling instead of raspberry.
5. Fudge – from the Candy category.


I'm taken with this stuff! Fudge is probably the food that I have the hardest time resisting. We won't go into detail about things like how much I've eaten in one sitting already. This is so easy to make with only 4 or 5 ingredients and you don't need more than a microwave and something to stir with.
6. Easy Chocolate Lover's Cheesecake – from the Desserts category.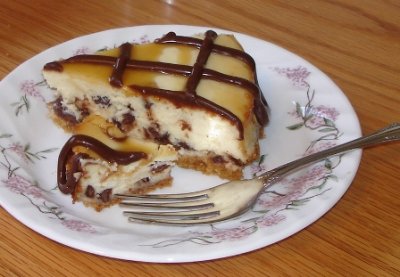 Ok, you just KNOW you can't go wrong here! Cheesecake, caramel, and chocolate… what a trio!
7. Steak & Cheese Stromboli – from the Main dishes category.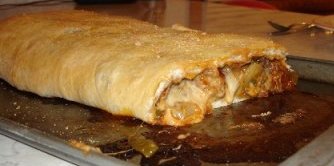 As good as it looks! I make the pizza variation quite a bit too. Sometimes, if I'm in a hurry, I use Pillsbury refrigerated pizza dough (from a pop-able can).
8. Brown Sugar Pie – from the Pies category.


I've loved this pie for as long as I can remember. My dad grew up with it and his dad grew up with it. If we have an extended family get-together and there's not brown sugar pie there, there will be a complaint or 2. And don't put Cool Whip on it! I thought it was weird that when I got married, my husband didn't know what it was. Then, I found out that alot of people don't know what it is. The recipe has good tips from Grandma… try it!
9. Open-faced Pork Chop Sandwich – from the Pork and Ham category.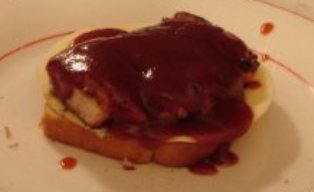 Fire up the grill! My husband made up this sandwich. In fact, he wrote the post that the recipe is featured on. We have this sandwich pretty often and have made it for company. It's great! Very basic ingredients. Perfect for those summer-time cookouts!
10. All-in-one Taco Salad – from the Salads category.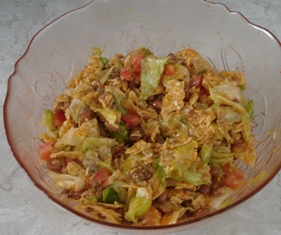 Delicious!!!! One handy thing about this salad is that it can be put together ahead of time, then tossed just before serving. One of the church ladies makes a huge bowl of it pretty often for potlucks and it gets licked clean about every time. It's not spicy, but it's got lots of flavor.
11. Twice-baked Potatoes – from the Side dishes category.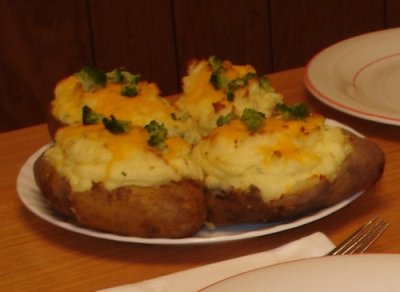 Company coming? These make a good impression! They're very attractive, not to mention very good! This is actually something I serve quite a bit when we have company. Another nice thing is that they freeze well, so you can make them ahead of time or just keep them on hand in the freezer.
12. Layered Finger Jello – from the Snacks category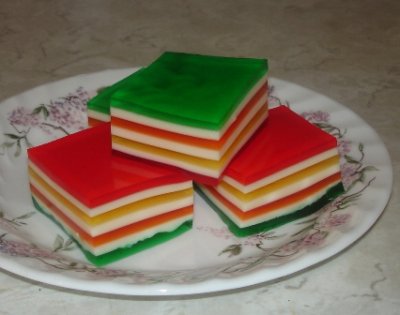 This is more in here for the fun it is than for the taste, although I still have enough kid in me to really like finger jello! The reason it's fun is because you can make it fit to any occassion by using certain colors of jello (red and green for Christmas; red, white, & blue for 4th of July, etc.). I also tried a sugar-free version and it turned out great!
13. Iced Tea – from the Beverage category.


The Pampered Chef pitcher that I use to make this tea doesn't really have a home in the cupboard. It's better off in the fridge with iced tea in it. If you know what meadow tea is, it's comparable to that. But this is a much handier and faster way to make it!
Don't forget to go visit other Thirteeners at Thursday Thirteen!
This is my 1st Thursday Thirteen. Since this is a cooking blog, my Thirteens will mostly be about things that have to do with my kitchen. Yeah, I thought that made sense too. So, here we go...
I hope I can think of 13 good things so I don't have to put things in like 'Sweep the dirt under the rug instead of bothering to get out the dust pan'. Because we know that that actually doesn't save time. And we know that it's not a good enough excuse that your company is walking in the front door. Plus, we'd never think of doing that anyway. We just know people who do it.
1. Breakfast in a snap… mix up a big batch of pancakes and fry them all. When everyone is done eating, put the rest in serving sizes (2 or 3 pancakes)in Ziploc sandwich bags in the freezer. When you get them out of the freezer, put them in the microwave until they're steaming and soft. They taste as good as they did the morning you fried them!
2. Twice the food, without twice the work… next time you make a casserole, like lasagna, make 2 pans instead of one. You're frying hamburger and cooking noodles anyway, might as well throw more in. Put one pan in the oven for dinner, cover the other pan tightly and put it in the freezer. You'll be SO glad for it next week on one of those harried days… you know the days I'm talking about.
3. Quick bread crumbs… the secret is they're not actually bread crumbs. Keep Club crackers on hand and when a recipe calls for bread crumbs, simply crush the crackers. They taste better too, especially when tossed with melted butter and browned on top of a baked dish.
4. Fresh warm cookies every day… without baking them! Whether you get them out of the cookie jar or out of the freezer, throw them in the microwave for 10 or 20 seconds and you'll have a warm cookie that tastes like it's just out of the oven. Now, I want a cookie. And I do have some in the freezer…
5. Quick measuring… keep a measuring cup in the flour and sugar canisters. You don't have to dirty a cup every time you measure and you don't have the extra step of getting one out of the drawer.
6. Clean-up time… after a meal, do you always have scraps (fat cut off of chicken, food chunks or barbeque sauce left on plates, oil to scrape out of the skillet after frying, etc.)? Get a piece of tin foil and scrape everything onto it, then fold it all up and throw the whole works away. I like tin foil because if something is juicy, I can fold up the sides and it holds it all in.   
7. Easy croutons… sprinkle Italian seasoning on bread, then butter it. Do it on both sides and put it in the toaster. Pop it up as soon as it browns. Cut the toast in squares with a pizza cutter. They taste great and they're soft enough to poke with a fork. 
8. Especially for kids… get a water dispenser (if you don't have one in the door of your fridge). You can get them at Walmart or wherever. It's a jug with a spout on it. Put it on a low shelf and the kids can get their own drinks. No heavy jug or pitcher to pour.  
9. Bread in a hurry… want the bread dough to rise quicker? Warm a towel in the microwave, then wrap it around the bowl that the dough is in. You may have to re-warm it a few times till the bread finishes rising.
10. Bread in even more of a hurry… ah, these are my meal-savers! If you've been reading this site for awhile, you know I'm a fan of these… popable cans of crescent rolls, French bread, and dinner rolls. We have hot bread or rolls at almost every meal and this is just the fastest and easiest way to go! You think they don't taste as good? Well, then you haven't tasted my from-scratch yeast bread. I still have much to learn in that dept.
11. Cinnamon sugar… take an empty cinnamon bottle/can/container (whatever you call it?!) and fill it 1/4 of the way with cinnamon, then the rest of the way with sugar. Shake it and flip it till blended, and you've got a handy topping for toast or unsweetened applesauce. Oh, and take a marker and write 'sugar' on the front beside 'cinnamon'. 
12. Cut it up all at once… when you buy a head of broccoli or cauliflower for fresh eating, cut them up into florets and put them in plastic bags in the fridge. You'll be more apt to eat them that way. And you don't have to get a knife out every time you want some.
13. The shopping list… as you're working in the kitchen and you see the shortening or dishsoap or whatever is getting low, write it on the shopping list (which is magnetic and stuck to your fridge). Your list is ready to go shopping when you are and fewer things are forgotten. Just remember the list! Does anyone else forget the list? Or is it just scatter-brained me? Too often, I find myself roaming the aisles, trying to picture my list and what was on it… while the girls are begging for Hi-C box drinks and throwing colored marshmallows in the cart.Now, I want to learn from you… what shortcuts do you do in the kitchen? 
Don't forget to go visit other Thirteeners at Thursday Thirteen!