Posted on March 26, 2008
Filed Under Thursday Thirteens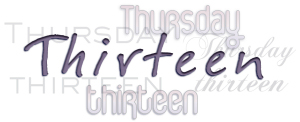 This is my 1st Thursday Thirteen. Since this is a cooking blog, my Thirteens will mostly be about things that have to do with my kitchen. Yeah, I thought that made sense too. So, here we go…
I hope I can think of 13 good things so I don't have to put things in like 'Sweep the dirt under the rug instead of bothering to get out the dust pan'. Because we know that that actually doesn't save time. And we know that it's not a good enough excuse that your company is walking in the front door. Plus, we'd never think of doing that anyway. We just know people who do it.
1. Breakfast in a snap… mix up a big batch of pancakes and fry them all. When everyone is done eating, put the rest in serving sizes (2 or 3 pancakes)in Ziploc sandwich bags in the freezer. When you get them out of the freezer, put them in the microwave until they're steaming and soft. They taste as good as they did the morning you fried them!
2. Twice the food, without twice the work… next time you make a casserole, like lasagna, make 2 pans instead of one. You're frying hamburger and cooking noodles anyway, might as well throw more in. Put one pan in the oven for dinner, cover the other pan tightly and put it in the freezer. You'll be SO glad for it next week on one of those harried days… you know the days I'm talking about.
3. Quick bread crumbs… the secret is they're not actually bread crumbs. Keep Club crackers on hand and when a recipe calls for bread crumbs, simply crush the crackers. They taste better too, especially when tossed with melted butter and browned on top of a baked dish.
4. Fresh warm cookies every day… without baking them! Whether you get them out of the cookie jar or out of the freezer, throw them in the microwave for 10 or 20 seconds and you'll have a warm cookie that tastes like it's just out of the oven. Now, I want a cookie. And I do have some in the freezer…
5. Quick measuring… keep a measuring cup in the flour and sugar canisters. You don't have to dirty a cup every time you measure and you don't have the extra step of getting one out of the drawer.
6. Clean-up time… after a meal, do you always have scraps (fat cut off of chicken, food chunks or barbeque sauce left on plates, oil to scrape out of the skillet after frying, etc.)? Get a piece of tin foil and scrape everything onto it, then fold it all up and throw the whole works away. I like tin foil because if something is juicy, I can fold up the sides and it holds it all in.
7. Easy croutons… sprinkle Italian seasoning on bread, then butter it. Do it on both sides and put it in the toaster. Pop it up as soon as it browns. Cut the toast in squares with a pizza cutter. They taste great and they're soft enough to poke with a fork.
8. Especially for kids… get a water dispenser (if you don't have one in the door of your fridge). You can get them at Walmart or wherever. It's a jug with a spout on it. Put it on a low shelf and the kids can get their own drinks. No heavy jug or pitcher to pour.
9. Bread in a hurry… want the bread dough to rise quicker? Warm a towel in the microwave, then wrap it around the bowl that the dough is in. You may have to re-warm it a few times till the bread finishes rising.
10. Bread in even more of a hurry… ah, these are my meal-savers! If you've been reading this site for awhile, you know I'm a fan of these… popable cans of crescent rolls, French bread, and dinner rolls. We have hot bread or rolls at almost every meal and this is just the fastest and easiest way to go! You think they don't taste as good? Well, then you haven't tasted my from-scratch yeast bread. I still have much to learn in that dept.
11. Cinnamon sugar… take an empty cinnamon bottle/can/container (whatever you call it?!) and fill it 1/4 of the way with cinnamon, then the rest of the way with sugar. Shake it and flip it till blended, and you've got a handy topping for toast or unsweetened applesauce. Oh, and take a marker and write 'sugar' on the front beside 'cinnamon'.
12. Cut it up all at once… when you buy a head of broccoli or cauliflower for fresh eating, cut them up into florets and put them in plastic bags in the fridge. You'll be more apt to eat them that way. And you don't have to get a knife out every time you want some.
13. The shopping list… as you're working in the kitchen and you see the shortening or dishsoap or whatever is getting low, write it on the shopping list (which is magnetic and stuck to your fridge). Your list is ready to go shopping when you are and fewer things are forgotten. Just remember the list! Does anyone else forget the list? Or is it just scatter-brained me? Too often, I find myself roaming the aisles, trying to picture my list and what was on it… while the girls are begging for Hi-C box drinks and throwing colored marshmallows in the cart.
Now, I want to learn from you… what shortcuts do you do in the kitchen?
Comments