Posted on May 8, 2008
Filed Under Breakfasts, Sweet rolls and Coffee cakes
An easy yummy-sounding recipe showed up in my email Inbox on Tuesday. It was from my cousin-in-law, Sharon. Is cousin-in-law a proper term? I don't know, it sounds strange. Anyway, she's married to my cousin. Not like you need to know that or anything. Thanks for the recipe, Sharon. They were easy and fast and delicious. And I had fun playing around with them too… bonus pictures at the end.
It only takes 4 ingredients. I like recipes like that because there's more of a chance that I'll have everything on hand! Although, yesterday, I wanted to make potato salad (way more than 4 ingredients) and I had everything except milk! Really, who runs out of milk?! I did have chocolate milk, but I didn't think that would work too good. Anyway, that has gotta be one of my biggest cooking pet peeves… going to make something and not having all the stuff. That's why I need to live nextdoor to the grocery store.
So, here's our easy 4-ingredient recipe.
Cherry Cheese Danish
1 tube (8 oz) refrigerated crescent rolls
4 Tbsp. cream cheese, softened
1 cup cherry pie filling (or your choice) I used strawberry.
1/2 cup vanilla frosting
Separate crescent dough into four rectangles. Place on an ungreased baking sheet; seal perforations.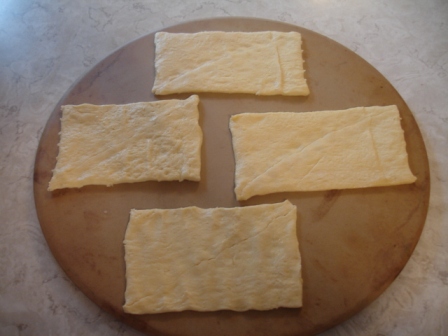 Spread 1 tablespoon cream cheese onto each rectangle.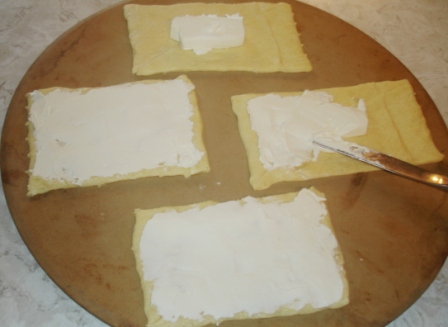 Top each with 1/4 c. pie filling.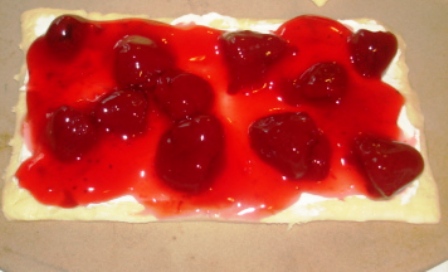 Bake at 375 for 10-12 minutes or until edges are golden brown. Cool for 5 minutes. Place frosting in a microwave-safe bowl; heat on high for 15-20 seconds. Drizzle over warm pastries. I didn't have frosting, so I mixed 2 Tbsp butter, about 2 Tbsp. milk, about 1 1/4 cups powdered sugar, and a bit of vanilla. That made about exactly 1/2 cup!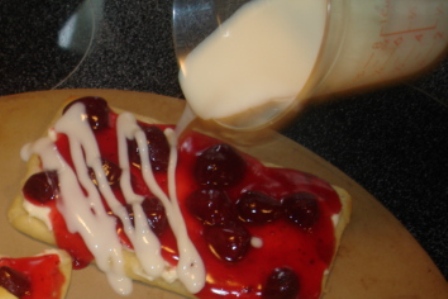 Serve warm. Refrigerate leftovers (if there are any

). Yield: 4 servings.
I think I should've let them cool a bit more before glazing. It all ran together and you can't see the striping anymore.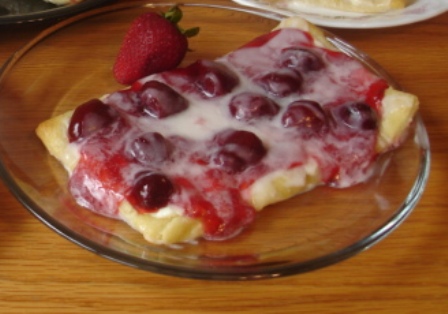 Here's a note that Sharon wrote at the end: I don't usually have vanilla frosting on hand, so I make my own powdered sugar glaze. I add almond extract for cherry pie filling, a little cinnamon for apple, lemon for blueberry, nutmeg for peach, etc. Don't you just love that sentence? She's such a good creative cook! Wish I'd think of stuff like that! They're quick and perfect for a special Sunday morning breakfast, or for company, or for just anyhow with coffee. And they're even good made light, which I usually do (reduced fat crescent rolls and cream cheese).
Bonus:
I decided to play with them a bit…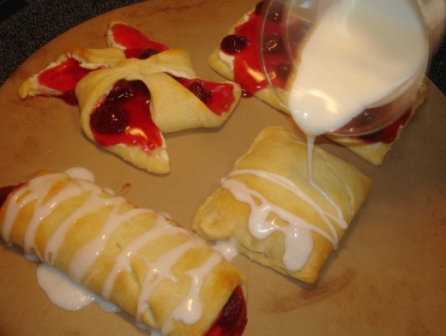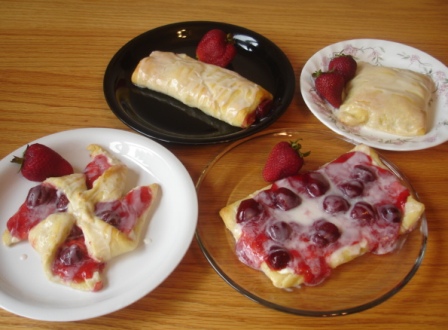 We have a regular flat one, a pinwheel, a turnover, and a spiral. The spiral turned out to have way too much filling in it and made a mess when I rolled it up (like a little jelly roll). The turnover and spiral should've been baked a few minutes longer.
The pinwheel was my favorite (not for taste… they all tasted the same). It was easy to do and looked a bit fancier. Next time, I think I could make them neater, too. It was Tiffany's favorite too. She said, "I want dat one" about 10 times while I was taking the pictures and her little pointer finger kept coming into view in my camera window whenever she'd say it.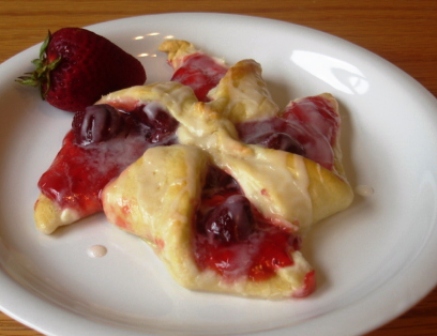 These pastries are so good! Perfect with a cup of coffee! I just made them for the girls and I, and since the girls eat about as much as a chickadee does, there was actually some left over. The next morning, I ate another one and instead of warming it up, I ate it refrigerator cold and it was really good that way too!
Try them! Try them! Try them!
Comments